Hard to Believe #078 – Gladiator 2: Christ Killer – with Joe Two and Brian Rodriguez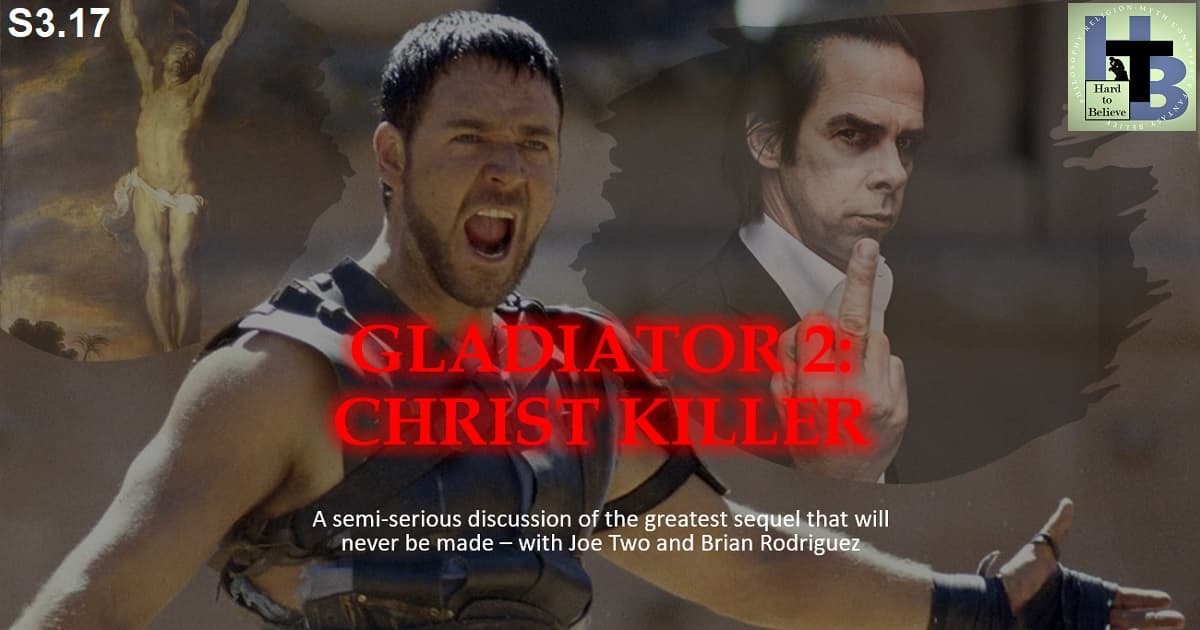 The possibility of a Gladiator 2, a follow-up to Ridley Scott's Best Picture-winning 2000 Roman epic, has been a dream of many producers since Gladiator became an award-hording box office behemoth.
Unfortunately, doing so has always been a challenge, since its protagonist, Maximus, played in a Best Actor-winning performance by Russell Crowe, dies at the end.
So in 2006, Crowe reached out to his pal and fellow Aussie, the legendary gloom-rocker Nick Cave, to take a stab at writing a sequel that would somehow involve Maximus.
What Cave came up with is now the stuff of internet legend, and since Gladiator 2 (a sequel that takes place roughly 20 years after the original and will focus on young Lucius as a grown man as opposed to Maximus) is now officially scheduled for release in November of 2024, it felt like a good time to explore the wild and unlikely would-be sequel, Gladiator 2: Christ Killer.
This week, John is joined by High School Slumber Party's Brian Rodriguez and 2 Fast 2 Forever's Joe Two.
Listen, Subscribe, and Rate Our Show:
Like Us on Facebook:
Follow Us on Twitter:
Follow Us on Instagram:
Say Hello: