Hard to Believe #050 – BYRNE THE CHURCH – Stigmata (1999)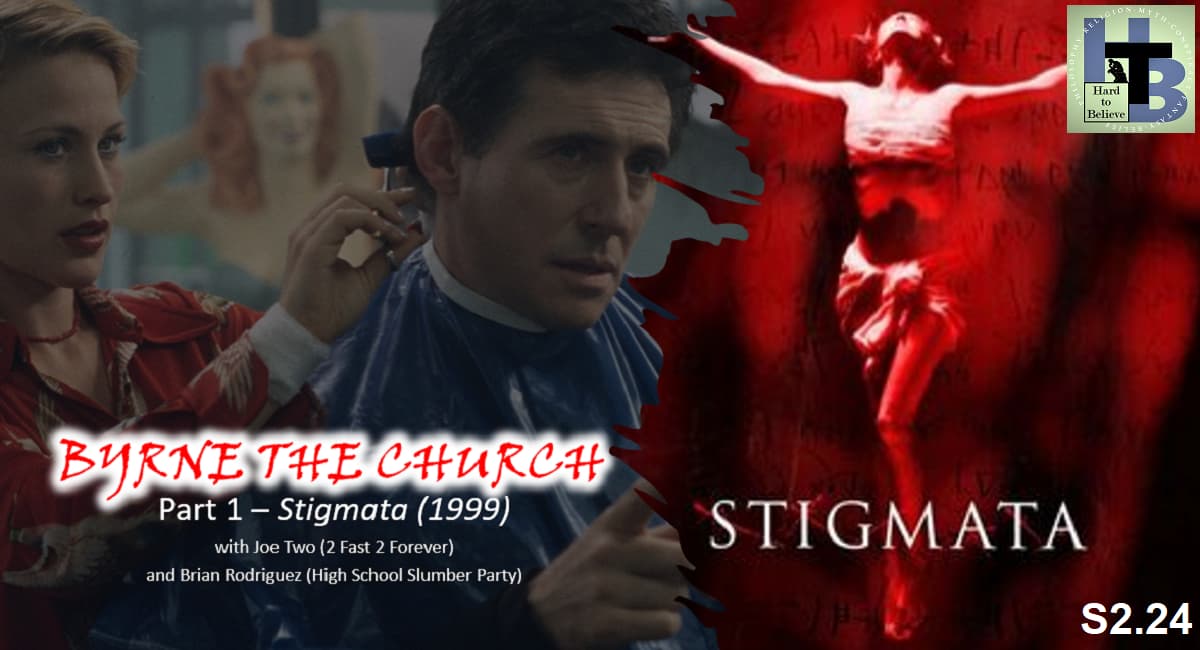 In 1999, actor Gabriel Byrne weirdly made two very different movies involving the Catholic Church, conspiracies, and dramatically violent things happening as a result. And so we're going to talk about both of them!
Starting with Stigmata, a strange and often incoherent combination of Exorcist ripoff and long-form X-Files episode. The film did not do a lot for the careers of those involved – which is why Billy Corgan has yet to nab his Oscar for film score composition.
However, luckily, it didn't do much to harm to the career of its insanely over-qualified cast, either.
But it is, as John (a giant Byrne-Stan) discusses with Brian Rodriguez (of High School Slumber Party) and Joe Two (of 2 Fast 2 Forever) a worthwhile time capsule. Because 1999 was a year in which movies experienced a kind of collective convulsion – not unlike those experienced by Patricia Arquette's Frankie Paige – and emerged on the other side with exciting new possibilities of what a movie could do, stylistically and narratively, in the 21st century.
What is stigmata, actually? And why is Gabriel Byrne in this movie? And why is the Church hiding the true Gospel of Christ from us?? Find out, maybe!
TWITTER!
Joe: https://twitter.com/JoeyDe_
2 Fast 2 Forever: https://twitter.com/2Fast2Forever
High School Slumber Party: https://twitter.com/HSSlumberParty
Listen, Subscribe, and Rate Our Show:
Like Us on Facebook:
Follow Us on Twitter:
Follow Us on Instagram:
Say Hello: