Hard to Believe #054 – Midnight Mass – with Dr. Kelly J. Baker and Dan Colón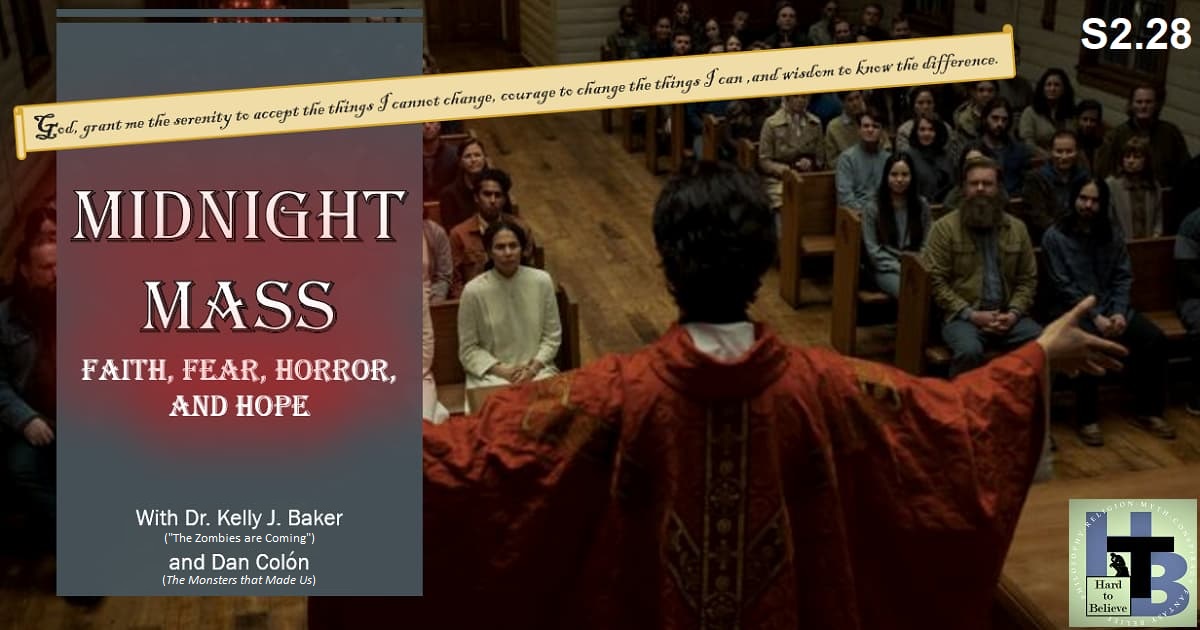 (DISCLAIMER: This episode contains a lot of spoilers for "Midnight Mass"!)
Mike Flanagan's "Midnight Mass" revisits a lot of the themes of much of his previous work: grief, death, trauma, loss (and you can listen to our discussion of his "Haunting Of" Netflix series here).
But it also covers some a lot of new ground, including the complicated relationship between human beings and the religions they build. It is a show grounded as much in humanity as it is in horror, and it asks more questions than it answers – and, in this way, it demonstrates an understanding of what religion is and how it works that is rare not only for the genre but for popular fiction in general.
John has been unable to stop thinking about the series since it debuted three weeks ago, and so, desperate to talk about it, he invited the two most qualified voices on the subjects of horror and religion he knows – Dr. Kelly J. Baker, making her second appearance on the show, and Dan Colón, co-host and co-creator of Cage Club's The Monsters that Made Us.
TWITTER/Links!
Buy Kelly's Book: The Zombies are Coming
Show page: The Monsters That Made Us
Listen, Subscribe, and Rate Our Show:
Like Us on Facebook:
Follow Us on Twitter:
Follow Us on Instagram:
Say Hello: