2 Fast 2 Forever #238 – Thunderbolt and Lightfoot (1974)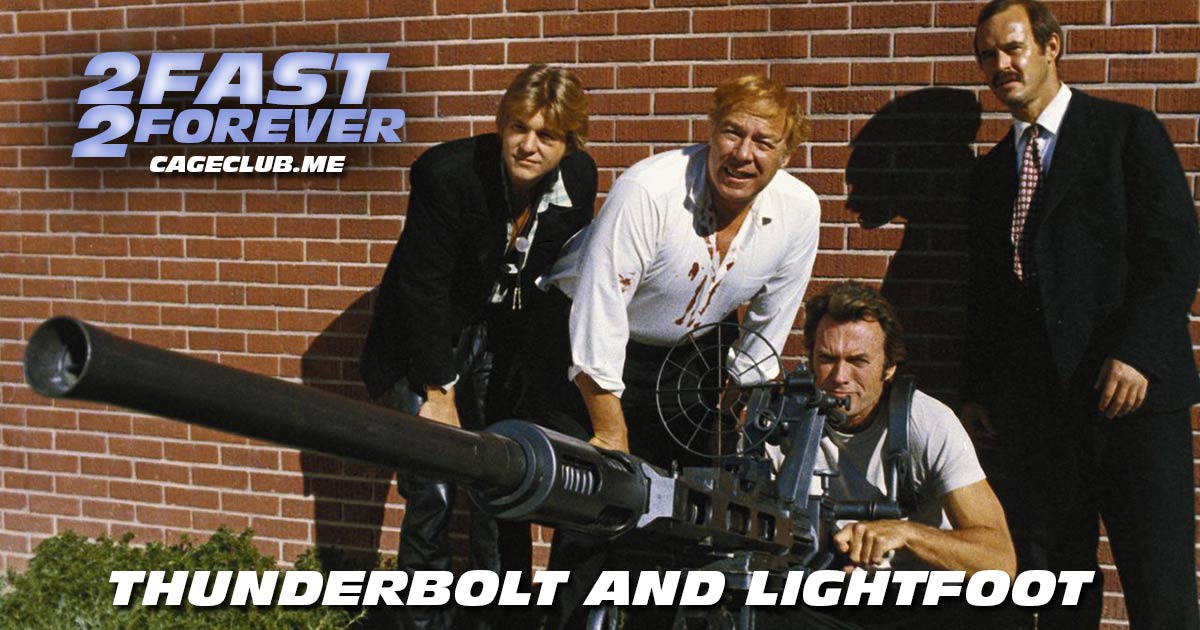 Our heist lap continues with our first patron pick of Thunderbolt and Lightfoot, starring Clint Eastwood and Jeff Bridges and chosen for us by Justin Kleinman! After sharing brief Doctor Strange spoilers (from about 5:25 to 7:15), we do a recent TV roundup and share Joe's hyper-specific new merch idea. Then, we admire the work Joseph Lee Anderson is putting in as Rocky Johnson in Young Rock (28:20) (Season 2, Episode 9) before heading to the 2 Fast 2 Furious Minute (36:40) to hang out with a well-behaved rat.
Then, we head back to the 1970s for Thunderbolt and Lightfoot (46:40) as we talk about Michael Cimino's personal life and discuss our first Clint Eastwood film on the podcast network. We chat about the male bond on display here, wonder why pistachio ice cream is featured so prominently, and find ourselves in awe of Clint Eastwood's belt buckle screwdriver. Joe points out a character that reminds him of Vince. We wrap up with a (sort of) new twist on the Letterboxd game.
Visit our Patreon page at patreon.com/2fast2forever. Extra special shout-out to Ben Milliman, Alex Elonen, Nick Burris, Brian Rodriguez (High School Slumber Party), Hayley Gerbes, Michael McGahon, and Lane Middleton for joining at the "Interpol's Most Wanted" level or above!
Want to re-live past memories? Find all episodes from past laps here.
Intro music by Nico Vasilo. Interlude and outro music by Wes Hampton.
Listen, Subscribe, and Rate Our Show:
Like Us on Facebook:
Follow Us on Twitter:
Follow Us on Instagram:
Explore and Say Hello: