2 Fast 2 Forever #233 – The Fast and the Furious (Lap 11)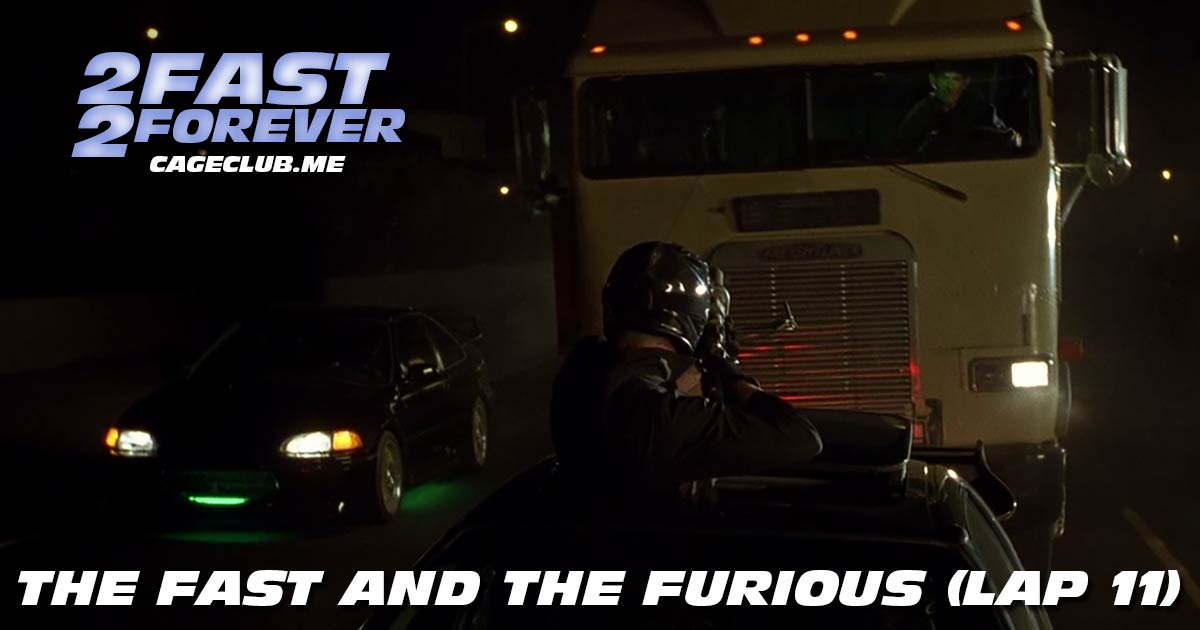 You son of a bitch, we're in… to Lap 11, and we're joined by Jordan Polan-Clarke to talk about The Fast and the Furious and kick off our heist lap! After brief (spoiler-free) chat about Morbius (and Tyrese's role), we visit "high school Dewey" in the newest episode of Young Rock ("In the Dark," Season 2, Episode 4) (25:55) before wondering what, exactly, Roman was busted for in the 2 Fast 2 Furious Minute (32:45).
Then, Jordan returns to the show to talk about The Fast and the Furious (49:25). She wonders, "Who's Leon?" before comparing the movie to Magic Mike and leading us in a discussion about what the filmmakers thought they were making. We then spend a long, long time with the "game" of this lap (editor's note: Letty's driving skills are her best asset, yet were not mentioned) during which Jordan tells Joe he's "being such a Vince." She shares her updated rankings and joins us as we return to a version of "Dude, What's My Car?" where the car's color actually helps (!). Also: is there a hidden connection between F&F and A Nightmare on Elm Street? Maybe! (But probably not.)
Visit our Patreon page at patreon.com/2fast2forever. Extra special shout-out to Ben Milliman, Alex Elonen, Nick Burris, Brian Rodriguez (High School Slumber Party), Hayley Gerbes, Michael McGahon, and Lane Middleton for joining at the "Interpol's Most Wanted" level or above!
Want to re-live past memories? Find all episodes from past laps here.
Intro music by Nico Vasilo. Interlude and outro music by Wes Hampton.


Listen, Subscribe, and Rate Our Show:
Like Us on Facebook:
Follow Us on Twitter:
Follow Us on Instagram:
Explore and Say Hello: