The Reel Bad Podcast – Celebrate the Year of Reel Bad!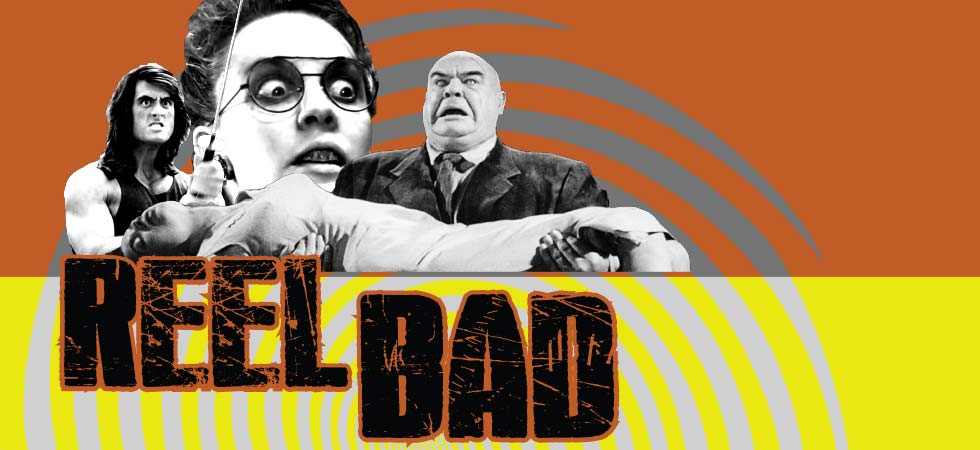 The Reel Bad crew has closed up shop for the holidays, but don't worry… they'll be back next year! Looking for a bad movie fix? Here are the team's picks for their favorite movies from the past year. Missed one (or more)? Catch up now and come back in a week for more talk about bad movies… and why they want to hurt us.
Nick's Pick: Jingle All the Way (1986)
It's another muscled Christmas movie! This time, Nick, Matt, Bill, and Sam take on the Arnold Schwarzenegger classic Jingle All the Way, a holiday comedy about capitalism and bad acting. Join us!
---
Sam's Pick: Things (1989)
It's a movie Nick dreaded to show to his friends and yet… here we are. Things is a 1989 movie about mutant spider monsters and it is a master class in how to make a movie poorly. Please enjoy our discussion on this turd.
---
Rachel's Pick: The Last Airbender (2010)
Hooo boy… THIS movie. What happens when you get an adaptation of a beloved cartoon that bears no resemblance to that cartoon? Generally, people get angry. But, BUT… then you make it dull, uninteresting, white washed, and nonsensical? Well, then you get The Last Airbender. In this episode, Nick, Ceri, Sam, and Rachel discuss this thing and why even though one of us hadn't seen the cartoon, we all hated this adaptation.
---
Ceri's Pick: Carnosaur (1993)
Roger Corman is a legend in b-movie productions. Today, we take a look at Carnosaur, a film he made to try and get the jump on Jurassic Park. It's a dark, nihilistic, and cynical take on bloodthirsty dinosaurs, GMOs, and viruses. We're joined by the host of Eons, paleontologist Kallie Moore, to talk about some of the cruddy science in this movie.
---
Matt's Pick: Catwoman (2004)
Catwoman is a film that seems like it should be better than its reputation. It's not. It lived up to every review that's ever been written. This is the film that broke Nick. It wastes good actors, hijacks a popular property, thinks it's much more clever than it is, and is an action movie where the action is incomprehensible. Folks, welcome to 2004's Catwoman. Join Nick Jenkins, Ceri Riley, and Marie Ann Fernandez Silva as they try to even come up with a word what this movie is.
---
Tobin's Pick: Highlander: The Source (2007)
It's the end of a long stretch of suffering for the Reel Bad crew as we finish off the Highlander series with the sad little whimper of a movie, Highlander: The Source. For some of us, it was just another bad film. For others… it was a physically painful experience.
---
Listen, Subscribe, and Rate Our Show:
Find Us on Social Media:
Explore and Say Hello:
"Marty Gots a Plan" Kevin MacLeod (incompetech.com)
Licensed under Creative Commons: By Attribution 3.0 License
creativecommons.org/licenses/by/3.0/