Hard to Believe – A Very Special Episode: QANON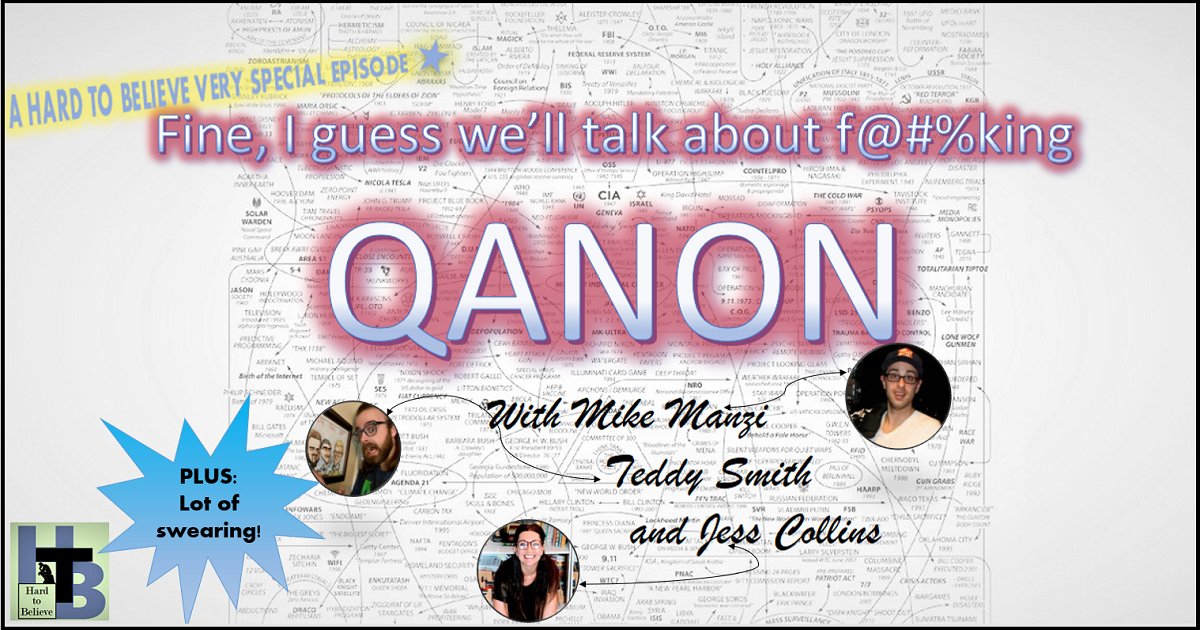 In his town hall appearance on NBC, Donald Trump insisted "I know nothing about QAnon" – a network of conspiracy theorists whose Twitter accounts he has retweeted hundreds of times and who have appeared multiple times in his intelligence briefings – before offering something he knew about QAnon ("I do know they are very much against pedophilia").
QAnon is bad. It's dangerous and scary and alarming. It's also complicated and hard to explain.
And so John invited three of his smartest friends and former guests – Mike Manzi, Teddy Smith, and Jess Collins – to find out what they know about QAnon and to tell them what he think everyone needs to know.
HASHTAG TRUST THE PLAN!!
Check out Teddy's band Bugs in the Corner (who wrote the theme song to this podcast), Jess's website, and Mike's CageClub page!
For further reading, John recommends the following, all of which was used as part of the research for this show:
Mother Jones: Why Are Right-Wing Conspiracies so Obsessed With Pedophilia? by Ali Breland
The Atlantic: The Prophecies of Q by Adrienne LaFrance
The Conversation: Why the 'Protocols of the Elders of Zion' is still pushed by anti-Semites more than a century after hoax first circulated by Stephen Whitfield
Area 51: An Uncensored History of America's Top Secret Military Base by Annie Jacobsen
Arizona Republic: Why is Wayfair accused of trafficking children? 7 things to know about the conspiracy theory by KiMi Robinson
Reuters: Missing children in U.S. nearly always make it home alive by Barbara Goldberg
Listen, Subscribe, and Rate Our Show:
Like Us on Facebook:
Follow Us on Twitter:
Follow Us on Instagram:
Say Hello: