Hard to Believe #032 – DISINFORMATION: Part 2 – The Mysteries of Rasputin and Anastasia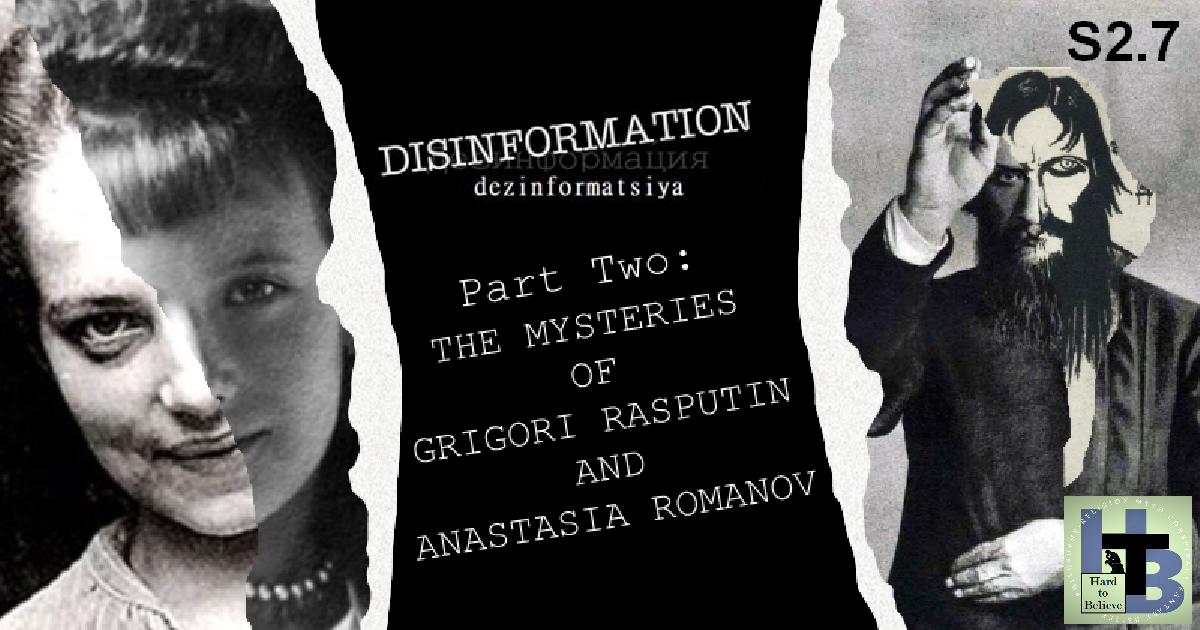 At the dawn of the 20th century, Russia was in the midst of a political wildfire, and the Tsarist regime was under threat like never before. Enter Tsar Nicholas II, Russia's last monarch, and a man uniquely and catastrophically unfit for the job. Compounding his problems, he and his wife struggled to produce a son to serve as heir. When they finally did, they soon discovered he was a hemophiliac, his life and health constantly under threat.
The inevitable demise of the family and the ruling regime would be remembered less for the complicated real-life history that led to it and more for the conspiracy theories, rumors, and active disinformation campaigns centered around two individuals – the family's resident holy man, Grigori Rasputin, and the youngest Romanov daughter, Anastasia.
John once again welcomes Mike Manzi and Jess Collins to discuss these two stories, and how the diverse cast of pretenders claiming to be the Romanov children – most notably the notorious Anna Anderson – may well have had their roots in the Soviet Union's first successful exercise in politically useful disinformation.
John is on Twitter @ProbablyRealJB
Mike on Twitter @the_mikestir
Jess on Twitter @jayarekay_
Listen, Subscribe, and Rate Our Show:
Like Us on Facebook:
Follow Us on Twitter:
Follow Us on Instagram:
Say Hello: