Zandalee (1991) : Soft Core Cage [Mike's Review]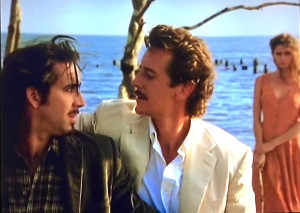 Today on Cage Club we get naked and have lots of sex with "Zandalee". Before putting in this DVD things looked a bit fishy. The only copy that we here at the Cage Club could get is a region zero copy of the film from China. This doesn't give me the most confidence movie forward but at least the DVD plays in my American Blu Ray player. I don't really care how I have to watch this movie as long as I can watch it. Turns out after doing very little digging online that this movie was released straight to video in the US so that may account as to why the movie is out of print on DVD here in the states. If a foreign copy is what it takes than so be it.
The movie starts and we are introduced to the city of New Orleans and Zandalee dancing naked in her bedroom. She is played by the beautiful and talented Erika Anderson. A big thing about Zandalee is how she absolute hates clothes and will be as naked as possible in this movie. She is married to Thierry, played by Judge Reinhold aka Brad form Fast Times At Ridgemont High. Brad and Zandalee are having problems in bed but you wouldn't really notice that yet unless you consider the fact that Thierry won't risk being late for work to compromise the nude girl in his room. Brad runs into his best friend Johnny, played by Nic Cage, at a stag party. Here again we see a repeating motif of female breasts this time by way of strippers. Nic Cage looks amazing in this movie. He has a long black mullet and a goatee, his whole presence reminds me of Gambit form The X-Men. The two reunite and discover that Johnny works for Thierry and he didn't even know it. Here's the deal, Thierry and Johnny were best buds growing up as artists, Johnny the painter and Thierry the poet. Nowadays Thierry runs a cable company for his recently deceased Dad where it turns out Johnny works as a cable repair man. Yea, Nic Cage plays a cable guy. The Cable Company coupled with his Dad's death is what's contributing to Thierry's soul sucking existence and ego smashing impotence. Thierry takes Johnny home to meet Zandalee and that's where everything starts to go wrong. Right from the start there is a ton of sexual tension between Zandalee and Johnny and it's pissing Zandalee off. She may have wanted to stray from her husband but now she will have to do it with his best friend. She just can't ignore the passion and sexual virility Johnny projects. She tries hanging out on Bourbon Street with Joey Pants who plays her transvestite best friend slash co-worker (?) at the Boutique Zandalee manages, but even that can't measure up to the allure of Johnny. Zandalee can't seem to shake Johnny as he turns up everywhere she goes from her jogs around town to her own apartment where he is painting Thierry's portrait. When Johnny finally makes his move Zandalee doesn't have the strength to resist and it's full on soft core porno time as we transition into the main crux of this film which is lots of sex between Johnny and Zandalee. We get the motif of female breasts a lot in the second act. I must applause these actors for giving it their all and bearing everything in the buff, but I just wish it wasn't wasted on this script. Johnny seems to like sex with the risk of getting caught so they do it outdoors and in the kitchen during a dinner party at Thierry's. At this point Thierry may know Zandalee is straying but not with Johnny, or maybe he does and is just in deep denial on top of all the other denial going on. While they are doing it so much, Zandalee is still trying to rekindle her marriage but Thierry is drowning in the corporate sector. Being a poet and artist at heart meant he was never meant for the office life and he starts to lose his grip on reality. Johnny can't let Zandalee go and enters full stalker mode, following her all over town and even to church where he desecrates the sacred ground by cursing and forcing himself upon her in the confessional booth. In a last ditch effort to make things right with Thierry, Zandalee suggests a trip so they go fishing on the Bayou which actually helps spark some passion. Thierry manages to "get it up" and make love to Zandalee but the next day Johnny catches up to them out in the middle of nowhere. They are seriously out in the middle of nowhere when Thierry goes into this rink dink bait shop and there is Johnny waiting for him. Thierry really loses it now that his worst fears are confirmed, his best friend is compromising his wife. Thierry pulls a gun and forces everyone on a boat ride deep into the Bayou. Everyone has kinda gone nuts and I'm realizing there is no good end to this situation. Sure enough, Thierry goes overboard and it looks like the end, but then he is saved by Zandalee except his body is too heavy and he isn't helping her save him. Johnny has to jump in the water to save everyone, but Thierry won't be saved no matter what and drowns. After that everyone is pretty much super depressed. Johnny and Zandalee try to get together but the memory of Thierry is too much to bear. Johnny destroys his paintings and has a total meltdown as he pours black paint all over himself in a n attempt to "black it all out". I'm assuming he means the pain of life. He goes to see Zandalee but Johnny just reminds her of her dead husband so she goes for a walk to church, so Johnny follows her. On the way Johnny is recognized by someone who says he owes him money. You see, throughout the film it's sort of hinted at that Johnny deal drugs on the side or is involved in less than savory practices. Johnny's past catches up to him as this guy pulls out a gun and fires shots at Johnny in the street. Handle jumps in front of Johnny and takes the bullets ending her life in an apparent spontaneous suicide. The movie ends with Johnny clutching Zandalee's dead body. Lessons learned all around.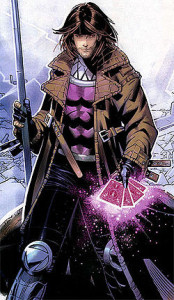 (Gambit from X-MEN aka Johnny Collins)
Well, that was not what I was expecting at all. It's not the worst movie here at Cage Club so far but I'm afraid not even the copious amounts of nudity could save this story. The movie seems to be filmed in a higher frame rate giving it a video quality to the picture. You get used to this after a while but it does give it a cheaper feel that is hard to shake at first. This film feels to me like an early attempt at an answer to Sex, Lies and Videotape which was a smash success in 1989 and opened the independent film floodgates for the 90's. The
re is no mistaking the rampant nudity in this movie which originally earned it an NC-17 rating. The final Video release was edited down to a "non rated" cut but the one we screened here at Cage Club is the un-cut foreign release of the movie which was theatrically released in Asia and Europe. Unfortunately this movie comes off more like a "skinamax" movie than a cutting edge indi drama. I certainly didn't mind watching Erika Anderson prance around nude for almost two hours and nor was I disappointed with Nic Cage and his Gambit style look in this. Most of all I was entertained by Judge Reinhold's performance. Where has this guy been ? I was certainly cool to see Brad and his Best Bud together again even if they fought over a girl and it all ended in tragedy.
Next week things are a bit lighter with Honeymoon In Vegas. cage is back in the comedy saddle this time as he tries to save his marriage before it even begins !!! There's gonna be a whole lot of Elvis next time here on Cage Club!!!
Mike
@the_mikesitr