Racing With the Moon (1984): The Winter Soldiers [Mike's Review]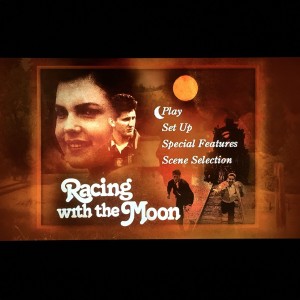 Today we sow some wild oats before shipping off to war with the Greatest Generation in "Racing With The Moon". Nic Cage is once again designated to supporting role, but it's the type of supporting role that elevates everyone he's in the scene with. First I should set the stage. It's December, 1942 in California and in six weeks two best friends will be fighting for their country oversees in the big one, WW2. Nic plays "Nicky", a pin monkey at the Bowling Alley and best friend to Henry whom he takes to calling Hopper or "Hop" for short. I have no idea where this nick name comes from in the story. It may come from when the guys race trains then hop onto them to hang off the side, but more on that later. The boys are both girl crazy and plan to get as much tail as they can before shipping off. Hopper takes to courting the local rich girl Caddie, while Nicky gets his sweetheart pregnant. The friends risk their necks gambling for abortion money but come up short. When Hopper asks his girlfriend for help it leads to the reveal that she's not rich, only the maids daughter. Caddie and Hopper break up, Hopper and Nicky break up, then Hopper gets some advice from his grave digging father and everyone makes up better than ever! Before you know it the boys are hanging off the back of the train to basic training, or Parris Island, waving goodbye with big smiles on their faces and heading off to certain doom.
When we first see Nicky he is being shelled by bowling balls and frantically running around setting pins back up. It's as if he's already in the trenches taking on enemy fire. This scene includes a small "cameo" appearance by past Cage Club alumni, Crispin Glover. It's a small role but establishes that rich kids and poor kids just don't mix. ( I'm getting a Valley Girl vibe here ) The Bowling Alley is Cage's Domain, it's where he works and where he plays. This whole sequence has Nicky bugging Hopper to double date with him because his girl Sally's folks don't trust her out alone with Nicky. When Nicky shows up to take out Sally he's sporting a black eye he got from his father that drinks. He's real smooth about it too when Sally's Old Man asks him how he got it and he replies, "Bowling, Sir". ( Little does Sally's Dad realize how out of hand it can really get at the old Bowling Alley ) This detail may give some insight as to why Nicky drinks too much, like way too much. We find out his Dad is abusive and in his next scene at the Diner he tells a story from "before Mom died" about his "Aunt Ida & the Kiss of Death". His lack of parental guidance may attribute to some of his more juvenile behavior, but I believe Nicky still has the best intentions and a good heart. When Nicky finds out Hopper has the hots for Caddie, who lives in the only mansion in town, he tells her they are from two different worlds and to forget it by saying, "She's a Gatsby". No doubt this is reference to mega rich Jay Gatsby, lead character of a semi-recent novel in the timeline of the movie and probably the go to insult for teens of the day when trashing rich kids.
At this point Nicky disappears from the story and we follow Hopper as he tries to make Caddie his girl, or at least score before leaving. As Nicky puts it, Hopper wants a "picture for his wallet" not some disposable night of passion. Hopper is tricked into taking Caddie's friend to the U.S.O. show where he shows off some less than impressive skating skills. He gets a moment alone with Caddie and she takes a genuine liking to him so Hopper takes her to a run down building the next day where a perfectly tuned piano just happens to be. He teaches her "Heart & Soul" on the piano and they grow closer. I wonder what Nicky is up to right now? Is he dodging Sally until he has the $150 for the abortion? Is he working extra hours at the Bowling Alley? I hope he isn't just drawing his sorrows in a bottle. We get one scene of Nicky at the Pool Hall while Hopper courts Caddie. Nicky talks about the War and how Germans created a weapon that goes straight for your balls instantly castrating you or as he puts it, "One second you're John Wayne and the next you're Minnie Mouse." I think Nicky mentions this because he knows at this point Sally is pregnant and he is basically can't be fooling around anymore, sorta castrated in a way. He then goes on to rant about killing many Japanese and never coming home. It's tough to hear Cage use these slurs but those were the times and these were scared and confused kids after all.
After Hopper has "made it" with Caddie he and Nicky hang out after work on the roof of the Bowling Alley. They found out their friend's brother died on Guadalcanal, one of the possible destinations for the boys, kicking off a wild night of drinking. Cut to later that night and they are stumbling in the dark, yelling about movies and girls before Hopper lays down the law about Nicky's heavy drinking. Nicky doesn't agree and even believes drinking helps him create new and interesting ways of walking in a moment worth the price of admission alone. In another bad decision in a night of bad decisions the guys enter a Tattoo Parlor where Nicky demands a sprawling Eagle across his entire chest. His plan is to scare the crap out of the enemy when they see him charging over the hill, shirtless, Eagle Blazing and armed to the teeth. How that image isn't the box art to this movie I will never understand. Having seen Nic Cage the actor shirtless at this point and knowing he has some tattoos in real life, I wonder if this scene got him interested in tats in the first place? In a stroke of good luck, the Tattoo artist won't ink drunk kids, especially this close to closing time. Rejected, the boys walk the rails until a Train shows up to ruin the peaceful evening. In a move that seems almost second nature, the two friends wait until the train gets super close then dodge it. ( kinda like Stand By Me ) Then they run after the train and grab onto the side of a car, riding the rail for as long as they can hang on for. What's going on here? Are they adrenaline junkies way ahead of their time? Or, does the train represent their future, something impossible to hang onto forever?
At the end of the night Nicky tells Hopper about Sally and the abortion hoping he will be up for one last hustle to earn the money they need. Hopper needs time to think about the plan while Nicky tries his hand at singing like a Crooner. While cleaning up after hours at the Bowling Alley, Nicky sings along to the song "Tangerine" written by Victor Schertzinger, with lyrics by Johnny Mercer from the film "The Fleet's In." Nicky must have seen that movie a lot, or the song must have been a huge hit, because he knows every word of it! Nic holds the mop like a mic stand, even tapping it to make sure it's on when the song begins. He then sings along in a very unique way, not exactly hitting every note correctly. Aw, hell… Nicky has a bad singing voice. But, it's a great Nic Cage moment that shows him just going for it all the way. He dances with the mop while cleaning the floor, crooning with a big smile on his face. At the instrumental interlude we get a great impromptu dance by Cage, flailing his arms about, only to be interpreted by their boss telling him to knock it off. I love the way Cage goes for it in this movie. He plays Nicky like a man living on borrowed time or something. He's seeking as much pure vice and pleasure he can obtain before shipping off. I get the feeling he may know he's not gonna make it back.
When Hopper finally agrees to help Nicky get the money the boys go to a bar up north in an attempt to reenact "The Color of Money". Nicky acts as Hopper's manager and convinces a couple of Navy boys to play for money. Little do the boys know there is a double con happening and the Navy Pool Shark is leading them on. The game starts friendly enough but when Nicky raises the stakes to all or nothing, the real game begins. All facades are shed as Hopper and the Navy Guy go head to head in one of the best pool sense to date all scored to "Sing, Sing, Sing ( with a swing )" by Louis Prima. This song was only 6 years old in the timeline of the movie and adds great intensity to the scene. It's also another popular reference to media from the time, much like the reference to Gatsby or the shot of Cary Grant in the magazine that girls are swooning over. The boys are out of their depth and lose the hustle, but  manage to make a swift escape when the Navy guys try to tear them limb from limb. Nicky is all out of ideas to get the abortion money, except for one. He convinces Hopper to ask Caddie for the money because they believe she is rich. Caddie gets them the money but now she is implicated in the scheme thanks to Nicky and has to experience the terrible horrors of lying, stealing and going to the creepy dark woods where the dirty trailer hitch doubles as the abortion hospital. This moment tests everyone's ability to deal. Hopper can't deal with Nicky, who doesn't think of anyone but himself. Caddie can't deal with Hopper, who finds out she isn't rich and thinks that's the only reason they were together. It's the dark night of the should and everyone has split from each other.
Eventually, Hopper and his Dad have a heart to heart and Hop is convinced he can fix everything before they have to leave town. He makes up with Caddie by giving her the blue slippers she really wants. He makes up with Nicky because they realize that they are the only friends each other has and will have to stick together oversees if they want to survive. They forgive and forget, hug it out and proclaim, once again, buds for life. All that's left is leaving day at the train station where everyone comes to see the boys ship out. Caddie even gives Hop a picture for his wallet. ( just what he always wanted ) What I noticed most in this sequence is how Nicky wears a lot of white, making him seem like a ghost to me, possibly signifying his death in battle oversees. The finale has the boys waiting until the train pulls out of the station so they can perform their patented "Race the Train" game for one last time. The last shot of the movie shows the two boys smiling and waving goodbye to their town as they get ready to die for their country… as credits roll
Well, that was quite something. I guess I got a bit carried away today but I wanted to cover all the pivotal scenes with Nic Cage in them. As we go along and he becomes a bigger star there will just be more to talk about. Cage appears to be able and play a man from any decade. He seems like a guy that would exist at this time in 1942, an authentic teen who's scared of fighting and lashes out with juvenile behavior. Also, Nic and Sean Penn have really good chemistry and it doesn't take much convincing to believe their friendship in this film. That wraps it up for this entry, join us next time as we go even farther back into time to Harlem in 1928 with "The Cotton Club".
Mike
@the_mikestir