The Frozen Ground (2013) : Right Ingredients, Wrong Chef [Mike's Review]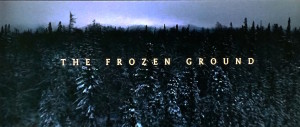 Today on Cage Club we go straight to DVD with The Frozen Ground. It's not that I'm actually happy we have arrived at the first direct to DVD movie here at Cage Club, it's just that I was expecting it so many films ago, but now that we are finally here, I get it, I get why this above all the others was released straight to the home market and not even given the time of day or the chance to see the light even once on the big screen. I think I can say for sure in the first time for a really long time, and mean it entirely, that this is a bad movie and I don't like it. It's a shame because the plot has all the makings of a good detective story something along the lines of Zodiac or even Insomnia. The vast cold open of Alaska, a detective gin one last case that keeps him from retiring, and the nicest guy in town who is secretly torturing and killing prostitutes.
I feel that all the blame lies in the writer/director Scott Walker who felt the need to condense a story that took place over years, into one that spans days, maybe weeks at most. It creates a rushed and hard to follow by the numbers procedural that entertains less than any episode of CSI. It also does no justice to the real life victims that deserved better than this disjointed and narrow view of what transpired. Thanks goodness for some of this cast, led by Nic Cage, to keep my attention.
Cage plays Jack Halcombe, an Alaskan Detective and Trooper that is on the verge of retirement when a new lead on a cold case has him reconsidering retirement. Vanessa Hutchens plays Cindy, a prostitute that escaped from her abductor and is the only person who can help Cage find the guy who has been kidnapping and killing hookers. John Cusack plays Robert, the local nice guy that is really a dark inhuman monster that is kidnapping hookers and hunting them "The Most Dangerous Game" style. These are our major players for The Frozen Ground. Cage knows that Robert is guilty but it takes the whole movie to get a warrant that helps them find the incriminating evidence to put him away. It also takes a while to convince Cindy not to go back to hooking but into witness protection instead until she can testify against Robert. She actually goes back on the street where Robert has the chance to abduct her again. Meanwhile Cage has been going through files and putting together charts to present to the D.A. so they can reopen the case and get their warrant. There is one major scene that is actually really creepy where Cusack keeps a girl chained up in his game room, but it's ruined by a cliche moment where he's almost caught by his own neighbor. You can feel the condensing of a longer story and the rush to tell it. They eventually get Robert but the confrontation that the movie has been building to is such a let down. Cage and Cusack deserve better material that they get here. It's basically a soft conversation between the two guys. It never really elevates or goes through any up's and down's. There is no depth or feeling to their face off here and it's disappointing, I was hoping for bigger moments between the two stars of the movie here. The move ends when Robert gives himself away after Cage finds his flight plan map marked where they found dead bodies. Cusack gets one moment at the end here to yell at Cindy before getting carted away. The movie ends with still frames of what looks like courtroom scenes that were filmed but not used for whatever reason, with text over them. There are several screen shots with text leading into the credits. All very strange. Then they list all the poor women that were killed by Robert in real life. It's off putting and they deserved a better tribute than this movie.
One of the main reasons this movie doesn't work is that the film language; the way it's shot and edited as well as the music, doesn't fit the subject matter or tone that the story really needs to breath. This is shot like an action movie when it's a police procedural and it should have more slow, long takes. The film maker needed to take his time more and not rush through this because that is what it feels like, a movie racing to the finish. Info is felt out fast and loose and often. Every scene feels crammed with new information and it's impossible to really keep up with everything going on. It doesn't help that the script wanted to condense years into days but keep every detail about what happened. It's too bad because like I said earlier, this movie had the ingredients to work, it just has the wrong chef in the kitchen. Good content, bad form and poor technique. What it could have used was more 50 CENT in that horrible pimp wig.
That will do it for our first official straight to DVD movie, The Frozen Ground. I don't want to jinx anything but I have a feeling the worst may be over, for a while at least. Up next we have a David Gordon Green movie, Joe, which has gotten high praise so I am really looking forward to seeing that. I am familiar with David Gordon Green as a director and he is very diverse, from his early southern independent features to his mainstream stoner comedies, he has talent and range that has been lacking from Cage Club for some time.
Mike
@the_mikestir