Trapped in Paradise (1994): It's Beginning to Look a Lot Like Christmas [Joey's Review]
Christmas movies fall into two distinct categories: movies that tell a traditional Christmas story and movies that are set at Christmas and have little to do with the holiday itself. While the former may be more popular, it's the latter category that holds my favorites; I love movies like DIE HARD, BATMAN RETURNS, and just about everything Shane Black has ever written (IRON MAN 3, KISS KISS BANG BANG, THE LONG KISS GOODNIGHT, etc.). On today's #CageClub journey, Nicolas Cage takes his first trip to the holiday season when he's TRAPPED IN PARADISE, in a film that blurs the line between these two categories.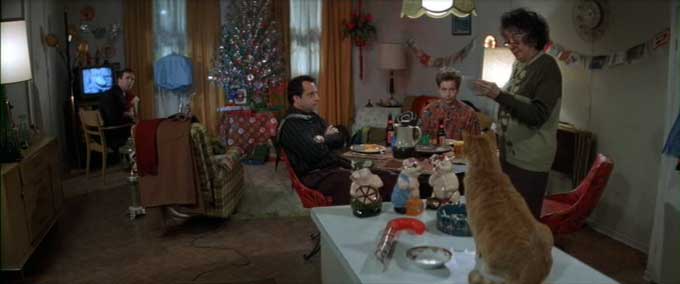 On its surface, Trapped in Paradise has little in common with "traditional" Christmas movies; it tells the story of three brothers (including two very recently paroled ex-cons) who team up to rob a bank in Paradise, Pennsylvania. It just so happens that they're paroled on December 23, and almost the entire movie takes place on Christmas Eve. The time of year adds to the scenery and plot — a massive snowstorm keeps them "trapped in Paradise" — but the actual holiday of Christmas has very little to do with the film itself.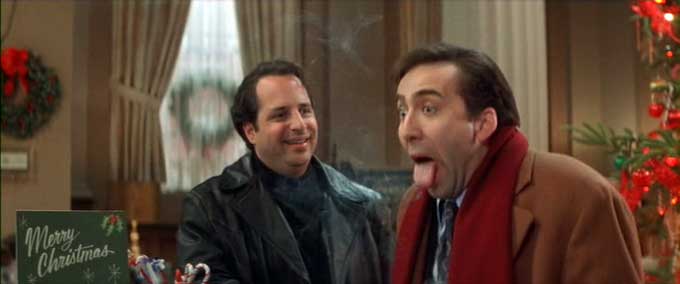 Instead, it's the spirit of Christmas that weaves its way through this movie, as these troubled bank robbers learn a valuable lesson about their criminal behavior. This small town of impossibly kind and generous people help teach Cage, Jon Lovitz, and Dana Carvey about the evils of their ways, and even convince them to return the $275,000 they stole. (The town doesn't know this, of course; it's their blind faith and generosity toward these three outsiders that prove to the three of them that there is still goodness in this world.)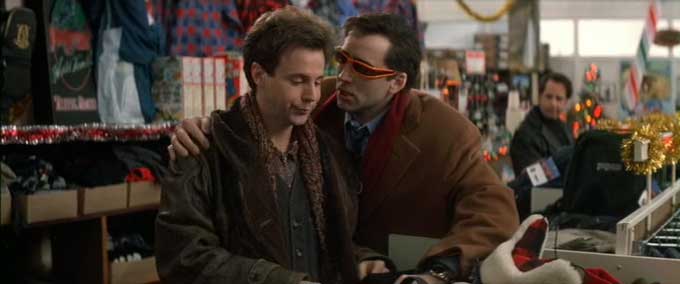 The boys embrace the Christmas spirit, calling themselves "The 3 Wise Men" in the note they leave along with the money they've returned. While the reality is that they're closer to the 3 Stooges, it's good to see that they've been enveloped by holiday cheer, peace on earth and good will to men. They're ultimately redeemed in the end, but only after they've experienced 90 cinematic minutes (and roughly 16 in-film hours) of non-stop kindness.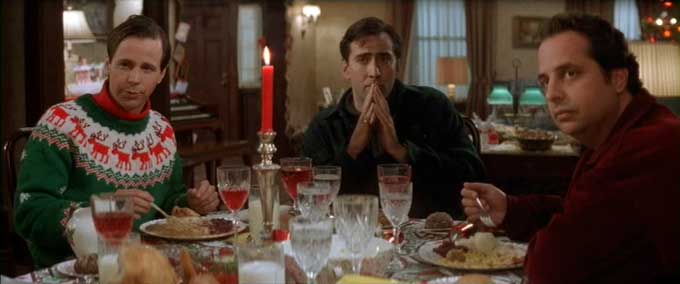 Another major theme in Christmas movies is that of family, and what better way to show familial bonding than by having three brothers team up to rob a bank? None, I say! Even though the boys have to lie to their mom and leave her behind to be kidnapped by evil, escaped inmates, it's the time they spend together that leads to this film's twisted sense of cheer. And even though they leave their poor mom behind, they're all re-united in the end, and isn't that what Christmas is all about?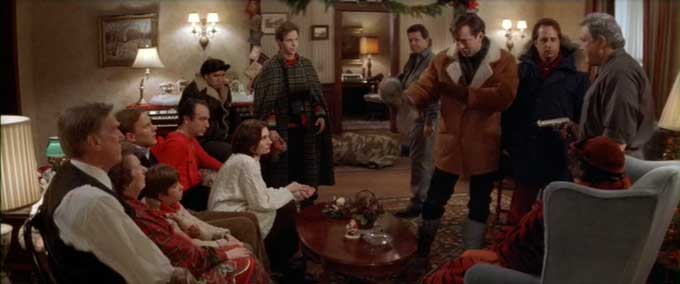 To be honest, I don't have a lot more to say about this movie. It's perfectly enjoyable if you're willing to turn off your brain for a couple hours — especially if you're a fan of SNL and looking for a #Cagenection of sorts. It's not a particularly smart comedy (though it does have some relatively clever points in the plot), but it's not the dumbest movie you'll ever see. TL;DR It's fine! It's Christmas! And it's mostly pretty funny! Cage is, as usual, pretty great in it, so check it out if you're looking for some late September Christmas spirit.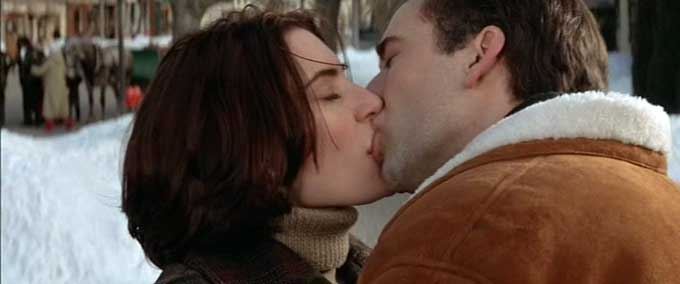 Also, Madchen Amick (Shelly Johnson from Twin Peaks!) is in this, and she's adorable and great. So maybe see it for her.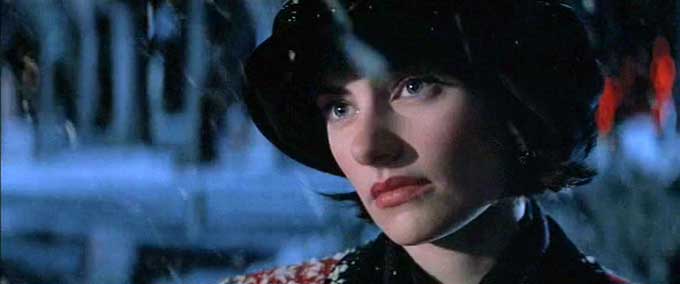 How can I watch it? It's not available for free on Amazon or Netflix, but you can rent it or buy it for a couple bucks.
What's up next? Cage returns to somewhat of a supporting role in Kiss of Death!