The Cotton Club (1984): From Newsie to Goodfella [Mike's Review]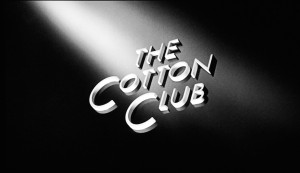 Today on Cage Club, Uncle Francis is back behind the camera and transporting us through time to 1928 in "The Cotton Club". The Cotton Club was an actual nightclub in Harlem at the peak of the Jazz Age. The movie follows the neighborhood musicians, dancers, hustlers and gangsters all trying to figure it out as they go. Nic Cage portrays mobster Vincent Dwyer or "Vinnie", a small time thief and bootlegger with high ambition. When Vinnie's brother Dixie saves real life Mob archetype Dutch Schultz from an assassination bundle of dynamite, Vinnie sees this opportunity as his way in the door and up the gang land ladder. Vinnie also needs to support his immature wife, played by 80's Icon Jennifer Grey, who tramps around the apartment in her nickers to the dismay of Mother Dwyer. While Vinnie starts to run numbers for Dutch up in Harlem, Dixie becomes Dutch's valet and player of personal theme music. Dutch keeps Dixie nearby at all times incase he wants a Cornet solo or some ivory tickled. Dixie is also responsible for making sure nobody touches Vira Cicero, the sexy "Flapper" with a heart of stone. Dixie sucks at this part of his job and has a sordid affair with Vira throughout the picture. While Dixie feels shackled, Vinnie soars in his new role as "Bookie" and "Enforcer". While he's off screen Vinnie starts to make a reputation for himself as a trigger happy racist who's muscling his way to the top. After the worlds best Tango scene, Dixie is approached by Vinnie who's been shot while tussling with the Harlem gangsters that were there before hie was. It's a strange scene between the bros. that displays how different their paths have become. Dixie is a fledgling movie star in the spotlight and Vinnie who suffers to carve out a notch for himself in the underworld.
I gotta talk a little about the Tango scene. At the behest of Dutch, Dixie must take out Vira for the evening and keep her entertained just like "Pulp Fiction". They go to dinner and dancing in what might in the top 3 dance scenes in all of movies. ( it even rivals all the amazing Tap dancing by Gregory Hines in this movie I have not talked about yet ) Dixie and Vira are both pissed at the situation and must dance to keep up appearances in front of the ghoulish chaperon Saul. They start to dance "The Tango" or "Forbidden Dance", allegedly the most erotic of all dances. What makes this scene better than the Tango scene in "True Lies" is how Richard Gere and Diane Lane SLAP THE SHIT out of each other while they are dancing. Vira strikes first AND DIXIE SMACKS HER BACK ! Damn, Bro! the 1920's were a different time. Vira is a super tough "Doll" that's probably taken a few hits in her day and starts fighting right back. What's awesome is that they keep dancing the Tango and the other patrons think it's all part of the act. It goes on for a while and Diane Lane even falls on the floor. The other dancers actually start to mime a smacking motion, integrating it into their dancing too. It's terrific and I forgot to talk about it in the podcast so I needed to get it off my chest here.
As the decade comes to a close and the 1930's roll in we see a montage of the Great Depression starting , Dixie moving to Hollywood and becoming a Movie Star and Vinnie with a tommy gun causing hell up in Harlem. Vinnie barges into a night club that isn't The Cotton Club and proclaims he's taking over the town. He proceeds to light up the joint with a huge smile on his face, cackling like The Joker. Even though the Stock Market has crashed it doesn't seem to affect Mob Life. On the contrary, Head Mobster Dutch has up and bought Vira her own club to run. There is a big scene at the new club where Vinnie demands an audience with Dutch, insisting on a promotion. Vinnie seems to feel the need to remind Dutch that he "Delivered him Harlem" and deserves a piece of the action. Dutch insults Vinnie by offering him $100 a week raise which is nothing compared to the salary Dixie used to get for just sitting on his ass most of the day. Vinnie severs his ties with Dutch permanently in this scene when he suggests that Dutch " Take your $100 and shove it up your ass!" End quote!
Now that Dixie is out from under Dutch's thumb he can't protect Vinnie from his wrath. Saul the Assassin takes out Vinnie's number one henchman to send him a message that it's on like King Kong ( a movie that would come out 2 years after the events of The Cotton Club ) but this only makes Vinnie respond with a drive by massacre that kills some children in the cross fire branding him a "Mad Dog". In an attempt to earn some quick cash, Vinnie kidnaps "Frenchy" the right hand man to Owney Madden, the big time mobster who runs The Cotton Club so you know these guys are really loaded. Dixie makes the drop at Vinnie's flop house motel room complete with an arsenal of weapons covering the beds. The brothers reunion is short lived as Dixie can't talk any sense into his brother who's officially gone off the deep end. Vinnie proclaims he finally a "tough guy" while wearing suspenders and no shirt, making him indeed look tough. Alas, Vinnie won't be around long enough to enjoy his ransom money because he's shot to death while visiting the Drug Store he decided to stick-up. Instead of skipping town he thought it was a good idea to bring his wife along for a robbery, which makes me wonder if this was an impromptu stick-up. Vinnie had enough money to set him up for a good long while so he must be addicted to the crime aspect, getting a reward from the rush of robbing and stealing. In the end, Vinnie pissed off too many of the wrong people and overstepped his boundaries. He was riddled full of bullets in an old time phone booth while making a call. Exit Nic Cage from The Cotton Club.
While the movie goes on for another half hour there is no Cage in sight. There is a big long sequence at the newly integrated Cotton Club showing the arrival of Lucky Luciano into the New York crime scene, celebrities partying with Dixie and Dutch Schultz finally getting brutally murdered in a bathroom. Coppola never skimps on the deaths and this is no exception. They shoot the poor guy while he's taking a leak for crying out loud! Dixie and Vira are seen at the train station together even thought I thought they hated each other at this point in the story. It's all aboard and see ya soon as the last tap shoe shuffles across the stage.
Cage transforms throughout this movie from a small time crook and part time thief to Public Enemy Number One! It's a meteoric rise to the top that may only last a short time, but he tried to make the most of it for damn sure. Vinnie lived how he wanted and wouldn't conform to anyone's ideals, except maybe Dutch but he already had similar interests and sociopathic tendencies. I feel like Vinnie would have been a gangster no matter what and his connection to Dutch only got him involved sooner and under a protective umbrella that set him off the leash. At the start of the movie Vinnie the their is dressed like a Newsie or paper boy with his ugly brown tweed and silly flat hat. Throughout the movie his clothes reflect his new standard of living, pin stripe suits and trench coat dusters. By the end he's shirtless with shaving cream on his face looking like the deranged killer he has become, his outward appearance reflecting his ugly interior. I love the touch of shaving cream on Vinnie's face because it reminds me of an animal with rabies or something. I know it's really because he's interrupted while shaving to accept the ransom money but it's not too far fetched to read into it deeper. One final thought about the very first Nic Cage on screen death. I love that he dies in a phone booth because Nic Cage was once supposed to play Superman who uses phone booths all the time to swap clothes. It was just a small coincidence or "Cagenection" that made me smile.
I gotta give at least a few words about the part of the movie I neglected in this post. Half the film revolves around two black Tap dancers called the Williams Brothers that wanna work at the Cotton Club. They show the other side of life in Harlem, the one pressed by racism and bigotry. Their story runs parallel to the Dwyer Bros. story and only overlaps very little. Gregory Hines plays the best Tap dancer in Harlem ( possibly the Planet ) and wants to marry the head singer at The Cotton Club. My favorite part of this side of the story is all the Tap dancing. There is a lot of it and it's all very impressive. Gregory Hines and his brother have a falling out after he steals the spotlight and later Gregory Hines looses his girlfriend when she switches clubs to sing at Vira's. By the end, Hines and his brother reunite onstage at the Cotton Club and he finally convinces his girl to marry him. He gives one more amazing performance at the Cotton Club that is intercut with Mob Boss Dutch's death scene creating a very heart pounding moment.
This brings us to the end of another Cage Club post ! Next week we travel forward in time to Vietnam when Nic Cage befriends a shell shocked Matthew Modine in "Birdy" I know nothing else about this movie aside from what I see on the DVD cover which seems depict Matthew Modine's character wearing an early Leonardo Da Vinci prototype of the one man flying machine of some kind. I will find out sooner than later and relate it all back to you next time on Cage Club!
Mike
@the_mikestir