Time to Kill (1989) : A Foreign Film [Mike's review]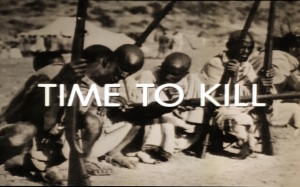 Today on Cage Club we take a short cut in "Time To Kill" the 1989 Italian drama. This movie is Nic Cage's first and maybe only entirely foreign film, made completely outside the Hollywood studio system. It's the second movie on Cage Club to be adapted from a Novel, this time from an Italian book "Short Cut" published in 1947. The only really familiar name in the credits aside from Cage is the world famous film composer Ennio Morricone, probably most well known for the "The Good, The Bad & The Ugly" theme. I did recognize Giancarlo Giannini who plays "The Major" as Rene Mathis from the James Bond movies Casino Royale and Quantum Of Solace, but I didn't put that together until after I finished the movie. This is another Nic Cage movie I wasn't aware existed until the research phase of Cage Club. I ordered my copy online but opted for the Region 2 version from Greece because it was half the price of an American copy and I have a multi region DVD player to watch it with. When I got it in the mail and inspected it, the cover looked Xeroxed and there was no English text anywhere to be found so I was a little nervous when I opened it up to put it in the player. When I hit start the DVD had some official looking production logo's then a very bare menu but I wasn't too worried. When the movie started it looked a bit like someone had copied a video cassette, the picture was very low definition to be sure. The icing on the cake was how the aspect ratio was in full screen. At first I was a little upset but then I realized this is a foreign film and was never really officially released in America. I decided to let all the problems and shortcomings slide to the side because I realized I was just lucky to have any copy of this movie at all. I sat back and got relaxed, ready to see the follow up to his cameo in  Never On Tuesday.
Cage plays Enrico, an Italian soldier stationed in Ethiopia during 1936. He has an awful toothache and takes off in search of the Dentist who must be making a house call because he's nowhere to be found. The pain is torture and Enrico can't wait so he heads off in search of relief across the wilds of Ethiopia. He causes his chauffeur to crash on route to a construction site where help may be and instead of waiting for a caravan, Enrico abandons his driver and walks alone the rest of the way. There's no Dentist at the construction site but Enrico scores some choice pain pills for his journey back to the barracks where he will have to wait. As Enrico sets off one of the workers tells him of a short cut through the jungle back to the barracks which Enrico hastily embarks down, even after a cryptic warning (?) from the construction guy. Enrico is quite impulsive, never willing to wait a few hours for the doctor to return or even wait a few minutes for a ride. He's determined to quell his tooth ache as soon as possible. He sets off in to the jungle/forest (kinda both) to find a lake that leads to a trail back to the road. He happens across a lizard and Enrico puts his cigarette in the lizard's mouth ( jokingly? ) with no respect of the animal kingdom. He then proceeds on his merry way high on pain pills. He trips on the path and cuts his hand, leaving a nasty wound that will come into play later. Then he comes to a grotto and sees a native girl bathing . Next, the character does something very shocking and for the first of a few times the movie goes somewhere I never saw coming. This movie will make a trend of proving all my predictions wrong. Enrico forces himself on the girl, raping her like he was entitled to it. Then the movie turns on me again when the rape victim seemingly falls in love with Enrico! Get this, Enrico thinks he loves her too and is ready to leave his wife back in Italy. Talk about moving too fast. The honeymoon doesn't last though because that night when Enrico is awaken by wild jungle cats  and the girl is hit with a ricochet bullet in the gut. Cage buries her and returns to camp a wreck, morning for the girl he accidentally killed. He gets his tooth pulled but can't shake his experience on the short cut. He tells his buddy who could care less because they are the invading force and their attitude is just do whatever you want to these people. Enrico is granted a leave from duty but the celebration is cut short by the next bomb this movie dropped on me. Turns out there are many lepers in this part of Ethiopia and Enrico may have had sex with one which would defiantly mean he is infected. From here on Enrico starts to lose his shit. Is this punishment for his careless behavior, how he always rushes before thinking about the consequences? The tooth, the short cut, the girl ! Will he have to live the rest of his days in a colony left to rot to death? I recall growing up and hearing about Lepers and being scared to death of the concept so I would probably lose my mind if I thought I caught the disease. Well, after Enrico dwells on this for a while he tries to leave the country but just can't seem to escape the inevitable. Enrico goes to the girl's village to live out his days among the sick only to find her father still living there. In fact, he's the only person that seems to live there now, everyone else probably murdered by rebels for not fighting the invading Fascists from Italy. Well, as soon as Enrico is at the point of accepting his fate the Dad tells him that his daughter was never sick to begin with. WHAT !?! Ahhhh! this movie ! I see what it's going for, though. Enrico is off the hook but has learned a valuable lesson, don't ever take a short cut. Or has he changed at all? Over cryptic voiceover from another character we see Enrico happy as can be with a new lease on life, ready to return home to his wife with this second chance. It all wraps up rather quick after spending the second act trying to convince you this guy is screwed and must stay in this hell hole waiting to die. It feels abrupt and tagged on like maybe the investor wanted a happy ending. This movie is based on a novel and it's probably managed much better in that medium. As we have discussed on the podcast and to some degree in these posts, there are times when you just can't translate everything you want in the way you want. Some things have to be compromised when translating page to screen. So ends this foreign film.
The film has some problems but I don't believe any of them are attributed to Nic Cage and his performance. Half of the story is framed in a flash back and there are at least two characters giving voice overs throughout the movie. These are not common filmmaking techniques in our country mostly because it creates a disjoint and confusing narrative. Some films want to use film language to portray the perspective of a confused or crazy character, but I did not feel this was the intention here. It's okay because this is a foreign film from Italy where great films are born and I don't want to hold this or any other foreign film up to American standards when structure and form is concerned. However, I will compare it to other amazing foreign movies made around the world and it's just not elite filmmaking. I would say watch this movie if you can but it's not the most easily available film to see. You can't rent it online anywhere and the DVD copies are a bit rough so if you get the chance to see it for free, take it, but this one is probably purely for the completists out there.
Mike
@the_mikestir