Grindhouse (2007) : Cage Manchu [Mike's Review]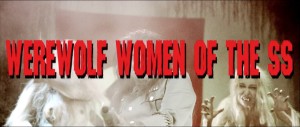 Today on Cage Club we watch a trailer for a movie that never was with Grindhouse. This is another great Cage Cameo in a series of amazing cameos in his career. Starting with "Man in Red Sports Car" in Rifkin's "Never on Tuesday" and continuing with Acid Yellow in "Sonny", Cage has had some my favorite film cameos ever. This is probably the cameo to end all cameo appearances as Cage plays one of the oldest fictional criminal masterminds in literature history, the feared and powerful Fu Manchu !!!
What is going on here? If you are familiar with the movie Grindhouse then you are aware that it is a double feature crafted by Tarantino and Rodriguez as a simulation of what it was like to see two cheap-o movies back to back in the 70's or 80's in crappy run down theaters. With Grindhouse, other filmmakers like Rob Zombie, Eli Roth and Edgar Wright, made fake trailers for movies that will never exist, but could within the Grindhouse universe. Rob Zombie's trailer is for his film, Werewolf Women of the SS and it is within' this sequence that Nic Cage appears as the ancient crime lord Fu Manchu !!!
Cage as Fu Manchu is terrific. He is in what seems to be a throne room filled with beautiful women, one of which is cage's real life wife !!! Fu Manchu ascends the stairs in his chamber and proclaims "This is my Mecca" or at least that is what the subtitles say. I always though he said "this is my mission", but really it doesn't matter what the heck he is saying because this is meant to be strange, confusing and made on the quick. All of Zombie's trailer has that authentic feeling of being rushed and coming up with stuff on the fly, like many of the cheap Grindhouse films were made themselves, with no budget and no time. I still hold out hope that some day Zombie would go back and finish shooting what he needs to make this an official release, but I have been told not to hold my breath. Cage towers over his concubines as he lets out a maniacal laugh to rival the entire concept of what a maniacal laugh should be.
The character of Fu Manchu was created by author Sax Rohmer in the early 1900's and is the archetype for the evil super genius that has been borrowed from or referenced throughout the history of literature. Manchu is indeed now seen as politically incorrect and a symbol of the "yellow menace" propaganda campaign, but he's much more than that. Manchu is one of the very first, along with Moriarty, super villains. He has appeared in his own series of novels, radio plays, films, comics and television. Cage joins the ranks of Boris Karloff and Christopher Lee as great actors that took on the role of the asian evil genius, albeit his portrayal is granted the shortest amount of screen time. This may be the biggest impression that Cage makes in the short time provided, after Man in Red Sports car, but one thing is for sure, Cage makes the very most out of his small appearances, so much that while he spends the least amount of time on screen, he is the thing you may remember the most.
For those of you that can't get enough of Cage as Fu Manchu there is an extended version of the Werewolf Women of the SS trailer on the Grindhouse Blu Ray that even includes audio commentary from Rob Zombie himself trying to explain the break neck pace in which the trailer was filmed in no time and with no money. The extended trailer played more like a short 5:00 film and fleshes out a lot of the story in a very short period of time. The trailer also includes more information as to why the SS were seeking out help from Fu Manchu. It also includes an extra line from Cage as Manchu. Cage's extra line is just as cryptic and hard to distinguish from the line left in the trailer. I though Cage was asking of a Cinnebon, the delicious treat that can be bought at the mall, but apparently he is asking for Cinnabar, a type of Chinese Wood, which would make sense thematically seeing that Fu Manchu is from the orient. Whatever he is saying, the point is that is doesn't really matter, and that is truly Grindhouse. It has the look and the feel of authentically cheap.
Next up on Cage Club we get back to some feature length Cage with the science fiction thriller NEXT. Cage plays a man that can see 2 minutes into the future, but will he use his powers for good and help the F.B.I. find a nuke, or will he just use his gifts to get into Jessica Biel's pants ?
Mike
@the_mikestir