2 Fast 2 Forever #306 – Fastivus Special 2023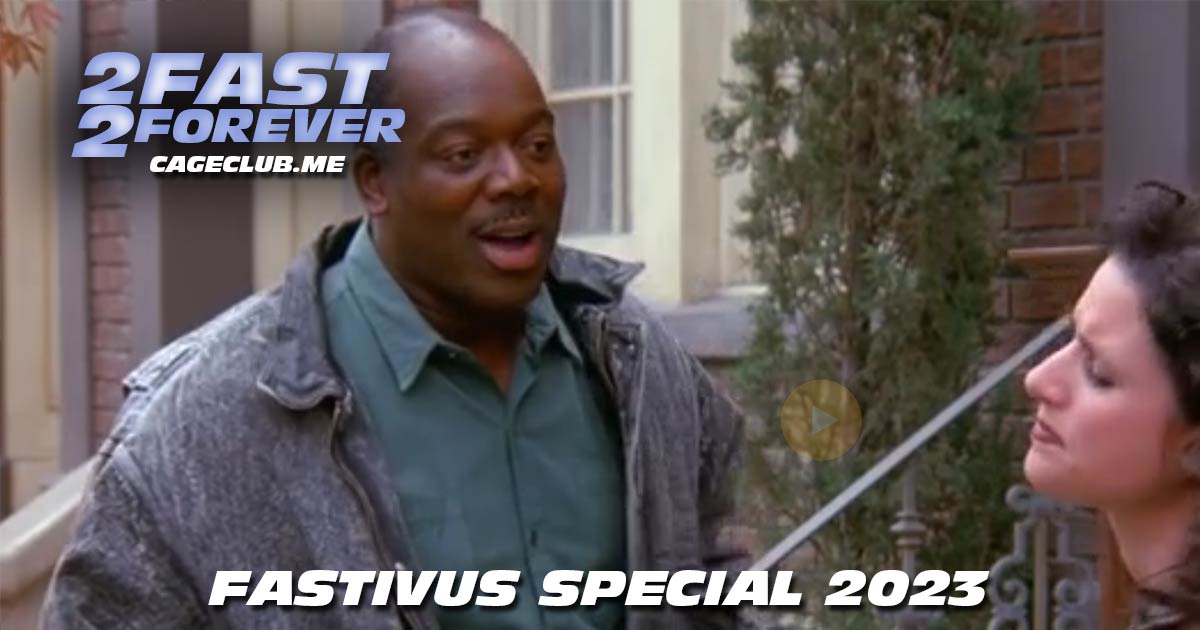 Happy Fastivus! On this date in 2001, the original The Fast and the Furious hit theaters, changing the world forever. Eighteen-and-a-half years later, we hopped on board. Today, we mark the release of the original movie's release by celebrating Fastivus, coined by @ReactionRocket, with a reading of original poetry (written by Wes Hampton) and unveiling the inductees into the 2 Fast 2 Forever Hall of Fame from our fourth annual ballot. You can find the text to Wes's poem below, and you can find more information about the 2 Fast 2 Forever Hall of Fame on a website I've been meaning to make for three years, but haven't gotten around to yet.
The Last Quarter Mile
1. Nose on nose on narrow strip of
2. White where wills are weighed against one another.
3. Exhaust exhales, escaping chrome.
4. Heartbeats hasten, hammering chests.
5. But eyes show ease; even tempers.
6. A past, perplexing yet proudly proclaimed
7. Of victories varying and verily won.
8. A fraction, one fourth of a mile flying from
9. This crossroad's conception comes complete at the tracks.
10. Now the signal shines brightly a scarlet of waiting.
11. On green will these galloping greats let loose.
12. Knuckles tight, knitted brows, nerves stretched to the breaking.
13. This battle will brook no breath be released
14. As time slows its trek, ticking seconds to hours.
15. Vivid viridescence vaults synapses alive!
16. Feet are forced down, fingers pull back,
17. Engines engage employing explosions.
18. Lumbering leviathans lurch to life
19. In a scream of smoke and salient fear.
20. Transmissions tear, transferring gears.
21. Tachometers turn too quick to track.
22. Speedometers soar sending squeals through the streets.
23. Drivers dive headlong determined and dangerous
24. As a whistle whines out warning of danger ahead:
25. A train telling tales of tragedy impending.
26. Suddenly something is smoking but stopping is not an option.
27. Gas is given and ground is gained,
28. NOS needed now never more urgent.
29. A pressed switch pulses plumes of potent potential,
30. Finds fuel in the furnace and forces all further ahead.
31. The cross bar cracked by cars desperate and crazed.
32. Both break their way barely brushing with death.
33. A respite relaxes these rare racing rogues,
34. But smiles soon sour sidelined by another.
35. Toretto turns tightly but this truck is his fate
36. Sending him sailing somersaulting overhead,
37. The deafening din defining defeat.
38. The crunching and crashing is followed by concern.
39. Brian comes beckoning bellows for Dom.
40. Dom's desperate breath delaying reply.
41. Removed from the wreck relief turns to worry
42. As sirens sing songs of certain incarceration.
43. Glances are given and grievances muddied
44. Replaced by resignation for one; regret for the other.
45. Keys are clutched upheld offering compensation long promised.
46. The question is quickly answered quieting any response,
47. "A debt is doubtless owed and determined am I to pay it."
48. Without a word the wounded warrior turns
49. And flees forever fearing to stop.
50. While the buster has broken from the law but bought his soul with a car.
Visit our Patreon page at patreon.com/2fast2forever. Extra special shout-out to Alex Elonen, Nick Burris, Brian Rodriguez (High School Slumber Party), Michael McGahon, Lane Middleton, Jason Rainey, Wes Hampton, Mike Gallier, Josh Buckley (Whole Lotta Wolves), Michael Moser, Christian Larson, and Terra New One for joining at the "Interpol's Most Wanted" level or above!
Want to re-live past memories? Find all episodes from past laps here.
Intro music by Nico Vasilo. Interlude and outro music by Wes Hampton.
Listen, Subscribe, and Rate Our Show:
Like Us on Facebook:
Follow Us on Twitter:
Follow Us on Instagram:
Explore and Say Hello: