With Great Power : The Stan Lee Story ( 2010 ) : Cage gives it up for Stan "The Man" [Mike's Review]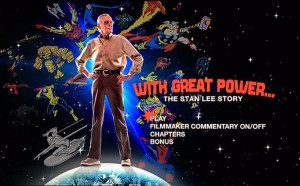 Today on Cage Club we take look at the man partially responsible for why Nic Cage is named Nic Cage in "With Great Power… the Stan Lee Story". This is another one of our little detours here at Cage Club, an occasional step away from Cage's feature films to examine his cameo's and appearances in other films and documentaries. Cage appears as a talking head interview in this as well as B-roll footage of what appears to be the first time he ever met San Lee in person. A few reasons come to mind as to why it' very fitting that Cage would partake in this documentary.
Nic Cage takes his stage name from the Marvel Comic book character Luke cage, albeit not one that Stan Lee created, but none the less a strong minority character that has even endured until today when he appears in the Netflix series Jessica Jones. Nic Cage has also played a Marvel character on film twice as the Ghost Rider, also not created by Stan Lee, but still a major Marvel property developed while he was in charge. Stan Lee is also such a prolific writer and creator that has touched so many people weather they know it or not that given the opportunity to do so it is nice to see Nic Cage take the time to pay tribute. Cage is also one of the celebrities that is on screen most as the editors tended to use actors that have portrayed Marvel characters in the movies over writers, artists and fans.
The documentary is very through and solid as it follows just about every part of Stan Lee's life from the time he was born until today. He has certainly lived an interesting life and his story is packed with enough information for several in depth documentaries. Here they touch on the milestones in his career, from running Marvel before it was even called Marvel, to dealing with the Comic Code and all the bad influence press comic's got, to the hardships of MArvel's bankruptcy all the way to the creation of the Marvel Cinematic Universe that is currently about to start Phase 3 !!!!
Stan has been there for just about every major historical event in the last century and is showing no signs of slowing down. He still appears on TV all the time and has a slew of cameo's in the new films. His presence is felt in the industry more now than ever and his importance and influence on modern storytelling is no joke. There will always only ever be one Stan "The Man" Lee !!!!
Mike
@the_mikestir