Moonstruck (1987) : Luck, Love & Opera [Mike's Review]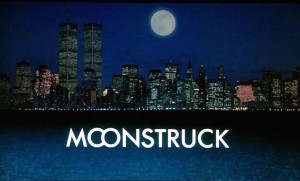 Ciao, and welcome to Cage Club ! Today we fall head over heels in love, like it or not, in the romantic comedy Moonstruck. Our main character here is The Moon. Throughout history, mankind has looked to the Moon for answers to some life's greatest mysteries. Some believe it's influence over the Earth doesn't end with determining the tides, that it controls our hearts and minds as well. Humanity has blamed the poor Moon on everything from Wolfmen to Werewolves and yet scientists still don't have definitive proof it's not a supernatural star egg waiting to birth our next Messiah. This story takes place over the course of a Full Moon, when it's power of attraction is said to have the most influence and passions overflow. There's only one rule on night's like these and that's keep off the moors and stick to the side roads, which are filled with food, lust and maybe a tear or two.
The movie really centers around Cher who plays the unlucky in love Loretta, un-recently widowed when her hubby was hit by a Bus. It's a nice metaphor for what ends up happening to her, except she's hit by the "love bus" and it's being driven by Nicholas Cage.  Cage plays Ronny, the brother of Loretta's new finance Johnny. Ronny holds a vendetta against his brother Johnny, blaming him for the loss of his hand and his fiancé and basically his whole life. Loretta visits Ronny to invite him to the wedding but after she gets the loud version of his origin, she finds herself the constant need to be in his presence. In his apartment above the bakery where he works, amid the sounds of Opera, they get to know each other better by arguing with each other. Before they know it they are in the throws of passion, tossing caution to the wind and surrendering themselves to the pull of the Moon. Cher feels terrible, sorta, about cheating on her fiancé with his bro. but agrees to date Ronny never the less. Her mouth says no but her body says yes. Cue makeover!!! Loretta will spend the rest of the film in denial about her true feelings until even she can't ignore the obvious, that she loves Ronny. The Opera is magical and Ronny in his tuxedo gives us a possible glimpse at what Nic Cage might look like as a secret agent. Loretta is brought to tears by the beauty of "La bohème" even though she didn't really get it, but no time to compare notes because she just caught her Dad cheating on dear old Mom. Mama Mia, seems the Moon is playing cards with multiple decks. Loretta can't really say anything to her Dad or she will he a hypocrite. More confused than ever Loretta wants to be with Ronny but says he's too late, she's too old to start again. Ronny says only the man upstairs can point the finger and love isn't about flowers and sunshine, it drives you crazy and ruins your life. This is definitely the man for Loretta and she relents just as the snow starts to fall. The next day Ronny invites himself over for breakfast and introduces himself to Loretta's entire family which all lives in one big house. They await the arrival of Johnny who just returned from visiting his MaMa on her deathbed. The mood is tense as the family waits to break the news to Johnny, that his brother stole the heart of his finance. Johnny arrives but shocks everyone when he breaks off the engagement before anyone has a chance to talk. Ronny jumps at the moment and proposes to Loretta in front of everyone. There's a lot of happy confusion as the emotional knots all untie and the Moon sets everything right. Johnny isn't sure quite sure what happened but is happy to be part of the family now, maybe that's all he really wanted. Loretta proclaims her true love of Ronny and everyone celebrates by drinking champaign in the morning.
This movie is a blast. I always liked Cher the actress and she runs this movie. It's a great Nic Cage role that showcases his range real well. He gets really emotion in different ways, sometimes he's loud and screaming and other times he's gentle and quiet. The supporting cast is great too, most of them an elder bunch playing Cher's family members. The movie portrays the Italian American lifestyle in a real and fun way. It is stereotypical but as an Italian American watching this movie it reminded me of Sunday afternoons as a kid with my relatives.
Next time on Cage Club we get stalk the night looking for a bite in the horror, comedy (?) "Vampire's Kiss". I am not very familiar with this film having only seen part of it on HBO in the 90's as a kid, but I very much look forward to this movie. I know about a couple scenes I've seen clips of online, but they are all completely out of context so I can't wait to try and understand what it's all about. But first, I have to whittle a few extra stakes and pick up extra garlic.
Mike
@the_mikestir