The Boy in Blue (1986): Rollin' on the River [Mike's Review]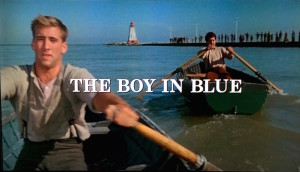 Today's Cage Club is based on a true story. The story of a meager Canadian Moonshiner who rowed his way to fortune and glory.  I'm talking about championship Sculler, Ned Hanlan, also known as "The Boy in Blue". Nic Cage plays the man himself in this rather straight forward bio pic. It focuses on Ned's rise to fame as the supreme underdog in the worlds most popular sport of the day, Sculling, which is competitive rowing. It was all the rage at the time, that time being the late 1800's on the east coast of North America. This was before Baseball. I repeat BEFORE BASEBALL ! Try to wrap your head around that because I can't. There isn't a single person alive that can remember a time before Baseball. It's overwhelming to me, but I gotta press on. These guys were your Micky Mantel and your Michael Jordan and they kicked ass at one thing only, rowing fast in a really thin boat! This was the game everyone was into from all walks of life, be it rich or poor, man or woman. The reason everyone liked it so much was probably due to the fact that nobody had invented BASEBALL yet, let alone American Football or Basketball as we know it. (Just to dive home the point, the second biggest sport was probably hitting a big hoop while you run next to it.)
The movie starts mid race as we see Nic Cage as Ned rowing center screen as the title appears. This opening race shows how Ned is an unconventional sculler as well as one quick thinker. When a fellow competitor causes Ned to lose an oar, he jumps into the water to retrieve it and has no trouble catching up to the scoundrel that played the dirty trick on him. He wins with ease and catches the eye of a small time promoter, Bill McCoy. Bill wants to represent Ned and discovers he's been training by out-rowing the harbor patrol while smuggling Moonshine up and down the river. Since Ned won't listen to reason, Bill arranges an elaborate plan so Ned must leave town. Bill tips off the cops to Ned's whereabouts so he is forced to flee Canada and hide out in "the States" until the heat wears off. Bill arranges passage to Philly ( where half of Birdy takes place ) and they become partners. The only problem is they don't have a boat, until they meet the kind inventor Walter. Walter has a crazy new state of the art boat with a sliding seat that everyone laughs at except for Ned. Ned test drives the boat on the Schuylkill River in the qualifying rounds and actually comes in second place. No more greasing your bum, the sliding seat is the wave of the future. ( oh yeah, Scullers lube up their ass to help them slide in the boat which I guess helps them row better ) That night Ned and Bill are almost drugged and murdered for being cocky and from out of town, but not before Ned is christened "The Boy in Blue" by a sports reporter. Ned wants to be called "The Blue Flash" which is much cooler but vetoed immediately. The Big Race in Philly is pretty epic. Ned's major competition is a Pirate looking guy who isn't exactly a slouch and makes Ned earn the win. The race is neck and neck until Ned pulls ahead in the end. It's unheard of that he could come out of nowhere and take first place on such a major race. Most people call it a fluke but he returns home to Canada a national hero, given a huge parade and a metal from the Mayor.
Enter, Colonial Knox, played by the great Christopher Plummer as quite a dastardly gent. Knox is a big time wealthy promoter that wants to steal Ned away from Bill McCoy and exploit him for huge dividends. I don't think he was a real Colonial, it seems like a honorary title like Colonial Sanders. As far as the movie is concerned he never mentions fighting in any war. He chases after Ned and uses the allure of his niece, Maggie, to turn Ned to his team. Ned tries out the high life by courting Maggie but realizes he's not meant for "monkey suits" and the Harvard crowd. It's not that Ned is too common, it's more that the super rich are condescending dicks and pick on Ned even thought he's an elite athlete. Like, what the hell does Ned have to do to prove himself and be accepted? Ned blows his chances with Maggie after he decks a Harvard boy in the face causing a scandal. He turns to drinking the day of the next race. He'ss way too drunk to row a boat and almost barfs all over but ends up passing out before he crosses the finish line. Since a lot of money is riding on Ned none of the other scullers will pass him and fake stomach aches or just plain give up. The race doesn't even end as far as I can tell but the scene sure does. Ned is carried off on a wood plank with a bad case of heartbreak but later that night he's back to his first love, smuggling Moonshine. The reunion doesn't last because the Cops, under Knox's influence, arrest Ned and toss him in 1800's prison which had to be simply deplorable conditions. This is the second time Ned is blackmailed with the threat of prison, first by Bill McCoy and then by Knox. Cage is willing to rot a year but McCoy tells him to use Knox's money and influence to rise above everyone and everything, to be the best damn Sculler on the planet, to have a name that will be remembered after you die.
Life with Knox is extreme. Ned has a new trainer that works him like never before with the help of the worlds first fantastical rowing contraption, or an early model rowing machine. This thing looks like a Rube Goldberg device with Ned as the engine. It's clear that Ned will thrive with top shelf equipment and unlimited funds, but is he happy? We see in montage that Ned wins several trophies and awards, but he's got no time for friends as every spare minute is spent training. Knox is super happy because Ned is a cash cow, paying out over and over. Knox may have great facilities but he's constantly trying to swindle Ned and uses his daughter as leverage even though she's engaged! When Ned has a breakdown before the big race in Boston, Knox employs McCoy of all people to come try to cheer Ned up and ensue victory at all costs. That cost winds up being the friendship between Ned and Bill when McCoy spills the beans about his little sabotage on the enemies boat. Ned if furious and unlike most people surrounding him won't condone cheating to win. He is finally good at something he can be proud of and even dropped his bad habits along the way. After ensuring a fair race, the Boston match begins. Ned is under heavy fire of trash talk from a fellow sculler and he just won't let up, trying to get Ned to pop his top and make a move. Which he does. Ned really lets the guy have it and rams him over with his boat immediately disqualifying him. It get's worse because ned is dragged in front of a room filled with super old white guys that run the league of Sculling and declare his unsportsmanlike conduct deserves a LIFE TIME BAN from Sculling in America. This is a remarkable scene where the Sculling Tribunal goes on and on about how the sport builds character and serves as a training ground for life. Which is kinda true, the sport did set Ned on the right path and give him a reason to believe in himself. But the damn tribunal is short sighted and only cares about the foul he perpetrated. I think they had it out for Ned from the start because they don't charge the trash talker who started the fight in the first place and if they were privy to just about any race they'd see constant unsportsmanlike conduct and cheating everywhere.
Ned has nowhere else to go so he returns to his homeland, Canada. While the reception isn't grandiose, his fans do turn out for comfort and encouragement, reminding him he's still a hero to them. They are still proud of him. It's this touching scene that gives Ned the inner strength to move on and not sulk in the bottle or revert to crime. He decides that just because he can't row in America, doesn't mean he can't go for the World Championship Title in England !!! Ned tracks down Walter, the inventor, back in Pennsylvania. He pleads to Walter for help telling him he can't reach his full potential on his own, he needs help. This convinces Walter to believe in Ned and train him in a montage that could hold it's own in Rocky IV. I like this moment because it shows Ned is willing to ask for help and swallow his pride. Walter hooks him up to his own home made rowing machine which is even more fantastical than the one Knox had because it's very makeshift, put together from whatever spare parts happened to be lying around. The one thing I didn't mention is the film's score. It is not "of the period" in the least. It's a full on 80's action sports score that would work better in a Football movie ( but Football didn't exist yet so … ). The music does enhance the action but also takes you out of the period at times so they could have improved on that aspect a bit. I mention it now because I liked the score over the final training montage the most. Look out, England, Ned is gonna scull the hell out of the THAMES river.
Before we head to England, Ned and Walter wanna rub their intentions in the face of Knox. They set up a bet that includes the patent to Walter's "sliding seat" worth 50,000 in 1880's money !!! It's not about the money for Ned, he still has eyes for Maggie even though she's been playing our boy the whole movie. But, when Maggie overhears her Uncle scheme to cheat Ned at the THAMES, she finally does the right thing and joins Team Ned permanently. It's about time too. While Maggie is first and foremost a puppet of Knox, she does express genuine affection for Ned at times. While dropping dime on her Uncle, Maggie surrenders everything to Ned as she's finally overcome by his chiseled Sculler physique. Maggie and Ned get hitched and we have Nic Cage's first on screen wedding! Knox is beyond pissed now that all his plotting to ruin Ned have failed, but may have one last card up his sleeve. Next thing you know we're across the pond and ceremonially pouring champaign on the THAMES. I wonder what the voyage to England was like for Team Ned. They probably took a boat like Titanic but way smaller because there were no airplanes back then.
The big race is tense and not without trial for Neddy. This time there is serious competition from around the world, not just homegrown chumps. If that isn't enough, Ned's boat has been sabotaged by one time friend Bill McCoy who is now employed full time by Knox as his nefarious deed doer. When the race starts, Ned pulls the early lead but has to stop when an oar handle breaks. He has to fix it with his hand, cutting it in the process, but easily regains the lead. The Oar breaks again and again costing Ned the lead, maybe for good. Unable to stand it anymore and possibly wracked by guilt, McCoy plunges himself into the THAMES and swims over to Ned's boat to hand him a wrench. The Judges seem totally fine with this. It permanently fixes the boat and begins to mend their friendship, but Ned still has a race to win. He takes the lead once again and in glorious slow motion makes the final strokes to victory, crossing the finish line and into the history books. In a quick scene of resolution at the end, Ned saves McCoy from a beating owed to him by Knox for helping Ned win instead of lose. The two's friendship is rekindled as they rush to attack the thugs and the movie ends with a great freeze frame of the pals ready to rumble.
In a few years it seems nobody would care about Sculling the same way as Baseball is created and grows and grows in popularity into the next great American sport. But Ned is remembered as a true hero who learned that anything worth doing is worth doing right. He also knew that to be your best it takes help. He also was pretty stubborn which helped a great deal too, especially in the courting of Maggie. The real Ned Hanlan went on to a career in politics and became someone the great people of Canada could look up to but the movie is only about 90 mins and it doesn't get into that chapter of his life. He died of pneumonia at the age of 52 but like Bill McCoy one said, he will be remembered long after he's gone. In this instance, thanks to Nicolas Cage.
Next time on Cage Club we complete the "Uncle Francis Trilogy". That's right, Nic worked with his Uncle one last time and finally in a lead role! Plus it's his first foray into Science Fiction. There will be a lot to talk about as this movie is a complete blast ( from the past?) Get inside your Faraday Cage cause we're going Time Traveling with "Peggy Sue Got Married" !
Mike
@the_mikestir