G-Force (2009) : Mission Impossible for Little Kids [Mike's Review]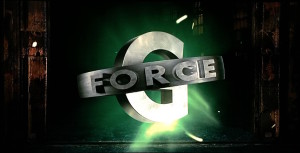 Today on Cage Club we unleash a fiendish plot to take over the world in G-Force ? We are back in kids mode here at Cage Club in a live action/animated hybrid that raises the bar for children's films, at least the ones that Cage is in. The king of hybrid animated features will always be Who Framed Roger Rabbit to me. I still recall the wonder and excitement of cartoons interacting with human beings. My mind was totally fooled. Nowadays, with the crazy modern technology and advancements in animation, the hybrid feature is a genre all its own. Franchises like Alvin and the Chipmunks may seem like nothing special, but these are pretty technical films that rely heavily on special effects, precision directing and good acting. Many of these types of movies seem to fail to a large degree because the patience and care doesn't seem to be there and it shows through in the quality. G-Force pulls this off much better than most movies of it's kind and it came as a big surprise to me that this "children's" movie actually had some appeal to an adult like me. It didn't rely on only pleasing the kids but also actually cared enough to cater to the adults that had to bring them. The story is more complex and interesting than expected with some nice twists in the third act as well as a positive message that makes this one of the more well rounded family films I have seen in recent memory.
In this one, Cage plays Speckles, an actual mole that is a computer hacker on an elite team of rodents known as G-Force. The first ting you notice about Speckles is that he sounds like Charlie Bodell from Peggy Sue Got Married. It's almost the exact same voice and it's perfect for this role. This is what I was really hoping for from Cage's voice over work and it delivers here more than ever.
G- Force is an unlicensed, unsanctioned branch of the F.B.I. dealing with extreme espionage and counterterrorism. Cage is the only Mole on the team, the rest of the agents are Guinea Pigs voiced by fellow Matchstick Man Sam Rockwell's Darwin, Tracy Morgan as Blaster and returning from Captain Corelli's Mandolin Penelope Cruz as Juarez. They can talk and communicate with each other as well as their handler, Agent Ben, played by Zack Galifianakis. When the movie starts, Ben has sent the G-Force on a mission to infiltrate tech giant Saber's mason during a fancy party. Saber is announcing his new tech that allows all his products to talk to each other, but the G-Force believe he may be up to something more sinister, so they break in and download some secret files that outlines a plot to take over the world somehow. When the team reviews the stolen data back at headquarters, they find it was corrupted somehow. This causes the G-FOrce unit to lose all funding and get shut down, and the special agents are sent to a mild mannered Pet Store. There they attempt to escape and prove that Saber is planning something. Two of the G-Force get bought by some evil kids and Speckles is actually presumed dead when his escape attempt goes south and he's mistaken for a dead animal and tossed in the garbage truck.
It's up to Darwin and Hurley, the Guinea Pig from the pet store voiced by Jon Favreau, to break free and rescue their friends, then regroup with Ben and get to Saber's computer where they can plant a worm in his network stopping the master plan. After some harrowing close calls, it's back to Saber's house to plant the worm. Darwin sneaks into his computer but discovers that Sparkles made it first. He survived the Garbage Truck, rod it to the dump and set up shop in Saber's network to track him. It also turns out that Speckles isn't just a mole animal but an actual mole in the espionage sense and betrays the G-Force and Saber who turns out had nothing to do with world domination, he just wanted all his products to talk to each other. Speckles reveals that humans took his home and family from his as a small mole and his Dad made him promise to take revenge on humans one day. Speckles is going to drop space junk to the surface forcing civilization underground making them live like moles!!! Speckles constructs a big robot and throws a major tantrum until Darwin talks some sense into him. He reminds Speckles that there are good humans too, like Agent Ben, who took him in and gave him purpose. Speckles realizes the error of his ways and helps to stop his plan before it's too late. The G-Force have saved the day, and even added some new members from the pet store by the end. They also allude to the idea that Speckles will be able to rejoin the team once he has served his time by fixing every Saber product he sabotaged.
I am positive this plot could serve as a Mission Impossible sequel if you recast all the animals with humans. The CGI is spot on and the writing is smart and fun. The movie never seemed to pander by re-creating famous or popular scene from movies that you usually see pass as an excuse for comedy or parody. The script never relies heavily on potty humor and actually earns some nice emotional moments. I am really surprised that I was never annoyed by anything in this movie and would recommend it to any Cage fan with children that want to introduce the star to some young fans in the making.
That will do it for G-Force. All in all I felt this was one of the better kids films I've seen in recent memory, and not just because of Cage, I actually felt there were some strong story elements and felt the payoff was satisfying, even for an adult.
Next up on Cage Club we take a drastic change of pace when we return to New Orleans and get down and dirty with Bad Lieutenant : Port of Call New Orleans.
mike
@the_mikestir