Stolen (2012) : The New Orleans Saga Continues [Mike's Review]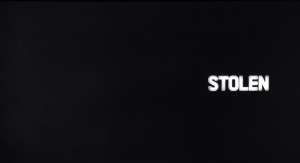 Today on Cage Club we do whatever it takes to save our estranged daughter from our estranged partner in Stolen. This is the latest installment of the New Orleans Sage here at Cage Club. Over the course of Cage Club we have come across numerous "trilogies" along the way from The "Action Trilogy" to the "Sunshine Trilogy". But, this movie marks about the sixth time that a Cage Club movie has been set or taken place partially in New Orleans, making it more than a mere trilogy, or even quadrilogy. Nay, this elevates it into Saga territory. There is another returning Director here, Simon West from Con Air. Can he avoid the curse of retiring directors so far or just prove the theory that every director aside from Uncle Francis & John Woo should stay away from Cage after making a movie with him? It should be noted that Uncle Francis Films were more towards the start of Cage's career and he only really starred in one, Peggy Sue Got Married.
Stolen has become an instant guilty pleasure for me. It's one of those rare films that I imagined they were going for with The Wicker Man remake. Something so bad that it is good. There is some type of magic going on here, but by no means is this a "good" movie. Well, it's well made in that it looks good and you can usually follow the action and everything, but the script is completely off the walls crazy bad and that is a huge issue. It's something I can't quite place my finger on, but form the music to the delivery of some of the dialog, to the tone. It just had me laughing right from the start, but I don't think that is quite what thy intended. It's not really a movie's fault when they shoot for being earnest and honest and want to make a fun action caper/thriller set in New Orleans on Fat Tuesday. All the elements are almost there, the one that they included to round out the plot is probably the worst idea they could have gone for. Cage's daughter is kidnapped and trapped in the truck of a cab for the whole movie while it's stuck in traffic. It's all just very strange and weird, but provides for a lot of what the hell moments and probably unintentionally hilarious moments along the way.
Cage plays Will, a really great thief that gets caught robbing a bank in the opening of the movie. We learn that his tight crew diatomic is more fragile than he thought when an argument over killing a bystander causes a rift that will come back to haunt him. Will is caught and goes away for a few years, all along his crew and the cops think he stated the money somewhere before turning himself over, but really he just burned it, but nobody will believe him. When he gets outta prison, the cops won't leave him alone and neither will his ex partner who's fallen on some really tough times. His ex-partner, Vincent, even kidnaps Will's estranged daughter and she spends the whole movie in the trunk of a car while Will looks for her. Vincent gives Will 12 hours to pay him his cut of the robbery that went south, $10Million !!! Nobody believes Will doesn't have the money or that his ex-partner is out to get him so he must go at it alone, almost. He enlists the help of another former partner, Riley. Together they pull off the fastest bank heist in film history by melting the gold out of a bank vault through the floor with a high powered blowtorch of some kind. Will goes to pay off Vincent in a climatic battle that sees both men shot, Vincent set on fire, Cage driving a car that is on fire just like The Ghost Rider would or even Milton from Drive Angry. Then, he manages to free his daughter from the trunk while the car is submerged in water. All this and he kills Vincent once and for all. Not a bad way to spend your Fat Tuesday. Oh yea, most of this movie takes place during Mardi Gras, on Fat Tuesday
Maybe this just sounds bad and not like it could be "fun" bad on an enjoyable level but I think you should at least give the movie a chance and see if it provides you with as much laughter and fun as it did for me, intentionally or otherwise. Who knows, maybe someone will watch this and take it way seriously like it wants to be taken, but to me it's an instant guilty pleasure.
So yea, this movie is nuts. The Villain is such an insane role that I couldn't help but wish Cage was playing the bad guy this time, again. It feels like the writer gave that character the most attention and filled him with detail and style. The guy is full of bad tattoos, scars and even had a Blade Leg in place of his missing leg. I couldn't believe they took it that far, then I couldn't believe Cage ain't playing the part. At least there are one or two good Cage lines in this but unfortunately the Diane Kruger effect is going on. Then there is the crazy and incoherent motivations and probably the worst cops in any Cage film, including Amos & Andrew (?), and thats saying a lot. The music is by far my favorite and least favorite part of it. It seriously sounds like a rip off of the Grindhouse theme or something like a Midi quality temp track that comes with your editing software. I found it hilarious and imposing at the same time.
That will close the book on Stolen, aka Cage's "Taken"… sort of. Next up we switch gears drastically once again as we tackle the last of Cage's animated features, this time the CGI Caveman family film, The Croods. From what I can tell, this looks to be somewhat inspired by the likes of The Flintstones cartoon, or maybe I just think that because there are talking cavemen. I'm looking forward to this one, as I know for sure it was released theatrically cause I saw trailers in the theater and on tv and everything. This movie has some tough competition for best children/family film after the likes of G-Force raised the bar so high, so find out next time if The Croods can hold their own.
Mike
@the_mikestir