Sonny (2002) : Cage the Director [Mike's Review]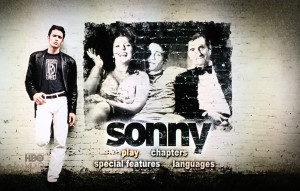 Today on Cage Club we go behind the camera and make our directorial debut with "Sonny". One of the big surprises for me when starting Cage Club was discovering that Nicolas Cage has directed a feature film. We talked on Cage Club the Podcast about his possibly taking over some directing duties on the doomed Trapped in Paradise, just to rally the troops and get the film finished. This is a whole other story altogether. This is 100% Nic Cage's movie and as Joey points out in his review, a movie that seems to be made for Cage Club. The script is one that Cage tried to get made several times with him in the starring role, and over the years he always held onto the project hoping to make it some day. When the day finally came, cage would be behind the screen as Director instead of in front and starring, however he does make a very special appearance in a way that only Nic Cage could.
The story is about Sonny, played by James Franco, a young man who has come home to New Orleans after being discharged from the Army. Upon arriving back home his Mother, Jewel,  wants to put him back to work on the streets as a male prostitute. Turns out that Sonny was turned out by his whore mom when he was just a kid and gained something of a reputation for himself as the best, smoothest male whore in town. The thing is, Sonny is done with that life and wants to move on and become a respectable "normal" person. I get the impression Sonny thought the Army was his ticket out, but apparently that didn't get him far because he's back where he started.
Sonny tries to get a job like a normal persona and even visits an old army buddy in Texas where he thought there may be work. There is no work to be had and Sonny gets a healthy dose of reality when the nice "square" girl that hemmers turns out to be a codeine charged cough syrup addict. Sonny freaks out because his ideal perception of people that live straight lives is nothing but more of the same. He thought leaving New Orleans and the hooker lifestyle would get him away from liars and addicts, but it turns out that the folks that live on Main Street USA have just as many troubles as everyone else.
Sonny returns to New Orleans defeated and resumes his soul crushing existence selling his body for money. His mother teams him up with Carol ( Mena Survari), a stray girl she took in to help pay for rent while Sonny was away. They work jobs together but also fall for each other, two hookers in love. Jewel tells Carol that she only loves Sonny because she trained him to get girls to do that, he's got some power over them. Jewel is like the matriarch of the family, keeping a fire under everyone and laying some awful guilt trips on them in order to keep them around and taking care of her. Also in the house is Henry, Sonny's surrogate ( and actual ) father. He is a wise old thief who doles out life advice that Sonny mostly ignores or can't understand. His death and the revelation that he was Sonny's Dad pushes Sonny over the edge and into a night of heavy drinking with malicious intent. Burring his dark night of the soul, Sonny meets Acid Yellow, a Gay Pimp/Drug Dealer played by Cage the way only he knows how.
Acid Yellow is a completely insane vision of a person. He dresses in head to toe Yellow ( hence the name ) and loves Cocaine more than anyone in the world. He has a small blond afro ( that is probably a perm ), and paints his poodles pink and green.  He may be H.I.V. positive and would do anything for a piece of Sonny. Sonny saunters into his man den at the peak of his inebriation. It's not sure what Sonny is looking for but Acid Yellow doesn't care as long as Sonny will have sex with him. Sonny says he wants work and Acid agrees to give him a client, as long as he is firm yet gentle. Sonny winds up assaulting his client and beating the crap out of him, then gets ejected from Acid Yellow's brothel just before his face is cut. It's an intense and surreal scene that helps amplify Sonny's intoxicated state of mind and adds a real sense of danger to the situation.
After that night Sonny wakes up and Carol tells him she is leaving the life having accepted one of her "Johns" proposal for marriage. She says it's a crappy way out, but it's a chance and she must take it. She tells Sonny to run far away and take his chance too, but Sonny just stands there staring at the front door deciding weather to to back to that life or leave it all behind. He is alone. He has no father, no Carol and Jewel is a mess that can't stop morning the loss of Henry. It appears that Sonny is stuck at a choice, and that is how the film ends.
I really liked this movie more than I was expecting> I wasn't sure what to expect from this story at all and knew even less of what to expect from Nic Cage the Director. I must say I was very impressed and satisfied with Cage's style and technique. He seemed to simply want to tell the story and didn't use many highly stylized camera shots or crazy film techniques unless the story absolutely called for them. The movie is mostly shot in master shots or simple follow the action shots. However, when the character of Sonny starts to drink and get out of control there is a little more emphases on style but only to service the story. When Sonny gets drunk at the end and wanders around New Orleans, cage switches to a very shallow focus lens to express the inner state of mind of Sonny. He does some trick photography to speed everyone up while keeping Sonny still in place, a nice way of showing how Sonny sees the wolf passing him by quickly and totally ignoring him. Cage has a good amount of restraint as a Director and was able to get some really strong performances from his actors. James Franco gets really intense and gets to have a good Cage level freak out scene. Brenda Blethyn as Jewel is a force of nature as the Mama Madam that running everyone's life. Harry Dean Stanton is always great in everything, and Mena Suvari is more convincing in this that most other movies I have seen her in. All in all I was very impressed with Nic Cage's directorial debut.

That will do it for this chapter of Cage Club. I really enjoyed this film and thought Cage did a good job as first time director. He has worked with some of the greats and I think some things may have rubbed off on him. I hope he decides to direct another movie at some time and look forward to that day. Coming up next on Cage Club, we get Two Cage for the price of one !!! Cage plays twin brothers, crafting two unique performances in "Adaptation".
Mike
@the_mikestir