Snake Eyes (1998) : It's a Cagespiracy ! [Mike's Review]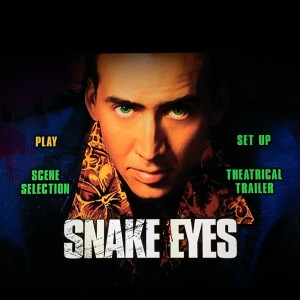 Today on Cage Club we get ring side seats to the fight of the year in "Snake Eyes". This is a very welcome change of pace from the last film City of Angels, which seemed to be stuck in first gear the whole movie. This movie is also a return to the crime thriller genre for Cage but his first time dealing with a full blown conspiracy. Cage is here with lots of energy and exploding off screen right from the get go. Gone is the pensive and silent type from City of Angels and back is the confident jerk type with a conscience. It's directed by Brian DePalma who is an American Auteur know for elaborate shots, split screen technique and downright impressive technical camera work. His love of Hitchcock borders on emulation but always comes across as genuine homage and not blatant thievery. DePalma is coming off Mission Impossible, an effects heavy action film and not necessarily the genre he is known for so I wonder if Snake Eyes is his way of getting back into some type of comfort zone where he can try out his greatest hits of film technique.
The movie stars Nic Cage as Rick Santoro or Ricky to everyone around him. It's fight night in Atlantic City and while the people party inside a raging storm is slamming the coast with hurricane force winds. The storm is a metaphor for everything that's about to happen, I think. At first I wasn't sure what Ricky did for a living but it's soon established he is a Detective that was born and raised in Atlantic City. He also carries himself like a rock star or celebrity cop with aspirations of being Mayor some day. He is invited to the big fight by his best friend Kevin Dunn that is in the Navy and escorting the Secretary of Defense to the fight. During the fight, Kevin gets distracted and leaves his post leading to the assassination of the Secretary of Defense which happens right n from of Ricky, like he gets blood splattered all over him. But all is not as it seems and there is a mystery a foot. Ricky leaps into work mode an immediately locks down the arena and takes charge of the investigation. He is shown to be extremely competent in contrast to his flashy looks and verbose demeanor. He calms down Kevin who is panicking because he's facing a court marshall for letting the S.O.D. get shot on his watch. Ricky reviews the security footage and deduces that Tyler, the Champ, may have thrown the fight as part of the plan to shoot the Secretary. Ricky confront Tyler and discovers he was apart of the plan and was supposed to signal the shooter when he throws the fight. Ricky is feeling hot, having uncovered a possible conspiracy. Around this time he informs Kevin that he's got a theory which complicates things because it's actually Kevin's plan all along and Ricky was never supposed to figure all this out. He was supposed to be a patsy of sorts, part of the distraction and misdirection of the night albeit an unknowing participant. It all comes to a head when Ricky finds the woman trying to warn the secretary his life is in danger. The conspiracy to murder him surrounds a defense weapons program that is going into production even thought the results have been manufactured to pass the test phase. Kevin wants this defense system because he had to hear his mates drown after being bombed in a submarine. He claims that any defense is better than nothing which is what they had on that fateful day. Kevin orchestrated the murder to remove the one guy that can stall or stop his objective from proceeding. It's all very elaborate, just not very interesting. In the end, Ricky must face his down his best friend and prove he has a moral center by saving the day and standing up for good.
This movie started super strong and maintained the energy for a good while but ultimately it stats to lose steam in the second act and finally limps to the conclusion. I had a good idea of who the bad guy was and how things were going to unfold but it was still good to see Cage power through the movie with lots of energy and some great lines. I wish the conspiracy and the plot were cooler and more interesting. I liked all those elements and it reminded me at times of better movies like Manchurian Candidate or Marathon Man. Snake Eyes was pretty simple in the end and the story couldn't really keep up with all the cool camera tricky going on that I was paying more attention to.
The opening shot of Snake Eyes is a super tricky long tracking shot that doesn't cut for 13 minutes It is reminiscent of the Hitchcock film ROPE, a film with very few cuts that are masked to give the illusion the film is one long take. This is one of the greatest shots in film I have ever seen, easily standing up to the opening shot from "Touch of Evil", "The Player" or anything Scorsese did in Goodfellas. While this is very impressive, it is also the film's greatest downfall as DePalma seems a tad more interested in creating awesome camera shots and sequences at the expense of the story. Several times in the film there are flashbacks told in P.O.V. shots and split screens that don't seem necessary to be shot that way for enhancing the plot. The shots seem designed just to be impressive and not to service the story.
After this movie DePalma will go on to work with Gary Sinise again in Mission to Mars, a special effects heavy science fiction film. The next movie up on Cage Club is an unexpected detour, but it appears that Cage has a cameo in yet another film by Adam Rifkin who directed Never on Tuesday where Cage played the infamous Man in Red Sports Car. This movie is called "Welcome to Hollywood" and Rifkin is one of the directors, but it also has Nic Cage in it, and since we here at the Cage Club must be completists, this film shall be watched next.
Mike
@the_mikestir