Season of the Witch (2011) : A Cage Quest Goes Awry [Mike's Review]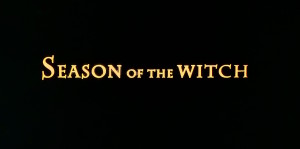 Today on Cage Club we go on a quest to kill a Witch in Season Of The Witch. I thought this was going to be the first direct to DVD Cage Club film so far but I was mistaken. I do recall seeing trailers for this in theaters, but then I don't recall it ever coming out. Turns out it was released in theaters for a short engagement before being dumped onto VOD and DVD. It's too bad about this movie, it had so much potential. I wonder if the weight of the script and the setting was too much to afford for what they had to work with. There are times when this film does work for me, but they are few and far between and by the end it goes too far off the rails to save. I don't think it helped that there were two directors on this project either. Not only were there two directors, but they both Directed Nic Cage movies before. First we have Dominic Sena who made Gone in 60 seconds and then we have Brett Ratner who made The Family Man. While all is not clear on why this happened, chances are that Ratner was brought in after the film was delivered to pump up the action and reshoot the ending. It's pretty obvious once you know watch the movie knowing this information that it's probably the main reason nothing is really working.
This seems to be the first real attempt at a Fantasy period piece for Cage along the lines of Tolkien and even though I can recognize this movie is not good and fails a lot along the way, I still found myself liking it for the most part. I got a "want to be" Dungeons and Dragons vibe here too, I knew what they were going for but it just falls too flat. I think I clung to what it could have been and that blinded me a bit from what it is, pretty bad. It feels like part of a filler episode of Game Of Thrones or a deleted chapter from Lord of the Rings. It was a chance to see Medieval Cage swing a broad sword, fight supernatural monsters and go on a true quest. Unfortunately, it was not meant to be.
The movie opens with a pretty neat sequence of a With drowning long, log ago. A after 3 women are hanged and drowned, one comes back as a real Witch and a priest must perform a ritual from a book of spells to make sure the evil spirit is vanquished forever. Cut to many years later in another part of ancient Europe and we are introduced to Cage who plays Behman, a Crusader that fights in God's name for the church against the heathens that are trying to take the Earth. Lehman becomes disillusioned after many years of adventures and war when he is ordered to kill innocent women and children. He quits the service and abandoned his post along with his fellow Crusading bad ass friend Felson played by Ron Perlman. The two become wanderers and hired swords, living a nomadic existence. When they happen upon an old village run by Christopher Lee and afflicted with plague they are informed that it's the work of a Witches curse. The two are forced to join a party to take the Witch to the Abby so the Monks can destroy her properly with the magic book. Behman really has no choice, he must accompany the party or be imprisoned for going A-Wall from the Crusades. But he wants to go and make sure nobody kills the girl accused of being a Witch until they reach the Abby and she can get a fair trial.
The quest to the Abby is hardly one bought with terror and adventure. It's all pretty rote and boring and wants to rely on the premise without delivering anything really cool along the way. The witch girl is trapped in a cage the whole time and hardly gets to use her powers. The male warriors are all very similar except for the alter boy who joined the quest to prove he's a man. He actually has some growth and an arc but it's not enough to pad out this walk through the forest. The Witch sort of picks off the men one by one along the way but she still needs some of them alive for unclear reasons. What is clear is that the witch is really not a witch but a demon that possessed a girl making everyone think she is a witch. I am not even sure if the Plague is connected to her. The truth is that this Demon got itself caught so it would be brought to the Abby and find the book that kills Witches so it could destroy the book and, i don't know, live forever and reign plague all over Europe forever ? When they get to the climatic battle at the Abby there are some cool resurrected Zombie monks and some of the most unforgivable CGI I've seen in a theatrically released film. The Demon Witch monster model is just bad, like made for SY FY channel bad. It would have been so much better to leave the Demon out of this and keep the final battle between Cage and the Girl as a real Witch, or if they really needed the Demon creature, make up and prosthetics go a hell of a long way and could have worked better than this full blown CGI nightmare they would up with. With everyone else down for the count and Ron Perlman having been set on fire and turned to ashes by the Demon, Cage as Behman sacrifices himself by holding down the Demon Witch long enough for the Alter Boy to chant a spell that'll end it back to hell forever. The young boy survives with the young girl, no longer possessed or a witch, and they ride off into the sunrise.
It's too bad about Season of the Witch. I really was looking forward to this one. I liked the premise, I liked the setting and I was excited to see Cage take on supernatural forces in this time period. I think part of the problem for me was that this movie took place in the history of Earth and not some fictional made up fantasy realm. If the this was a truly fictional setting then I may have bought that there are witches and demons inhabiting the same world that the Crusades are taking place in. The choice to set this on Earth felt like the first of many mis-steps. All you had to do was call it something more like Westeros or Middle Earth and I would have bought the plot more.
That will do it for this Cage Club. Next time we get back on track a little bit more with Drive Angry. It's not a sequel to Ghost Rider but hell, it may as well be. Join us for loads of F-Bombs and tons of over the top exploitation action next time on Cage Club.
Mike
@the_mikestir