Saturday Night Live (9/28/92) : Not Ready For Prime Time Cage [Mike's Review]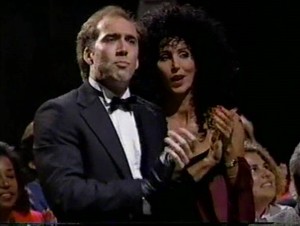 Today on Cage Club we stay up until 11:30 for Saturday Night Live !!! This is a small departure for Cage Club and a bit of a special episode because this isn't about one of Nic Cage's movies, it's about the one and only time he guest hosted SNL !!! This was to promote Honeymoon In Vegas, which we just did on Cage Club last time so it seemed fitting to add this to the roster, especially since he only hosted this one time. It's special !!!
This is maybe one of my all time favorite episodes of SNL, no kidding ! SNL was big when I was a teenager and we all would gather at lunch in school Monday to talk about the new Wayne's World skit or Chris Farley as The Motivational Speaker. I regard this as my first cast and boy was I spoiled with the talented likes of the following individuals ; Dana Carvey, Chris Farley, Phil Hartman, Mike Myers, Kevin Nealon, Chris Rock and Adam Sandler just to name a few. I recall being way into SNL when this aired and saw this episode many times when MTV, VH1 and Comedy Central used to air reruns all the time. It's a great one, dare I say a classic episode. Yes, this is one for the time capsule (but not the time capsule from Knowing, we will get there eventually).
Nic Cage is the host but he is really the star of only two skits, which are hilarious. He has a great opening monologue where he is unaware of how sexist he's being towards his female co-stars. He's called backstage to talk to the boss, Lorne Michaels, who tries to show Nic how insensitive he's being. Lorne evokes the name of Sophia Coppola aka Domino aka Cage's Cousin, to make his point that it's not so funny to talk about people in a sexual manner when you know or are related to them. It's a great little bit that shows Cage isn't above poking fun at himself and his suave ladies man persona commonly depicted on screen.
The next Cage Skit is "Tiny Elvis" which is exactly what it sounds like. Cage finally gets to play Elvis for real except he's only as tall as a salt shaker. That is the whole joke but it works really really well, maybe because of how simple the joke is. The skit also never overstays it's welcome, ending right before it's about to get old. I love seeing Cage get to do his full on Elvis impersonation here and comment about how huge common everyday items appear to him. I recall them bringing this skit back at least once with Rob Schineider as Elvis with much less success which goes to show how well Cage sells this flimsy and ridiculous premise for a skit.
Cage makes a quick appearance during the news segment as well, reprising his role as Ronnie Cammareri !!! One of the segments of the news is Adam Sandler relating current events thru his character Opera Man. He comes out and sings the stories like they are, you know, Operas. Anyway, the camera cuts to the audience at the end of Opera Man's finale and who do you see ? It's none other than Opera enthusiast and one handed romantic, Ronnie Camareri from Moonstruck. Yes, Turns out that Ronnie & Loretta were there to catch Opera Man's performance which means, yes, that is the real CHER standing next to Cage reviving the role of Loretta!!! I basically treat this appearance as a deleted scene from Moonstruck now.
The last skit that Cage stars in is called Baby Names, where he and his wife are trying to decide on what to call their impending baby boy. This is the one that may be in my top 5 favorite SNL skits of all time. Even before embarking on Cage Club I loved it and now I just love it even more. Cage gets more  and more upset with every name his wife suggests, turning even the most normal and mundane name like Todd immediately into an insult mean tease a young kid. They finally settle on an obscure Scandinavian name that the kids are sure to make fun of. Then the doorbell rings and we discover why Cage was so insecure about what to name his son.
Cage makes another quick appearance in one more skit where he asks Phil Hartman as Bill Clinton a question, but that's pretty much all she wrote for SNL. I love this episode and wish Cage had come back from time to time. I feel like he could have gone down as one of the great hosts along side of Alec Baldwin, Christopher Walken or Tom Hanks. Heck, Cage isn't even in "The 5 Timers Club" and Ben Affleck is !!! It could have been great, but I guess making movies took up too much of his time. He does appear again on SNL but only as a guest star during Weekend Update in 2012, twenty years after this episode aired. I hope he comes back sooner next time.
Next week we take a look at Amos and Andrew and I have to say I have trepidations. It's another Cage Comedy, making it two in a row, and co-stars Samuel L. Jackson so it can't be all that bad, can it?
Mike
@the_mikestir