The Best Movies of 2017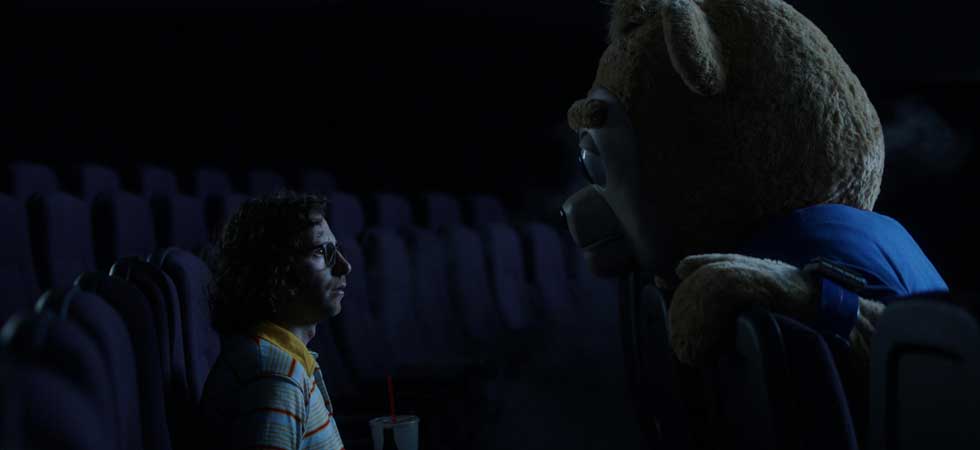 It's around this time of year, every year, that I think to myself, "Maybe I should only watch good movies…?" Watching new stuff is a great way to find my next favorite movie, but it often becomes an exercise in watching movies that are just "fine". But at the end of the year, when I obsessively rank and re-rank this list, I wind up re-watching the best movies of 2017 to remember how much I like them. Regardless of the outcome, watching great movie after great movie is a good experience. I recommend it.
I saw just over 200 new releases this year, and loved close to 50 of them. That's too many to list here, so I'm narrowing it down to my top 30, as there's a semi-clear line of distinction there between those and the next 20. You can view my full list of 200+ new releases here. Here are my picks for the 30 best movies of 2017. Or, more accurately, my 30 favorite movies, because best-of lists are boring. There may be spoilers, but I'll try to keep them vague.
(If TV is more your speed, I ranked the year in TV over here.)
30. Baby Driver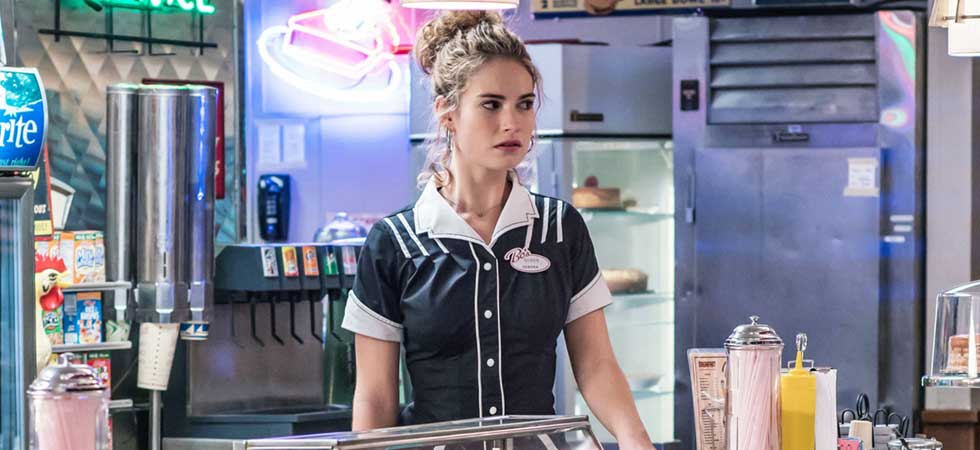 My Favorite Moment: The opening scene. How could it not be? Baby Driver didn't always click for me the way that I expected it to, but when it did, it soared. The opening scene is exactly what I wanted the movie to be. While the rest (mostly) didn't live up to the opening scene, at least we have Bellbottoms. You know what else we have? One of my favorite love stories of the year: Baby and Deborah. Lily James is the adorable reincarnation of Twin Peaks-era Shelly Johnson that none of us deserve.
29. Wind River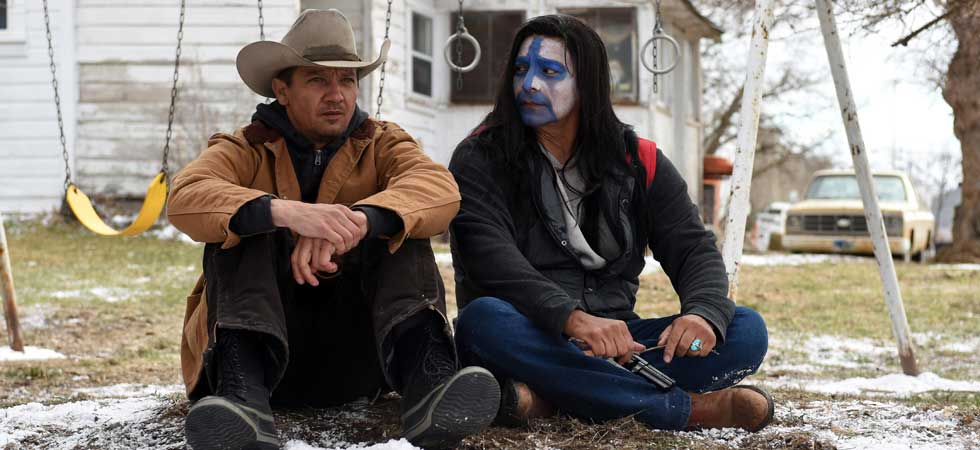 My Favorite Moment: The Mexican standoff. Wind River has two speeds: (1) the calm before the storm, and (2) the storm. For the entirety of its running time, you're holding your breath, wondering when the other shoe is going to drop. Led by a never-better Jeremy Renner and an equally good Elizabeth Olsen, Wind River is a very strong first directorial effort from Taylor Sheridan. Hell or High Water was a great version of a movie I'd seen before; this is a very good version of a movie focusing on people often ignored by mainstream cinema.
28. The Endless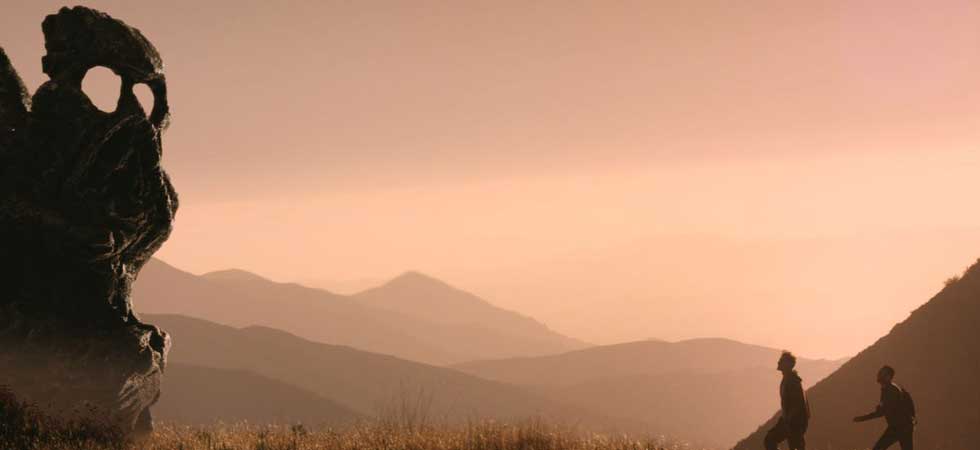 My Favorite Moment: When you start to figure out exactly what the hell is going on. There are two types of movies that I love: (1) ones where attractive young people are having a good time to a dope soundtrack, and (2) movies that focus on (and question) religion and spirituality. The Endless falls firmly into the latter category, and is the best film Aaron Moorhead and Justin Benson have made so far. I'm looking forward to seeing this one again, whenever it's actually released, because its answers are simultaneously visible and hidden. Give me mystery box movies all day; I revel in frustration and a lack of answers.
27. Good Time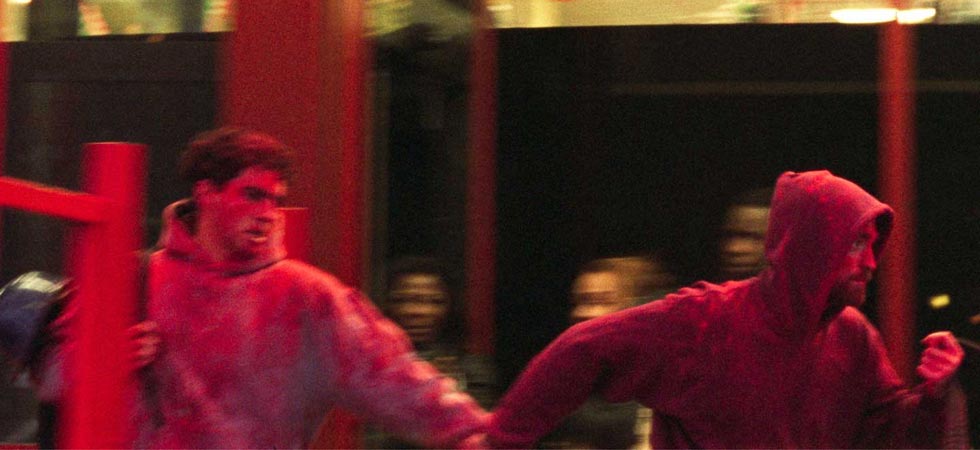 My Favorite Moment: Escaping the hospital. At every turn, you're expecting things in Good Time to go wrong; most of the time, they do. All Robert Pattison wants to do is give his brother a good life, but every event in this movie makes that dream a bit more unattainable. When I first saw this movie in theaters, I appreciated how truly incredible Pattinson is in this movie, but I didn't appreciate how uncomfortable the film's sound design makes you. It feels like three or four things are happening in almost every scene; rarely has watching a film felt more claustrophobic.
26. Thoroughbreds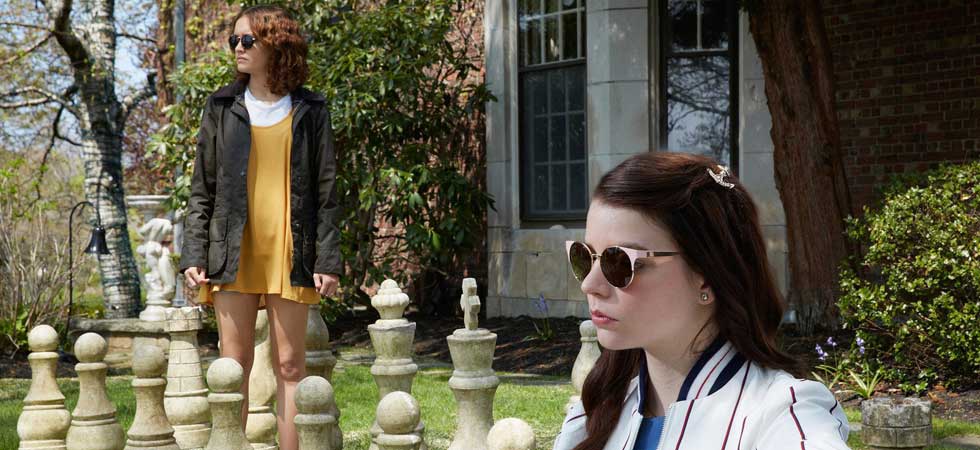 My Favorite Moment: When Amanda and Lily get over their differences and start plotting. Once that happens, Thoroughbreds is one of the most fun movies you'll see all year. Fantastic Fest is great, but strange; I see a ton of great movies (like this one) over 8 days, they all get jumbled in my brain, and I wind up forgetting specific moments I loved. But with this movie releasing in a few months, and the trailer showing before every movie I see, I'm amped again. This movie is great, and its score rules. Also: Olivia Clarke, Anya-Taylor Joy, and Anton Yelchin (rest in power) are all wonderful here.
25. John Wick: Chapter 2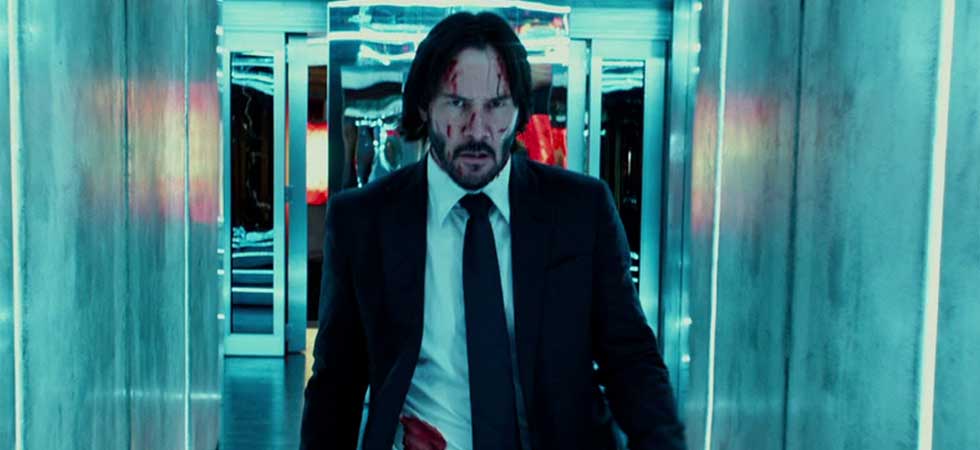 My Favorite Moment: We talked about it in the #KeanuClub episode, and I gushed about it there, but there's a moment after John Wick has taken a lot of bullets to his bulletproof vest, where he sort of adjusts/shakes it, and all these shells fall to the ground. John Wick isn't bulletproof; he's just incredibly well prepared. I don't think this movie is as pure as the first one (and nothing can touch that Red Circle club scene), but it's the best role Keanu Reeves has ever played. It's one of the best movies of 2017, and one of the best (and one of my favorite) action sequels ever.
24. Mom and Dad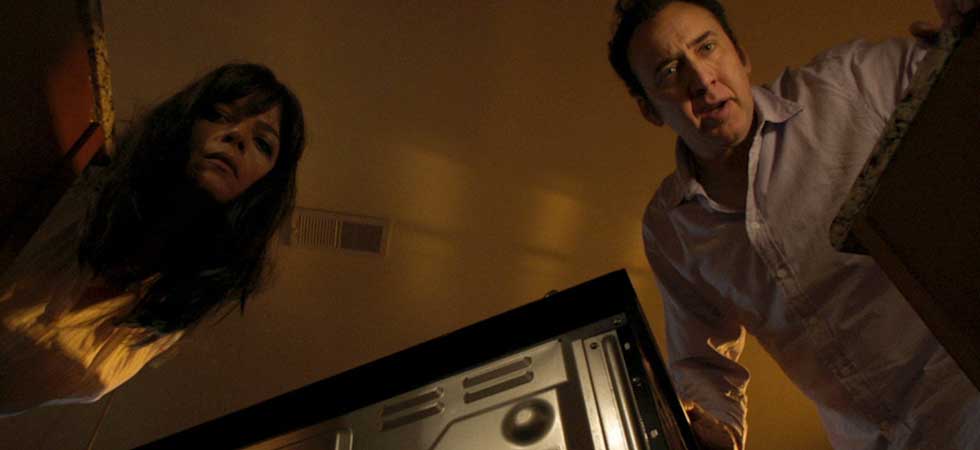 My Favorite Moment: The Hokey Pokey scene? Maybe? I'm not sure; all I know is I can't wait to re-watch this for #CageClub when it releases (sometime) later this year. It's a bit disappointing as it's not quite a Nicolas Cage movie, but not disappointing at all in that it's a great Brian Taylor movie. I love both Crank movies, I love his Ghost Rider sequel, and I love Gamer. Neveldine or not, it turns out I'm going to love Brian Taylor's movies. Also, and perhaps most importantly, as we often long for on #CageClub, we get more Cage-as-Dad here, and it's great.
23. Guardians of the Galaxy Vol. 2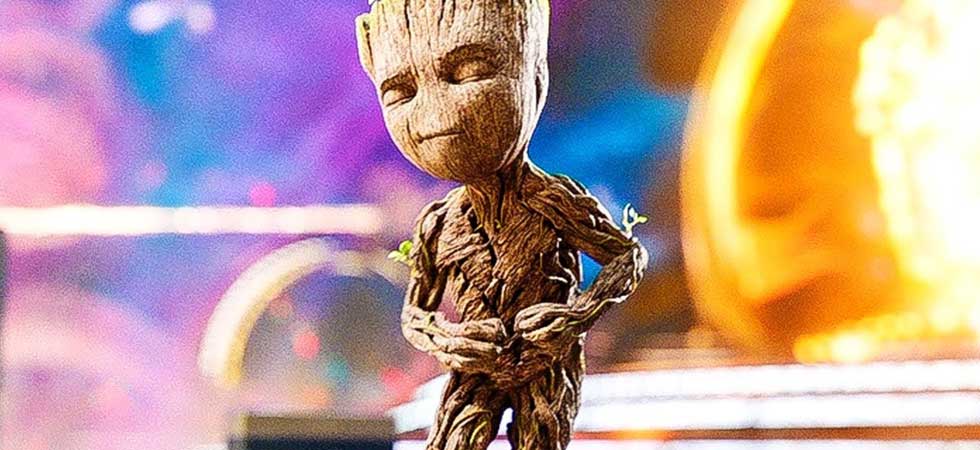 My Favorite Moment: Baby Groot's dance scene over the opening credits. I haven't seen this since theaters, and I feel like it'll likely wind up higher on my list when I get around to re-watching it. It's so much fun and better than the original with more heart and laughs. It builds really well off the first, too, while also (mostly) being a self-contained story, which helps make it one of the best MCU movies. Also, have I mentioned how adorable Baby Groot is? Because he's the best part of this movie… or any movie, really.
22. The Shape of Water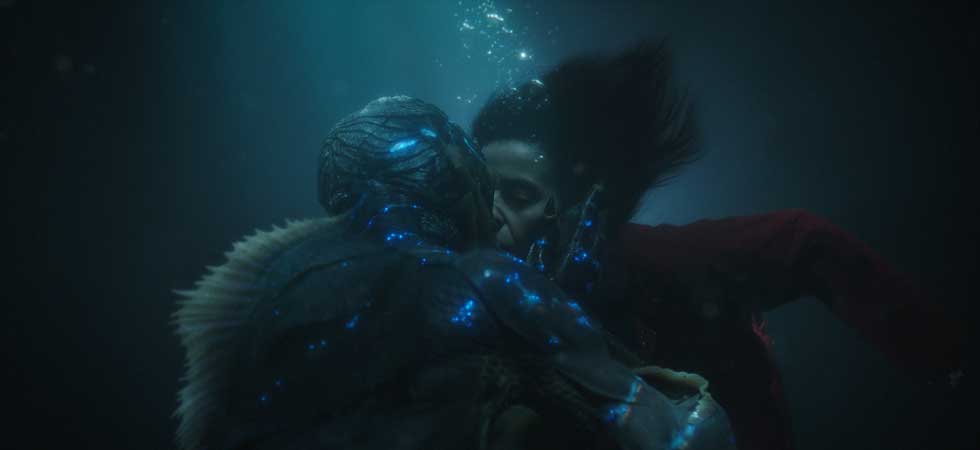 My Favorite Moment: The dance/dream sequence. I've always dug Guillermo del Toro's movies, but none (including this one) have made me cry, which kind of feels like the point? When I saw Pan's Labyrinth in the theater, I remember seeing multiple sobbing couples tried to console one another. I feel like that's the desired result here, too, and while I didn't cry, I was filled with such joy that it's good enough for me. Everyone works well in this movie, but I'm mostly just glad Michael Shannon got to flex his villainous muscles once again.
21. Lovesong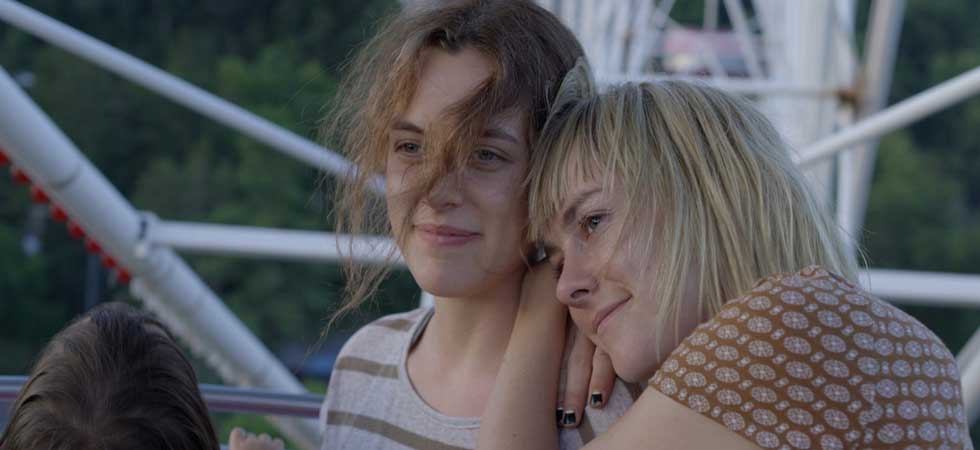 My Favorite Moment: "Truth or drink." I love Riley Keough and Jena Malone, and they're both so good here, especially when they're on screen together. The sequence of them playing truth or drink, which transitions into the Ferris wheel scene, is one of the most lovely scenes in any movie from 2017. This is a quiet little movie with higher highs and lower lows than most others. It's a story about love, about loss, and lost love. Really, though, Riley Keough is so great, you guys.
20. Personal Shopper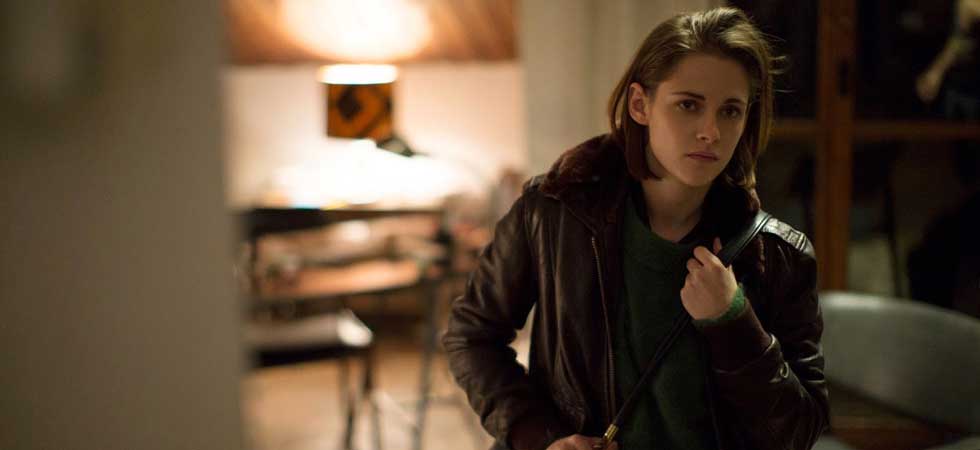 My Favorite Moment: The last scene. Between this and Good Time, 2017 was a great year for former stars of Twilight. (We're waiting, Taylor Lautner.) The ascension of Kristen Stewart has been remarkable, and she's so good in this movie, especially when you consider that most of this movie features her on-screen alone, trying to connect with unseen spirits (either via phone or in real life). A profound story about loss and grief and acceptance, there's no better scene in this movie than its final one.
19. Call Me By Your Name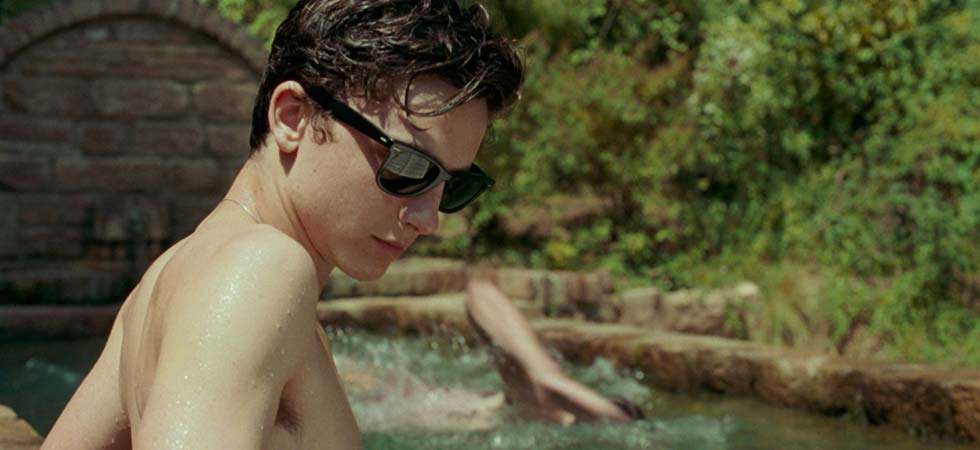 My Favorite Moment: When Elio plays the piano for Oliver. Before Elio and Oliver begin their relationship, that scene of Elio playing the piano and refusing to give in to Oliver is such a great moment of rebellion. The final shot/closing credits/Sufjan Stevens' song will be what sticks with you (along with Michael Stuhlbarg's devastating speech at the end of the movie), but it's this piano scene that (to me) defines Elio and this movie.
18. Star Wars: The Last Jedi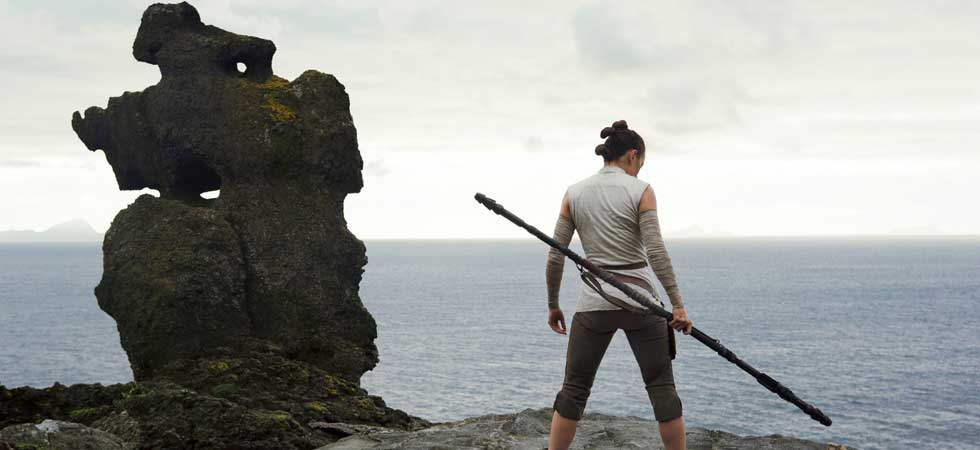 My Favorite Moment: When Kylo Ren [REDACTED]. You know the scene. It's my favorite Star Wars scene in what may be my favorite Star Wars movie. While I like this franchise a lot, I don't have an emotional attachment to it the way a lot of my friends do. I just hope these movies are well made and entertaining, and The Last Jedi delivered in spades. Rian Johnson already directed the best hour of TV that I've ever seen, and now he's directed (what may be) the best Star Wars movie I've ever seen. I'm very excited to see where Episode IX takes things, especially with how cool and kick-ass Rey is. She's the best.
17. Coco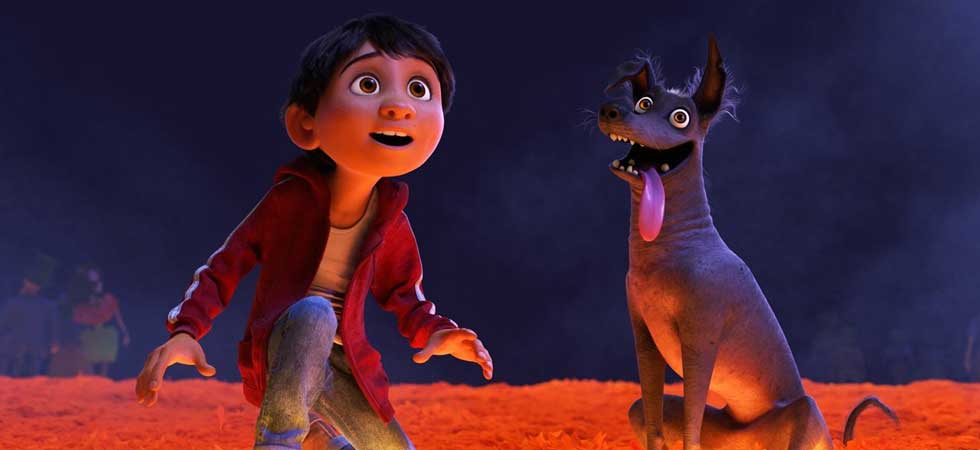 My Favorite Moment: The final act. Coco is my favorite Pixar movie in years, and one of my favorite Pixar films ever. It's stunning to look at and is filled with great music. I've had "Remember Me" and "Un Poco Loco" stuck in my head for the past month, and I don't think that'll change anytime soon. Along with a few other movies on this list, Coco made better use of color than any other movies in a long time; Pixar's land of the dead is heavenly. Importantly, like many other movies on this list, Coco was one of many great movies that focused on someone other than straight white dudes.
16. Atomic Blonde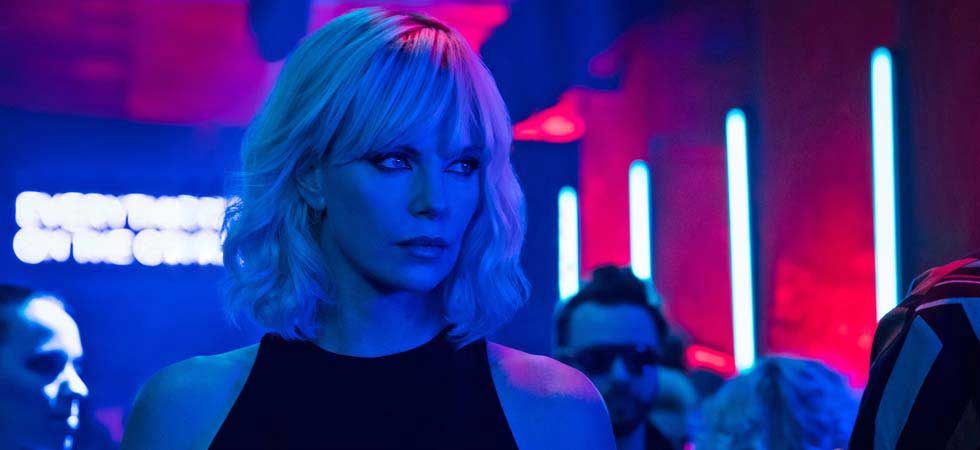 My Favorite Moment: The nine-minute stair sequence/fight. I've held out re-watching this movie, as I want to save it for when we get to it for Watch The Theron. It is, in many ways, a culmination of Charlize Theron's career, and it checks off so many of my movie boxes. Great soundtrack? Check. Killer visuals? Check. Inventive action scenes? Check. A lead who kicks ass and looks great doing it? Check. While Mike and I plow through some rough films early in Charlize's career, knowing that this (and Fury Road) lay in wait for us at the end of the rainbow is enough to keep me going.
15. The Killing of a Sacred Deer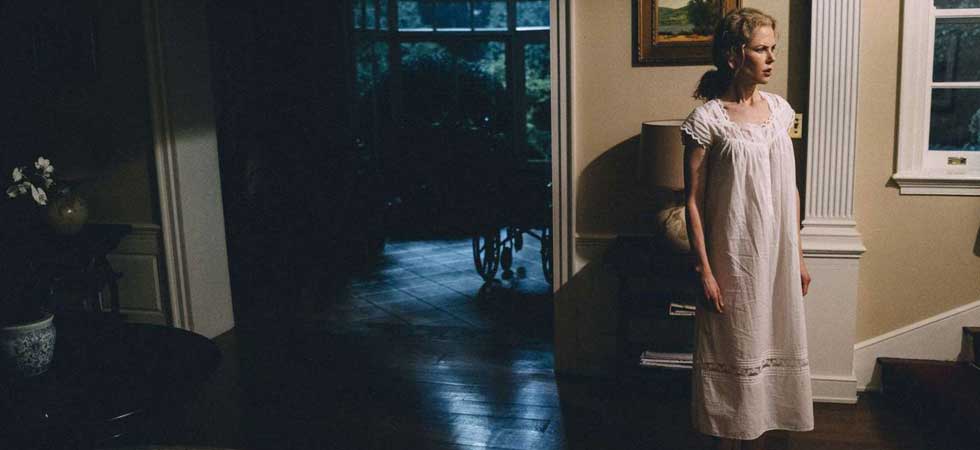 My Favorite Moment: Barry Keoghan eating spaghetti, in his underwear, in front of Nicole Kidman. In a movie filled with weird visuals (and even weirder other stuff), how do you pick a single moment? The daughter singing Ellie Goulding's "Burn" has been stuck in my head for months, as is the visual of the kids dragging themselves down the steps. I really like just about all of Yorgos Lanthimos's movies that I've seen, but this may be my favorite. That gum I like is back in style; this is exactly the kind of weird and fantastic I hope to find.
14. mother!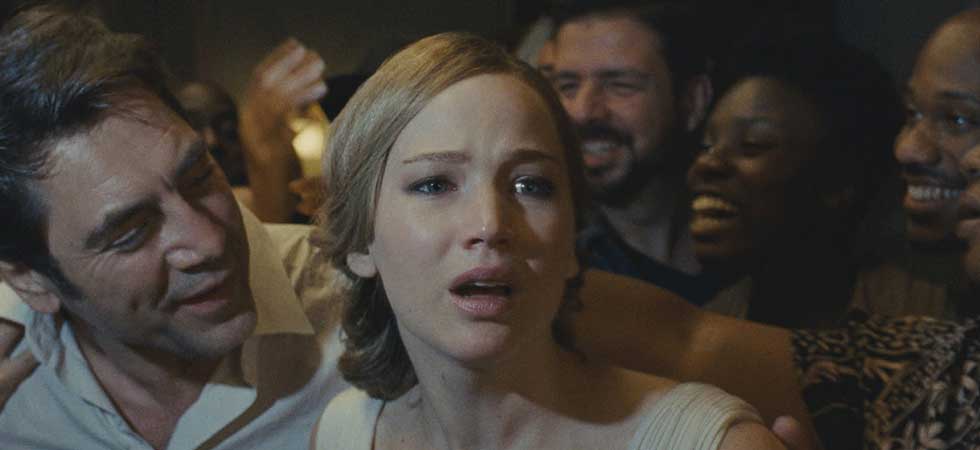 My Favorite Moment: Because I wasn't able to catch my breath from the first frame to the last, I'm going to count the entire movie as a moment. I understand that mother! is divisive, but I've never seen a movie like this, and I don't get how people who love film would be unable to appreciate this (even if they hate it). Call the movie pretentious or frustrating; that's fine. But I defy you to watch this movie and not think about it long after you're done. Read it however you want (it's an allegory about religion for me), but just watch it. The fact that so many people hate this movie only makes me like it more; just like Dr. Dre, I'm a defiant one like that.
13. A Ghost Story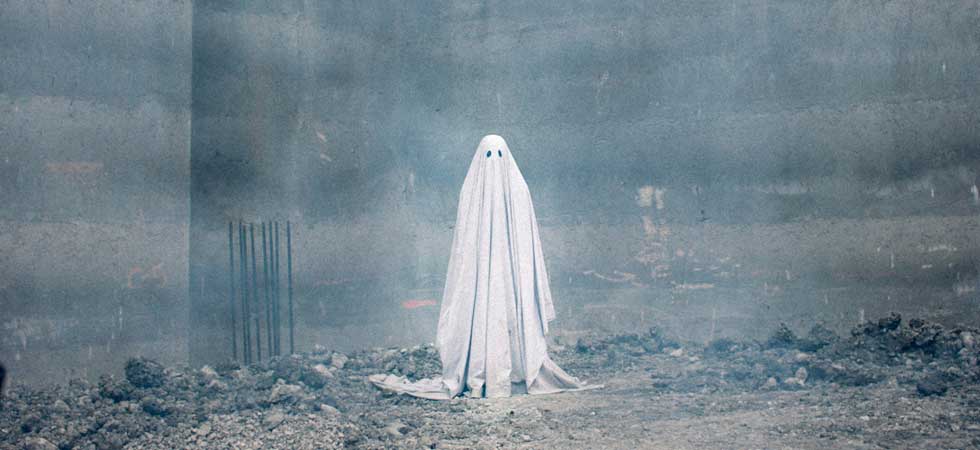 My Favorite Moment: As much as I want to say it's the scene where Rooney Mara eats an entire pie in one take, my favorite scene in this hauntingly beautiful movie is its final scene. Much like Personal Shopper, A Ghost Story is about loss and grief, but reaches a cosmic scale unlike any other movie I can remember. I know liking a Casey Affleck movie may be #problematic, but David Lowery's film is so exquisitely well-crafted that I can't not love it. Plus, Kesha is in this movie, you guys. Kesha!
12. The Florida Project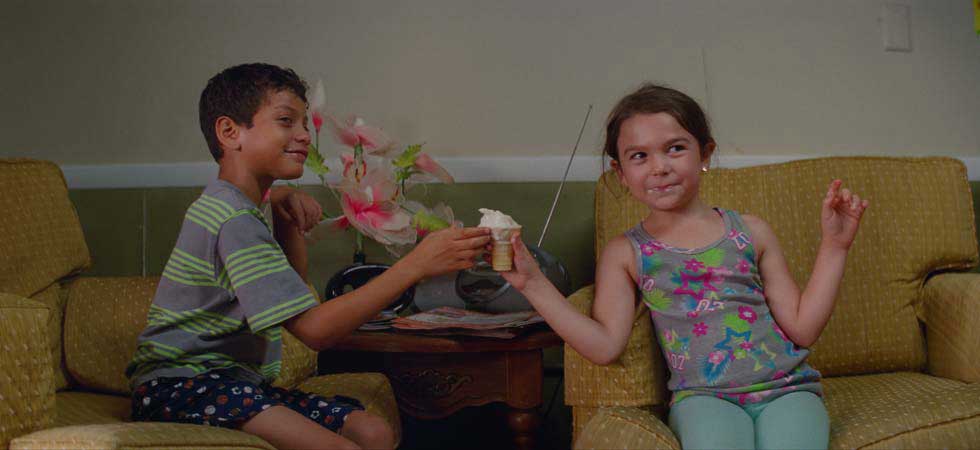 My Favorite Moment: The very last shot of the movie. The more I think about this movie, the more I like it. I loved Tangerine, but I like this Sean Baker follow-up even more. Willem Dafoe is undeniably great here, but Bria Vinaite and Brooklynn Kimberly Prince (each in their first role!) completely steal the show. This movie is devastatingly sad in a whole bunch of ways, but thinking about it only makes me smile. Separately, may we always remember 2017 as "The Year of Caleb Landry Jones". He's really good in his small role here, and will pop up once again on this list in a little bit…
11. Bodied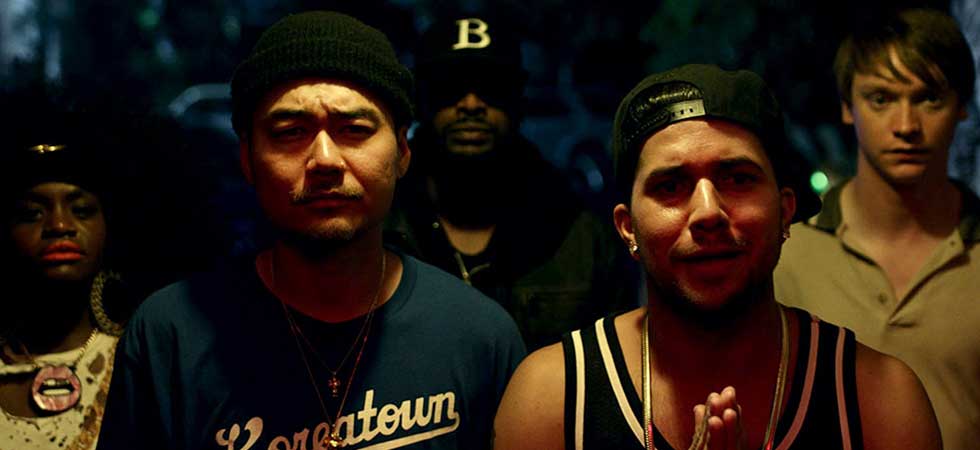 My Favorite Moment: The standing ovation my Fantastic Fest crowd gave Joseph Kahn when the screening ended. I'd heard good things about Bodied, but I wasn't prepared for the all-out assault on my senses this movie would be. This movie is about far more than a white kid who wants to battle rap; it smartly articulates (and encourages conversation about) thoughts about racism and treating other people with respect that the world could really use right now. But mostly: it's a ton of fun with great direction and a great sense of style. It feels real in a way few movies like this ever have.
10. Columbus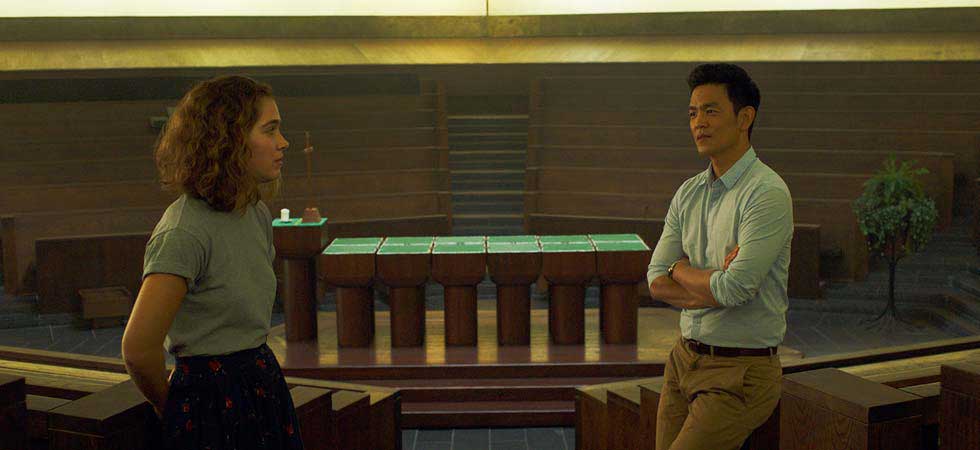 My Favorite Moment: My favorite moment is the space between the moments. Best known for his editing, Kogonada's first film is stunning, with no wasted shots or moments. It's also a movie in which very little happens, other than John Cho and Haley Lu Richardson walking, talking, thinking, and waiting. I could watch infinite movies with John Cho and Haley Lu Richardson, especially if they're this good. Watching a movie like this reminds me that I really need to make time for Richard Linklater's Before trilogy. I like talky movies.
9. Dunkirk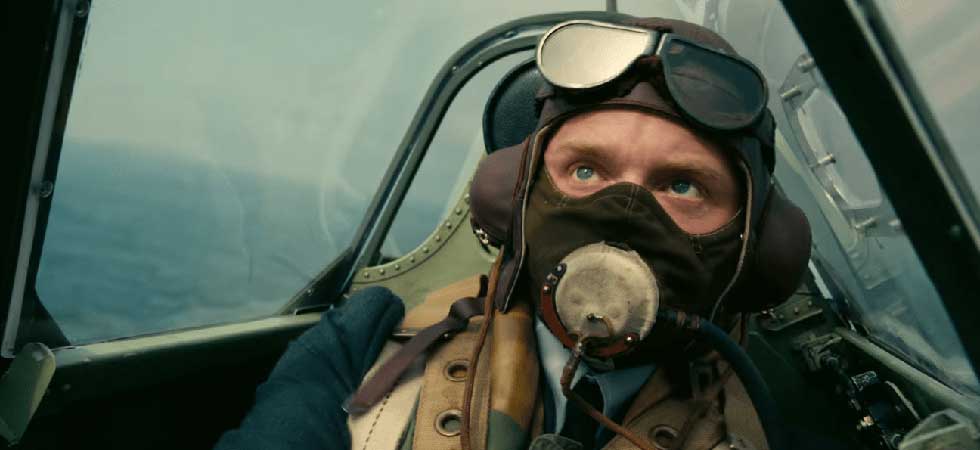 My Favorite Moment: Tom Hardy's cockpit scenes. My only frustration with this movie is that the one week/one day/one hour introductions are unclear on first watch. Other than that, it's hard to think of this movie as anything other than one of the best war movies… ever? (I've written a bunch of these write-ups in a row and hyperbole and delirium are setting in.) In the end, though, it doesn't matter. Once you get into the rhythm of the movie, and once you (instantly) connect with these soldiers, you're in the story… especially when you're crammed into a cockpit or into a capsized boat.
8. Blade Runner 2049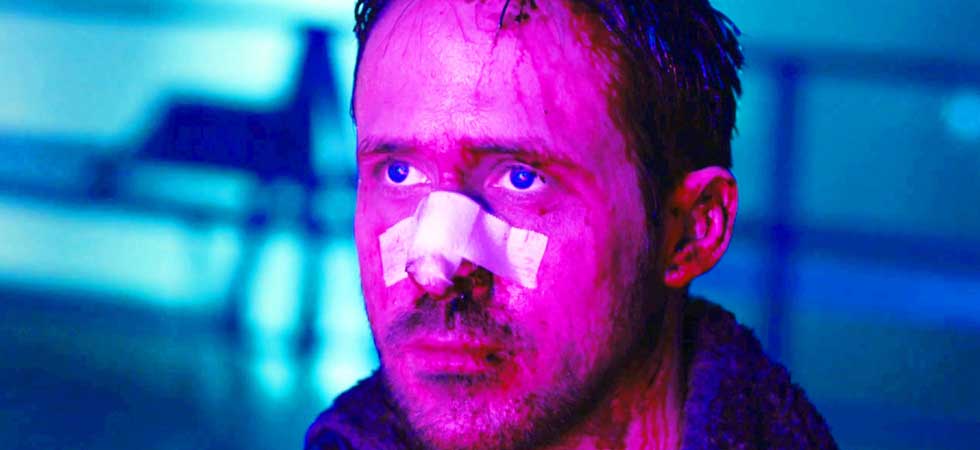 My Favorite Moment: Every time Ryan Gosling and Ana de Armas interact; he's classic #BoyfriendMaterial every time the two of them share the screen. Current podcast infatuation aside, Ryan Gosling is really great in this movie, which is a perfect extension and expansion of the original. It's hard for me to compare new releases to movies from other eras (like comparing this to the original), but what I do know is that this movie is a modern miracle.
7. Lady Bird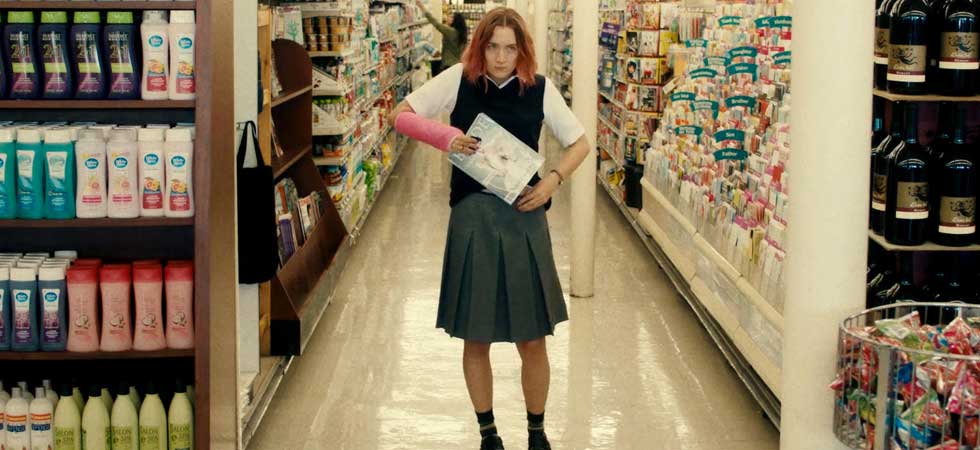 My Favorite Moment: It has nothing to do with Lady Bird, but my favorite moment is when the football coach takes over the theater department. I will watch (and likely love) as many coming of age movies as you throw at me, especially when they're as good as Lady Bird, which is one of the best movies of 2017. I'd heard so many good things about this movie, but it surpassed all of my expectations. Greta Gerwig's directorial debut is terrific and Saoirse Ronan can do no wrong. This movie is perfect and also an absolute delight.
6. World of Tomorrow Episode 2: The Burden of Other People's Thoughts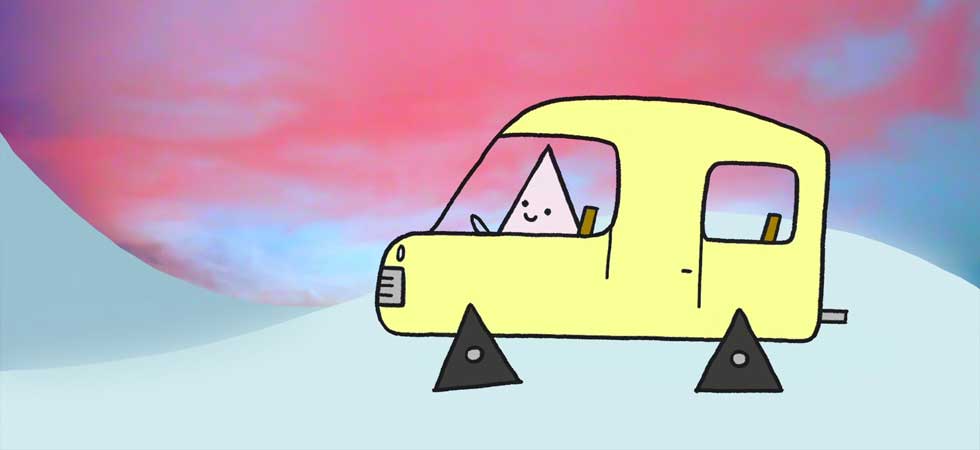 My Favorite Moment: TRIANGLELAND. The first episode of World of Tomorrow was wonderful and its sequel may be even better. My favorite film moment of 2017 might have been the nearly hour-long Q&A with Don Hertzfeld that I saw at Fantastic Fest. Both episodes of World Tomorrow are so inventive and filled with heart and humor and wholly unlike everything else that everyone else is making. This 22-minute film is avialable to rent on Vimeo right now, and you should do that.
5. Wonder Woman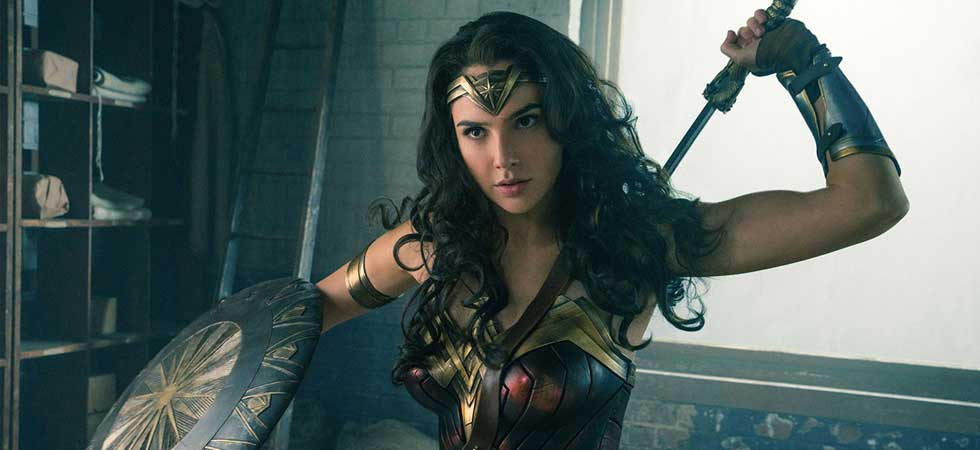 My Favorite Moment: I teared up in just about every action scene, so let's go with that? Wonder Woman was the best part of Batman v Superman, but I was worried the recurring shortcomings of the DCEU would carry over to this film. Nope! Patty Jenkins nailed this movie in every way; it helped that she had a lead who was born to play this part. It's hard for the dozen or so superhero movies that hit theaters each year to be unique, but it turns out that crafting a well-written movie with a kick-ass female lead that gives girls a role model to look up to and aspire to be is all you need to stand apart from the crowd. Who knew? (Oh, right, everyone.)
4. Brigsby Bear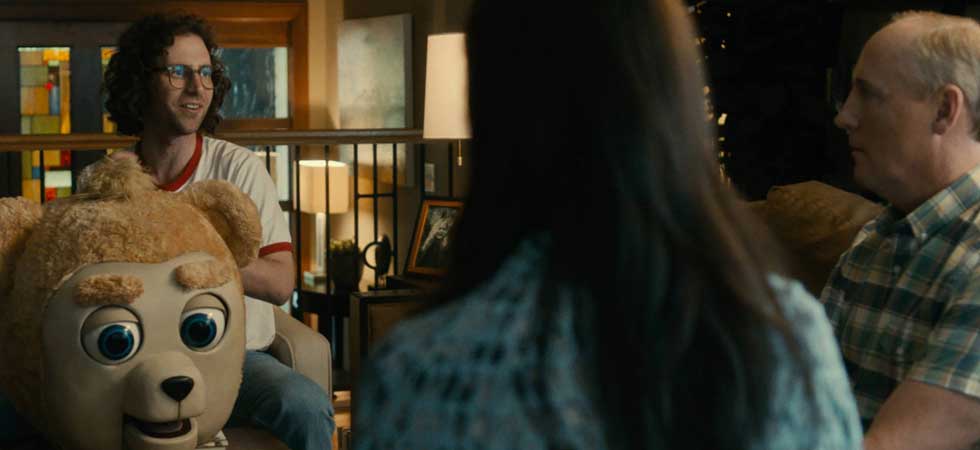 My Favorite Moment: The big-screen premiere of Brigsby Bear. For a movie that routinely approaches absolute darkness and despair, Brigsby Bear is so optimistic and hopeful that it's hard to pick a single moment. But the final scene, where Brigsby Bear premieres to a sold-out audience is perfect. This scene ends the movie in almost the same way that The Disaster Artist ends, but Brigsby's ending feels earned and honest and genuine, rather than rushed and filled with half-truths. This movie is pretty dope as shit.
3. Get Out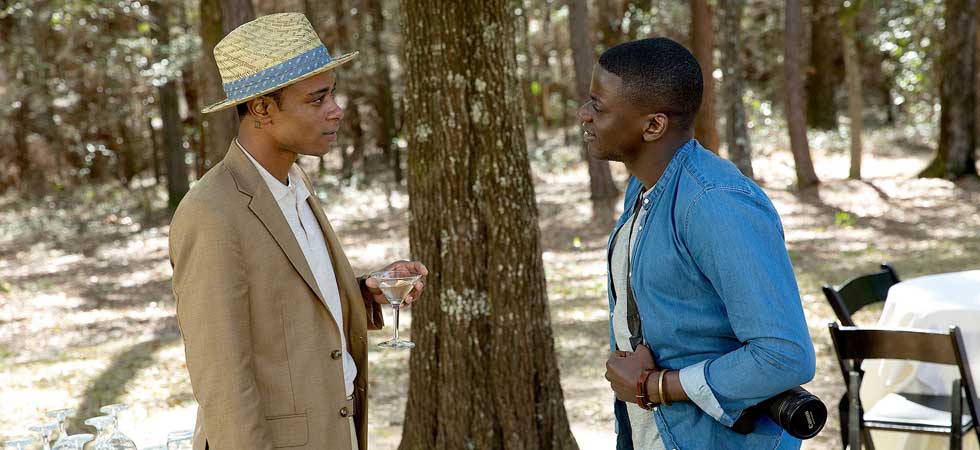 My Favorite Moment: The final act. I loved this movie the first time I saw it, and was blown away to learn it works even better when you rewatch it and know what's coming. More than a comedy, more than a horror movie, more than social commentary, Get Out is a masterpiece that nails every element. It's scary (no pun intended) how good Jordan Peele's debut is. The Concourse put together a list of the film's best little details, which only made me love Get Out even more. Daniel Kaluuya is tremendous in this, Allison Williams rules, and we once again must pay respect to The Year of Caleb Landry Jones.
2. Revenge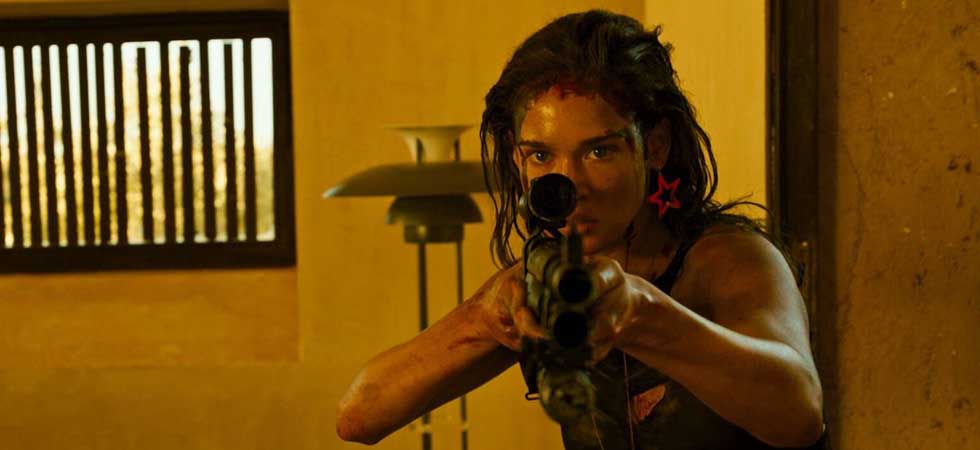 My Favorite Moment: The final showdown. I'm going to rewatch this movie the first minute I can. (It's coming to Shudder sometime early this year.) An absolute knockout of a debut, Revenge was my favorite film at Fantastic Fest 2017, and proof that female-centric French horror is (apparently) my jam. (Hey, Raw!) A handful of the movies on this list are beautifully shot, but Coralie Fargeat's feature debut (which she also wrote and stars Matilda Lutz, who is phenomenal) may be the best-looking of all. This movie was so intense that it made someone pass out at Fantastic Fest, which gave me enough time to ask my friends: "This movie rules, right?" I can't wait to see this again, and I hope you watch it, too.
1. The Big Sick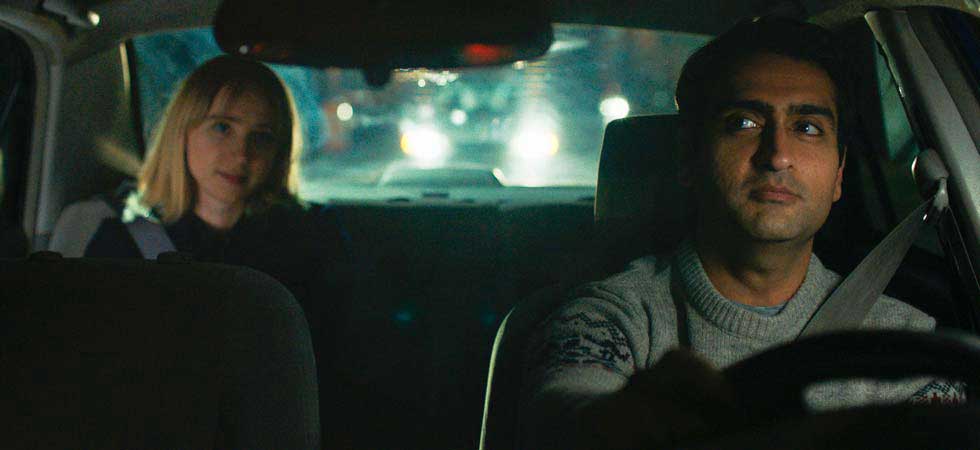 My Favorite Moment: I can't pick one; I'm overwhelmed by this movie. This movie was hovering near the top of my list ever since I first saw it, but when I re-watched The Big Sick a few days ago, I remembered how much I adored this movie. (I could never forget how much I adore Kumail and Emily.) It's incredibly funny, incredibly touching, and gets everything right. The standup scenes (and backstage bits) are great, the rom-com scenes are great, and everyone is perfectly cast. I teared up a handful of times both times I've seen this movie, and I'm pretty sure that won't change on subsequent viewings. In a really great year, The Big Sick is one of the absolute best movies of 2017.