Rumble Fish (1983): Smoke in my Eyes [Mike's Review]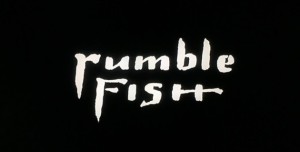 Today on Cage Club things get a little weird with "Rumble Fish", an expressionistic art house film for kids? Yea, this is one trip into crazy town, but not in the bad way. While Nic Cage is in this movie he is not the star, however his character is pivotal. There isn't much plot or straight forward story but I will try to relate what happens the best I can. Teenage gang banger Rusty James can't live up to his older brother's image of The Motorcycle Boy, a legendary gang leader who left town after brokering a truce with his rivals. Between cursing up a storm with his friends and making out with his girl Patty, we find out Rusty can't manage shit, not even his own little crew. How does he expect to be a leader if he doesn't even know where he's going? When The Motorcycle Boy returns home for unknown reasons Rusty James follows him around like a lost dog in an attempt to bond with his bro. It's tough for Rusty because his brother is an elusive intellectual masquerading as an outlaw. I was thinking Marlon Brando in "The Wild One". Rusty James desperately wants to be like his bro even though everyone tells him it'll never happen. Ultimately the hands of fate close in on these kids and it's all played out in many dutch angles, multiple fog machines and just a touch of color.
I really enjoy the film language of this movie and give everyone involved a lot of credit for producing an existential teenage drama that I feel works. Time has no meaning and color hardly exists in this nowhere land of middle America. The clocks run backwards, double speed or not at all. Day can last a minute and a minute could last hours. Daydreams and near death experiences are portrayed the same way making it hard to know what the hell is happening. The Lack of color doesn't exist just to look "artsy" though. One of the characters has a form of color blindness that only lets him see in black and white so the movie uses that to show us how the character sees life, further emerging us into his state of mind. Everywhere you look in almost every shot there is smoke or fog billowing out from around corners to cause this permanent haze further evoking cracks in reality. To me this smoke may symbolize the fog clouded mind of Rusty James, how he can't see several steps ahead of the moment. Or, that his future is shrouded in a dense fog of unknowing. The movie wants to engage the audience on deeper, less superficial levels and expose a younger audience to more intellectual types of cinema.
Enough this analysis and on to why we're here, Nic Cage. Cage plays "Smokey" 1st lieutenant to gang leader Rusty James. We meet him at the Billiards Hall where Cage is beating his friend at pool and counting a fat sack of cash. Cage as Smokey has a great look to his character with many personal touches. His hair is black and high reminiscent of Elvis ( a major influence and hero to Cage ) and he sports a club jacket with "Wild Deuces" written on the back. Perhaps one reason Cage looks so good in the jacket is because it belonged to his real life father as revealed by his Uncle, and director of this movie Francis Ford Coppola, on the commentary track. One final item I noticed was a large belt buckle Cage wore but I could not tell what it was exactly just that it completed the ensemble very well. Smokey's demeanor is also more contemplative than his friends as they sit on the backs of chairs and fool around while he seems to behave and not want to cause much of a ruckus. He strikes me as someone that thinks before he acts and isn't very impulsive, like he is the gang's voice of reason. When Rusty James accepts an invitation to Rumble with his rival, it is Cage as the sage that suggests violence isn't the answer. He even evokes the name of The Motorcycle Boy in an attempt to get Rusty James not to fight. A lot of good that does because he's branded a chicken for wanting to solve problems without his fists, or a piece of burning wood or glass from a broken window. This shows that Smokey is on another level than his friends and on his way to rejecting the allure of gang life, if he hasn't already. Smokey isn't always a stick in the mud though. In a strange scene of teenage vandalism the gang break into a lake house owned by strangers and party with a group of random girls. It's Smokey who suggested the idea and everyone agreed it was a great call even though the deeper implications of this scene will come to light later.
After the breaking and entering scene Smokey disappears from the story for a while as Rusty James and his one nerd friend, Steve, tag along with Motorcycle Boy after hours. It's worth mentioning that Rusty James appears to be slowly dying for the rest of the movie after being slashed in the Rumble. Is this a metaphor for something? The wound appears to bother Rusty sometimes more than others, like it's a physical representation of his emotional scarring brought on by childhood and family trauma. Or, it could just be that he's too stubborn to get proper medical attention. Who really knows? We also meet Rusty & Motorcycle's alcoholic father played by the method actor Dennis Hopper. The Dad character gives us more insight into why the boys act like they do. Dad is never sober and struggles to make sense played pitch perfectly by the well trained Dennis Hopper (R.I.P.). There is also a hint of insanity or craziness that may be tied genetically to the children as well, possible passed on by the absent Mother character. This sits uneasy with Rusty who knows he isn't smart but can't deal with being crazy too. Motorcycle Boy does appear to be slipping into some form of insanity as he rambles about his road trip to California, fools around with a female heroine junkie and commits breaking and entering at a Pet Shop to liberate some fish. He also taunts the local cop who sports a strange Grim Reaper vibe and is just itching to murder the Motorcycle Boy, or not any rebellious youth for that matter. Rusty James and his self pledged loyalty to Motorcycle Boy eventually jeopardizes his position as gang leader and boyfriend to his sweetheart, Patty.
Re-enter, Nic Cage. It appears Smokey has been very busy off screen pulling strings behind Rusty's back with the revelation that he orchestrated the break up between Rusty and Patty with the Lake House Rendezvous. While Rusty James tags along with his brother it's Nic Cage that has swooped in and stolen Patty away in a deleted sequence I've imagined in my head many times. Rusty is upset but knows he is no match for the mind of Cage and his cunning nature. It's worth mentioning that in a behind the scene interview Nic Cage reveals some of the motivation for his character to be the Shakespeare villain Iago. In the play Othello, Iago devises a plan to destroy Othello by making him believe his wife is having an affair. In Rumble Fish, Smokey devises a plan to get Rusty James caught sleeping around to dissolve his union with Patty. I have to give it to Nic Cage for finding the parallels between the material and using it to his advantage as an actor. Cage disappears after his strategic win over Rusty James and only returns in the final shot of the film, a lovely tracking shot of all the characters with Smokey & Patty together at the tail end. Smokey remarks that he had nothing to do with the death of Motorcycle Boy, which I thought was a strange thing to say, almost as if he may have inadvertently done something to cause the chain of events leading to the Death. Who knows if there was anything anyone could have done to prevent this tragedy.
That will conclude this entry into the club archives, I'd like to wake up now. I will recommend watching Rumble Fish and not just for the great performance that Nic Cage delivers. It is full of interesting filmmaking techniques and takes chances most American films would not. Next up on the Cage Club we go back in time to December 1942 when Nic Cage has 6 weeks of freedom left before shipping of for WW2. You better believe he makes the most of that time. Join us next week for "Racing With The Moon".
Mike
@the_mikestir