Never On Tuesday (1989) : Need a Lift ? [Mike's Review]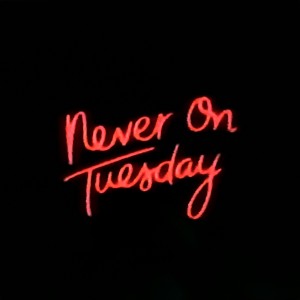 Today on cage Club we hitch a ride with "Never On Tuesday". Huh? I'm not sure what is going on here but Nicolas Cage has a cameo so it's required viewing at the Cage Club. I turn on the movie and I'm worried immediately worried because Nic Cage is not in the opening titles. That's okay I guess, it's just a cameo after all, but I thought at this point he's get a little credit up front. You know, Nic cage from the Oscar Award winning movie Moonstruck ?!?
This movie is pretty much a drag. Two buddies start out on a road trip to California because they heard that's where the best girls are. They have an accident and crash into a woman then the three of them are stranded on the side of the road for the entire movie. In the first ten minutes they get their first pedestrian to stop and see what the commotion is and it's none other than Nicolas Cage playing "Man In Red Sports Car". The car pulls to a screeching halt in front of the stranded folks and out comes Nic. But what the hell is going on here ? Immediately I can see he's in disguise or wearing prosthetics, definitely that long ass nose he's got glued to his face. What is up with that? With his long hair and long nose this guy in red sports car asks if they need any help and he looks like he's about to start crying. I mean, this guy is super concerned with their well being. He then offers a ride to anyone that needs it but he's giving the signal by one of them that they are trying to score with this girl they ran into and three's already a crowd so maybe Nic Cage better scram. Nic seems to understand completely and lets out an uproarious cackle before slinking back into his car to peel out down the desert highway. What just happened? Was that some kind of mirage? I know these kids weren't out in the desert that long but is it possible they imagined that guy? Did I just imagine that? Check, please ! Plus, Nic Cage looks so strange that it's downright bizarre. I mean, it's cool that he wears a matching red jacket that looks like it came with the car when he bought it, but what about that nose? What was behind that choice other than the director giving him free reign over the character with the instructions to simply "go nuts." It's so clearly obvious he's wearing fake nose but it's in such a way that we the audience are meant to think it's his real nose. And again with his voice! His voice caught me even more off guard than his appearance. It's the weirdest high pitched voice imaginable and all I can think of is Mickey Mouse!
I truly wish the three people on the side of the road took him up on his offer and they piled into his sport car on a trip to the nearest gas station. That would have been one of the greatest Nicolas Cage movies ever. I can only imagine that we would learn the "Man in Red Sports Car's" real name, his origin and where he was off to when fate crossed their paths. We could have gotten to the bottom of his nose and weather or not it was in fact artificial or real and for comical or medical reasons. There is a much better movie playing in my head than the one I have to endure now that Cage is gone.
The movie continues "Post Cage" and its hard to care because the plot is about these two guys trying to turn a gay woman straight. Nothing that happens otherwise can pierce the shadow that idea casts over the rest of the movie. I almost like the concept of starting off on a Road Trip only to break down right away, sort of like breaking from the convention of a typical road film only to become an existential drama. But this movie isn't sensitive at all or well written enough to pull any of it off. I don't even think that's what it was going for, rather than what I may be bringing to the movie. At one point I thought maybe everyone died in the accident and they are now stuck in Purgatory, making all the people that pass them by heading to Heaven or Hell depending on the direction they travel the road. There is one well directed scene when one guy tells a campfire story and what he says starts happening around them, but otherwise all the dream sequences and random cameo's couldn't win me over in the end. And what about these other cameo's by the way? Gilbert Godfrey, Charlie Sheen, Emilio Esteves and Judd Nelson ? Did the director grow up with these guys or have some secret "in" with The Brat Pack? It's mind boggling, my mind is boggled.
You can witness the glory of Cage in this movie on You Tube. His entire role is about 20 seconds clocking in at his shortest screen time yet. You don't really need to watch this whole movie but if you can get a copy for free it may be worth watching it from the start up until the point Nic Cage shows up just to get the full build up to his appearance. Next up on Cage Club we head back to war but this time in Italy with "Time To Kill" ! This is another small film buried in Cage's IMDB I was completely unaware of until Joey and I started Cage Club. It's another first time screening for me and all I know about this movie is Nic Cage really needs a dentist. I think we can all relate to that.
Mike
@the_mikestir