National Treasure (2004) : Indiana Cage and the Cage Crusade [Mike's review]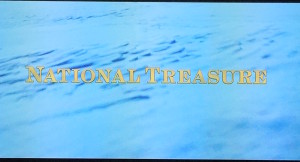 Today on Cage Club we finally steal the Declaration of Independence in National Treasure !!! Our good friend Jerry Bruckheimer is back in the producers chair for this super family friendly modern Indiana Jones clone. To be fair the movie also "borrows" from the Mission Impossible series as well as other high adventure blockbuster films and video game franchises such as Tomb Raider. What I like about this film is the way it incorporates American history into the legend of this treasure that has been sought after since the dawn of civilization ( or at least the Pyramids ).  The movie knows exactly what it is and doesn't take itself seriously which helps sell some of the more fantastic elements included such as stealing the Declaration of Independence or traversing a rickety old wooden staircase beneath New York City. This movie is all about fun and excitement, and it actually delivers it way more than I was expecting.
Cage plays treasure hunter Benjamin Franklin Gates or just Ben Gates for short. He has spent his whole life searching for the mythical treasure that his grandfather used to tell him about, like some old bedtime story. Ben believes the treasure is real, to the detriment of his career.
This treasure is crazy. It started with the ancient Egyptians who built the pyramids and just grew and grew, moving from one secret location to another over hundreds of years. Every time the treasure was moved, it was added to. Eventually, around the time of the Crusades, a bunch of Templar Knights took the treasure to the new land that would become America. They changed their names to Free Masons and hid the treasure somewhere in the colonies for the future generations to discover. They hid a bunch of cryptic clues around the country that would lead them back to the greatest treasure the world has ever known. This is the fabled treasure that Ben has grown up hearing about and is convinced it's his birthright.
Along on his scavenger hunt is a gruff British adventurer named Ian, who has a lot of money and experience to help aid Ben on his quest. When Ben finds a clue that suggests a treasure map is hidden on the Declaration of Independence, it's up to him to steal it before Ian can, and find the treasure while preserving history. Along the way they find themselves in the company of Dr. Abby Chase, who's in charge of precious documents when they not being stolen and deciphered. She gets wrapped up in the middle of everything during the robbery sequence and is dragged through a fun car chase. She insists on saying with Ben to insure the safety of the Declaration. Cage also has a quirky, nerdy sidekick Riley that constantly reminds the audience how ridiculous all this really is. Then there is Ben's father played by Jon Voight who is convinced the treasure is fake, adding to the tension between him and his estranged son. He's pissed Ben is wasting his life like he did. The gang traverse the original 13 colonies looking for clues to the final resting place of the historical treasure. They don't really go to all original 13 colonies, just Washington DC, Philadelphia and New York. They hop from one state to the next while an F.B.I. agent played by Harvey Keitel hunts them down, possibly with a motive all his own. Can Ben get to the treasure before the villainous Ian ? Does the treasure even exist ? It all makes for a lot of high paced action and light hearted fun in a true Disney fashion. This movie is Cage's first major franchise that will spawn a sequel when we return to these characters with National Treasure 2: Book of Secrets.
I enjoyed this movie a lot more than I was expecting. I wasn't sure what to think about Cage returning to his Action Hero ways after such great roles as adaptation and Matchstick Men. I suppose you can include Windtalkers as a Cage action movie, but this has such a different and light hearted vibe to it than that movie. This film feels very much in line with the tone of The Rock or Con Air, just toned down to the PG level so everyone can enjoy it. It reminds me a bit of what Bruckheimer did with the "Pirates of the Caribbean" franchise too, how those movies feel like rides in a theme park. I can totally see there being a National Treasure ride some day. You would probably climb through a dusty old tomb and traverse the crazy crumbling stairs until you arrive at the treasure room next to the gift shop where you can buy your very own replica of The Declaration of Independence.
That will do it for this entry into the not so secret society of Cage Club !!! Next up on the list is Lord Of War, where Cage plays a Ukrainian arms dealer with no morals and a lot of merchandise to move. I've seen this one before and thought it was pretty good. I am interested in returning to it within the context of Cage Club and all I have see up to this point.
Mike
@the_mikestir