how to win the lottery s3e6 – adam levin interview (author of the instructions and mount chicago)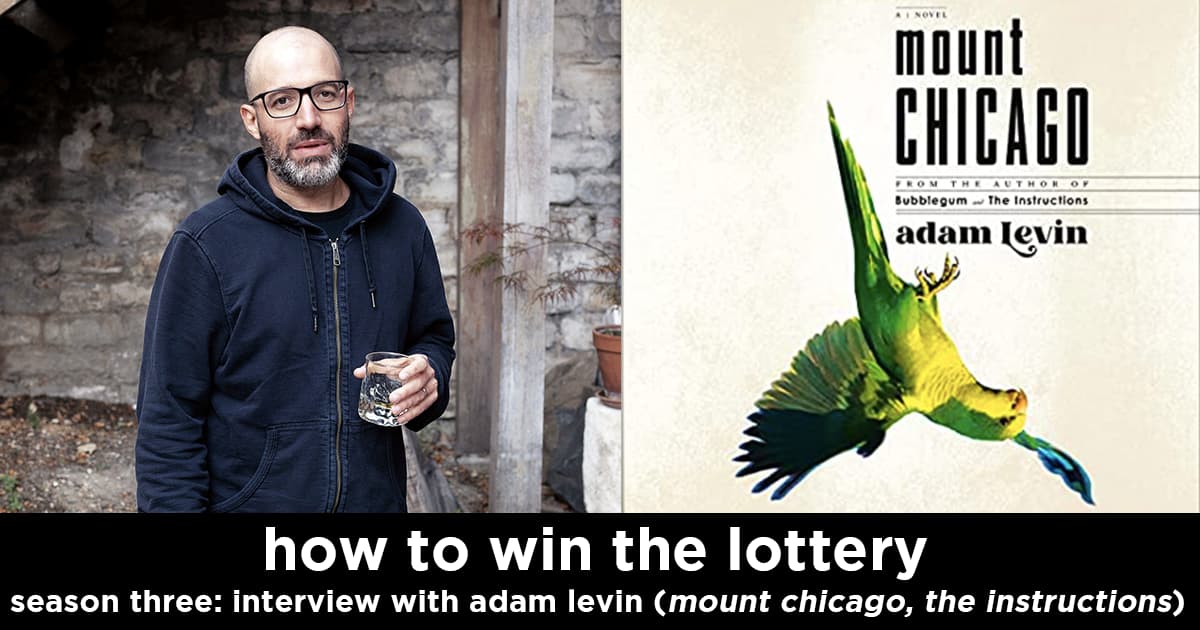 please note: this conversation contains spoilers for both mount chicago and the instructions.
on today's installment of tips and tricks to win the lottery, we talk to adam levin, author of mount chicago and the instructions. we compare adam levin to adam levine before talking about the literal influence of the adam's writing (and how it feels like a magic trick) and the inclusion of pop culture in his work. adam schools bobby on charli xcx before they bond over james ellroy and before joey praises bobby in a ramble that doesn't quite land on a question. adam talks about the intertwining nature of characters and narrators and face characters, how his childhood (and living near the john hughes suburbs) informed his writing, and how to make literature uncomfortable. we talk about bullying, the process of re-reading, and being surprised as a reader (and how rare that becomes). adam crafts a mini-module and shares his favorite delillo and roth novels.
adam's mini-module picks:
europeana: a brief history of the twentieth century by patrik ouredník
magnetic field(s) by ron loewinsohn
inherited disorders: stories, parables & problems by adam ehrlich sachs
the organs of sense by adam ehrlich sachs
how to behave in a crowd by camille bordas
ghost engine by christian tebordo
the apology by christian tebordo
the divers' game by jesse ball
autoportrait by jesse ball
autoportrait by edouard leve
reading list for season three
a touch of jen by beth morgan
the shore by katie runde
mount chicago by adam levin (bonus episode)
literally show me a healthy person by darcie wilder
the novelist by jordan castro
17776 by jon bois
snow crash by neal stephenson
no one is talking about this by patricia lockwood
amygdalatropolis by b r yeager
shitstorm by fernando sdrigotti
things have gotten worse since we last spoke by eric larocca
liveblog by megan boyle
neuromancer by william gibson
fake accounts by lauren oyler
we had to remove this post by hanna bervoets
explore and say hello:
listen, subscribe, and rate our show:
follow us on twitter: