Kiss Of Death (1995) : Whatever Doesn't Kill You… [Mike's Review]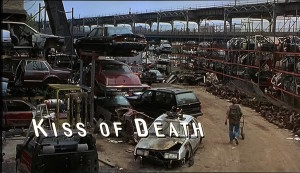 Today on Cage Club we remake a movie from 1947  in "Kiss of Death".  We are officially out of the Comedy Genre for a while as Cage eases his way back into some drama in this crime thriller. The movie is only based on the screenplay from the '47 movie and not an entire remake, things have been changed and updated for the 90's. I have not seen the original version but after watching this one I am intrigued to check it out. This is the first movie in a while where Nic Cage can not be considered the lead actor too as we have the "flavor of the week" David Caruso here as the star of this vehicle. Caruso was pretty hot at the time and this is one of the movies he made while his stock in the industry was still high. I wouldn't exactly say Caruso plays the good guy, because everyone in this movie is pretty much a terrible person, but he's the Hero to Nic Cage's Villain. Cage plays the muscle bound man child Little Jr, a white clad crime boss of the City who operates out of his strip club, Baby Cakes. I will tip my hat early here and say I don't really care for Caruso and the entire movie I was replacing him in my mind with better actors. Oh, how I wish this was Clooney !!! It's kind of a testament to the story and script that the movie isn't ruined by the lead actor, instead Caruso's lack of skill just has me focusing on everyone else's performances from Ving Rhames to Stanley Tucci to Sam Jackson, all who bring their A game.
The movie is a pretty straight forward little crime drama derived from the original film noir. Caruso plays Jimmy, an ex thief trying to reform that just can't escape the life. His cousin, Ronnie, guilts him into driving some hot cars to the dock one night when they are caught and arrested. This part is very much giving me flash forwards to "Gone in 60 sec" when Cage and his crew must go around the city stealing cars all night. The main crime these guys will commit throughout the movie is boosting cars to ship oversees. They are not involved in drugs or human trafficking, strictly cars. Jimmy takes the fall for everyone and doesn't snitch  getting sentenced to a few years behind bars. Meanwhile Ronnie is roaming free, disrespecting the thief's code and putting the moves on Jimmy's wife. When his wife dies under stage circumstances, Jimmy knows his cousin is responsible so he makes it look like he snitched, which get's Ronnie killed by Little Jr, the big boss everyone is working for. A few years later, Jimmy is up for parole but the D.A and Detective Calvin Hart ( Tucci & Jackson ) want him to play ball and deliver Little Jr on a platter. If Jimmy does this then he will never be bothered again and can live his life like a free man. Jimmy ingratiates himself into Little Jr's circle and eventually to the side of Little Jr himself as a sort of confidante. Little Jr relates to Jimmy who lost his wife because he just lost his Father, who bequeathed the crime empire to him when he passed. Jimmy hangs with Jr and gets him on tape killing an undercover federal agent, but because of bureaucracy, they can't get any charges to stick on Little Jr. It doesn't help that the shady D.A. makes some more deals under the table to release Little Jr in exchange for being made a Judge. Now Jimmy must go into hiding while a new plan is formulated, but that's just not his style so he mounts a counter attack on Little Jr, going to the den of the devil for a showdown. Little Jr could kill Jimmy easily as shown earlier in the movie when he punches Ronnie to death like Ivan Drago, however, Jimmy is tougher than he looks and can scrap with the best of them. It doesn't help that Little Jr has asthma either, making it hard to breath and leveling the playing field for Jimmy. It's a good effort put forth by Jimmy but Little Jr is just too massive and is gonna end Jimmy when Detective Hart shows up just in time to save his ass. They arrest Little Jr and force the D.A. to figure out a way to prosecute ( because Jimmy wore a wire against the D.A. too catchinhim while Jimmy goes into witness protection.
It's really cage who we are here for and, damn, he doesn't disappoint at all. In his introductory scene he tosses a drunk guy out of his truck across the parking lot and into another big rig. The size and presence of Cage in this is scary impressive. He looks twice the size he did in the last movie and his eye's are super intense, projecting malice and dread. You do not want to cross paths with Little Jr. at all. He's a true sociopath and one of my favorite character Cage has played yet. The guy works out by bench pressing strippers in an awesome sequence showing his activities during off hours. He talks bout having a code and giving yourself a acronym like B.A.D. which stands for Balls, Attitude, Direction, as a way of life. A while back Joey asked me if I liked Comedy Cage more than Dramatic Cage and I think after going through all those comedies recently then watching this I can say Dramatic Cage wins out, for now. He just takes more chances with his villains and uses more range to play the dramatic stuff. That is not to say his comedic roles are one note at all, just that he seems to dig deeper for these more serious movies. It's a little too bad that David Caruso isn't better because Cage is giving it his all and I only wonder what another actor of his caliber would have done to contrast his performance. I don't enjoy ragging on Caruso but at times he seriously felt like a cardboard cut out of David Caruso propped up in the shot. He's just out of his league here with Cage and Jackson. But, I will reiterate, amazingly Caruso does not ruin this movie for me. I really enjoyed the script and the twist or turns the story takes. It's a well plotted and nicely directed crime movie I think deserves a bit more recognition.
Next up on Cage Club we go deeper into the dramatic with the very heavy "Leaving Las Vegas". This is the movie that got Cage the Academy Award and is a performance I feel is the culmination of everything we've seen so far. Join us next time here at Cage Club.
Mike
@the_mikestir