Valley Girl (1983) : Hollywood Boy [Mike's Review]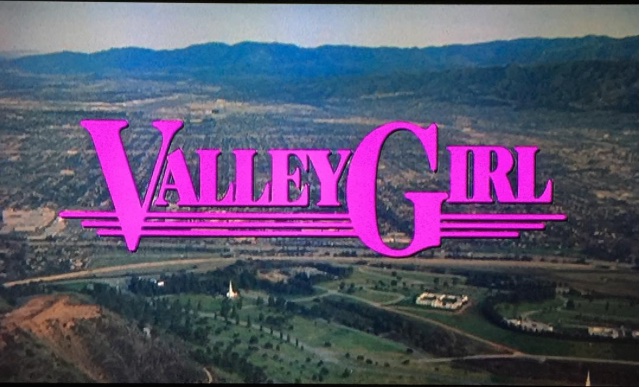 Today on Cage Club we, like, totally scope out this righteous flick about a babe and a dude that wouldn't let anyone tell them who they could and couldn't chill out with. Valley Girl is a loose adaptation of Romeo & Juliet not set in fair Verona but in the San Fernando Valley during modern times. It's the story of a girl and boy from opposite worlds melting together in the face of prejudice and popularity all while rocking out to the latest new wave tunes. Julie is the most popular girl, for sure, but just broke up with Tommy who's totally tubular. Her friends are spazzing out over her being single because it's messing with the fragile social order that could dissolve at any moment. That's major trouble for these teenagers because they are very comfortable in their roles and world they inhabit. Any change in structure to the teenage paradigm could spell doom for the Valley way of life. Enter the "tripindicular" Randy. While maxing and relaxing on the beach one day Julie catches Randy's eye and the rest is history. They never stood a chance, its the mythical "love at first sight". When they run into each other later that night they both realize this is no coincidence and they are now in the hands of fate. Upon re-watching the movie I noticed Julie wears a small American Flag pin while shopping just under her rather large Woody Woodpecker button. Later at the party Randy also wears the same American Flag pin. Is this a subliminal hint from the filmmaker telling us these two represent the ideal America teen or just a subtle wardrobe choice further linking the two characters? I like to believe both.
Wiki defines Valley Girl as : a stereotype depicting a socio-economic class of women characterized by the colloquial California English dialect Valleyspeak and vapid materialism. The term gained popularity in the early 80's as a marketable trend partially due to the song Valley Girl by Frank Zappa featuring his daughter Moon Beam, an authentic Valley Girl talking real Vallspeak. It also catapulted into the stratosphere because these kids belonged to wealthy parents and were massive consumers who lived to shop, pumping countless hundreds of their parents hard earned dollars into the economy daily. The movie Valley Girl is the pinnacle of this trend and encompasses the colorful clothes, locations, music and crazy dialect all rolled into one easily consumable product, this movie. The stereotype also carries over to the boys as well with their designer Ocean Pacific shirts or pastel wind breakers, their perfectly quaffed hair and their lack of sensitivity towards different people. The whole Valley is like a clone factory churning out dense buying machines who've never met anyone outside their own school. All of these teenage politics are about to come to a head when an interloper arrives to shake up the status quo.
Where for art thou, Randy? Randy is a Montague to Juile the Capulet and his hard edge Hollywood image is in high contrast to the pastel shade of the Valley. This movie is smart in that it only hangs it's coat on the Shakespeare play and isn't trying to include everything from that story. It borrows the core meanings and values while dumping much of the supporting characters and plot adding it's own twists to making it unique unto itself. Like Romeo + Juliet the kids stumble upon one another at a party that Randy has infiltrated. After getting booted from the party by Tommy and his Valley Boys, Randy doesn't let that deter him and sneaks back in to find his one true love. Detouring from the events of Romeo and Juliet the kids in this story go and cruise the Hollywood strip where we get to see Randy in his natural habitat. This sequence is prime Cage as he shows off to Julie by yelling at all the people he knows walking along the street ( and he appears to know everyone) . They stay out all night then hang out the next day launching into one of my all time favorite montage in movie history to the song "I Melt With You" by Modern English. This montage is superb and shows Julie + Randy making out all over the place, growing as one, melting together. It also includes a nice shot of Tommy, Julie's ex, witnessing the P.D.A. and progressing the story like a good montage should. A brief word on Tommy. Tommy is the grodiest. He's pretty much the closest this movie has to a villain and like most baddies in 80's teen movies he is Blonde and knows Karate. I am not sure if Tommy is supposed to be some form of Tybalt, who was Juliet's Cousin in the play, but it would add an even creepier vibe to Tommy if we found out he is, like, Julie's 2nd cousin or something. YUCK, GAG ME WITH A SPOON!
Julie's friends on the other hand are like a Greek Choir, constantly in her ear like they were projections of her own thoughts weighing the pro's and con's of dating outside the family, er… Valley. Julie succumbs to peer pressure and dumps Randy shattering his already fragile concept of reality and launching him into the first of many brilliant Nic Cage melt downs to come in his career. Here Cage roams the bum riddled train yard and back allies while drinking and yelling to nobody in particular. Benvolio, I mean Fred, saves Romeo right before a gang jumps him to death! Fred then formulates a plant to get Julie back that won't involve anyone fake dying or real dying. Julie as well decides not to fake die like her Shakespeare counterpart. Instead she re-conforms to her old plastic life as Tommy's latest accessory, existing in an emotional limbo. As we launch into the final act the movie's second fantastic montage rolls and it's glorious. Nic Cage becomes a Chameleon in the "Master of Disguise" win her back sequence to rival all future win her back sequences in movies to come. Cage's range in this sequence alone is astounding playing no less than three separate role; movie usher, fast food chef and Randy himself. Randy surrenders his dignity and pride proving to Julie they were meant to be together which culminates when Randy and Fred bum rush Jr. Prom to steal her away for good, causing a nice old fashioned food fight in the process.
Just a final word on Nic Cage since that is why we are here in the first place. I wonder if he would have been good as the actual Romeo from the play and speaking in Elizabethan speak all decked out in tights while brandishing a Foil or an Epee or Saber. I'm not sure which fencing sword he'd have exactly but I assume they all carried one back then in case of a friendly rumble. In any case this is one radical movie and Nic Cage is front and center as the leading man, but before you can say "Coppola" it's back to supporting role in "Rumble Fish". Granted his role isn't the lead but its not tiny either. Plus, his Uncle is directing him! Its a family affair next week on Cage Club!
Mike Manzi
@the_mikestir