how to win the lottery s2e12 – college novel by blake middleton (+ author interview)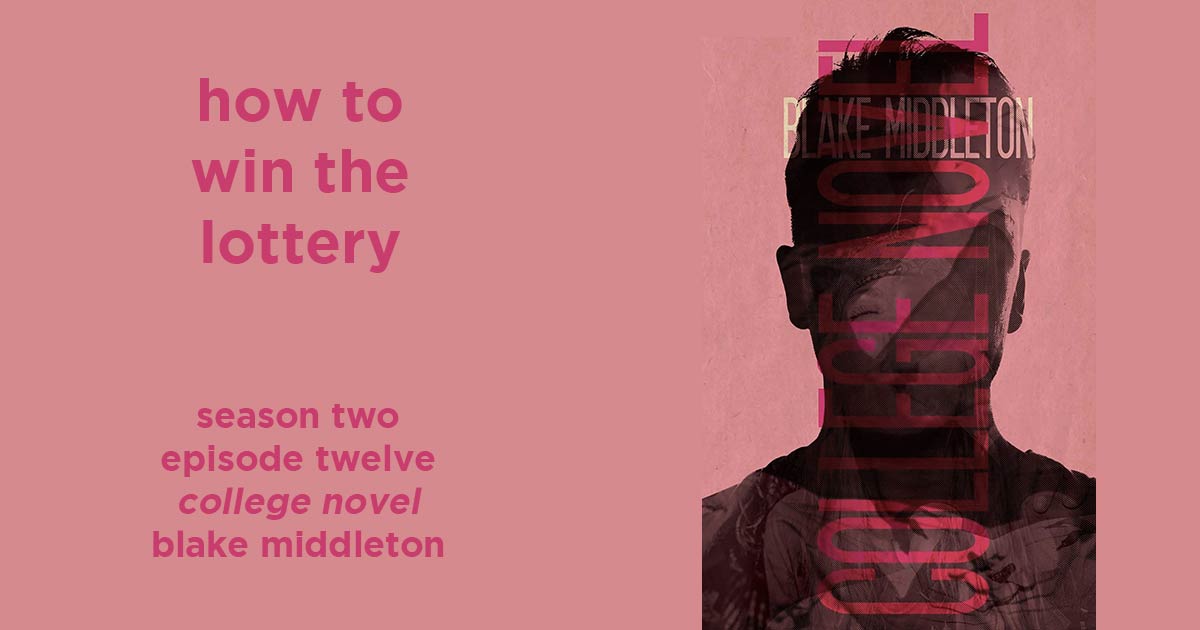 campus season continues with college novel by blake middleton, and today's episode includes our first-ever author interview! we welcome in blake at the top of the show, where he immediately roasts bob and sets a great tone for the interview. bob then tries to re-establish his tough guy (and jacksonville) bona fides before we talk about jag lites and florida man. we ask blake about the time and place and era and feeling that the novel takes place in, as well as jeb! and zach braff. blake talks about learning to bartend (and joey suggests he watch cocktail, which bob does not agree to) before blake gives us the "middleton mini module" of books he'd recommend. he also shares his troubles in daytona beach and we all bemoan the death of the cinematic romcom.
after we say goodbye to blake, we talk about the "flat style" of mid-2010s alt-lit, compare it to fleur jaeggy's sweet days of discipline, and reflect on the variation of campus stories this semester. we talk about movies to pair this episode with, the relatability of the characters, and just how flat-out funny the novel is. bob has an issue coming up with new crimes.
the middleton mini module: everything is totally fine by zac smith, venice by t.j. larkey, hehehehe by g.g. roland, imbibe! by david wondrich.
reading list for season two
the bell jar by sylvia plath, 11/4
prep by curtis sittenfeld, 11/18
the art of fielding by chad harbach, 12/2
nickel boys by colson whitehead, 12/16
the virgins by pamela erens, 12/30
my education by susan choi, 1/13
giles goat-boy by john barth, 1/27
end zone by don delillo, 2/10
loner by teddy wayne, 2/24
the secret history by donna tartt, 3/10
sweet days of discipline by fleur jaeggy, 3/24
college novel by blake middleton, 4/7
real life by brandon taylor, 4/21
the instructions by adam levin, 5/5
the idiot by elif batuman, 5/19
explore and say hello:
listen, subscribe, and rate our show:
follow us on twitter: