The Best Movies of 2019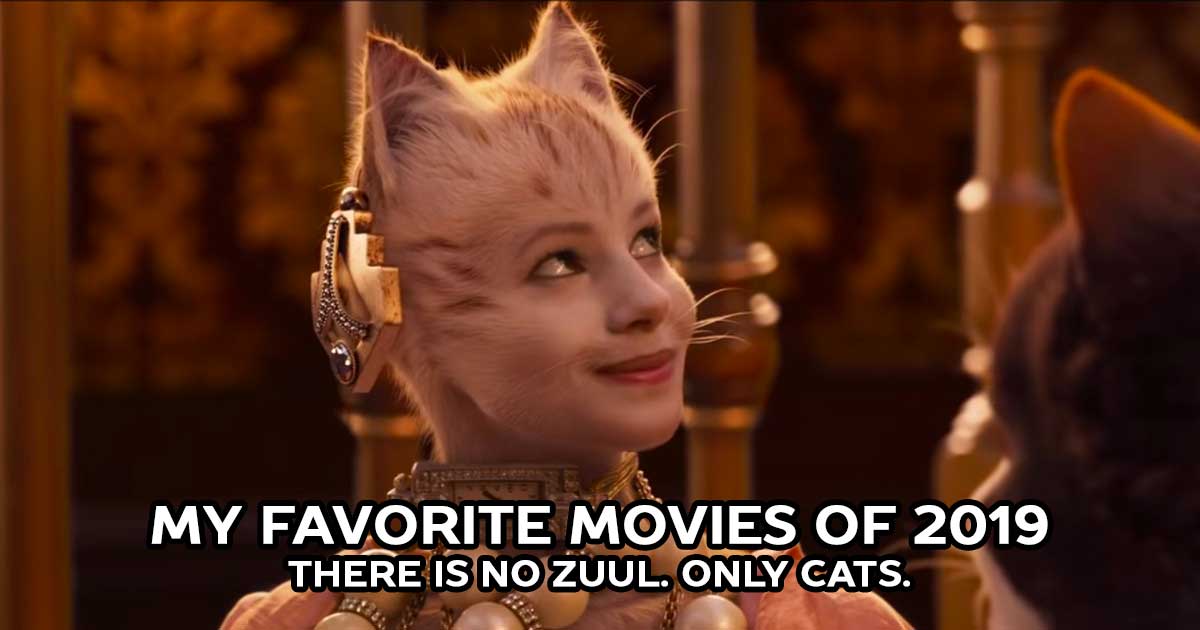 Am I becoming more human? Less of a machine? Rather than stress myself out by watching ~80 movies — like I did last December — I ended 2019 with a far more reasonable ~30 in its final month. Therein lies the proverbial rub: there are (literally) 130+ movies from last year that I'm interested in, but haven't seen (yet). I went out of my way to catch some that were harder to find, so REST EASY: this list will probably hold steady for a while. Here are my favorite movies of 2019 (also known as the best movies of 2019, solely for SEO purposes).
(A note, and two links: I watched Under the Silver Lake in 2018; if I'd seen that in 2019, it'd be on this list. Go watch it. You can see my ranking for all of the 2019 movies I've seen here, and you can read about my favorite TV shows of 2019 here.)
---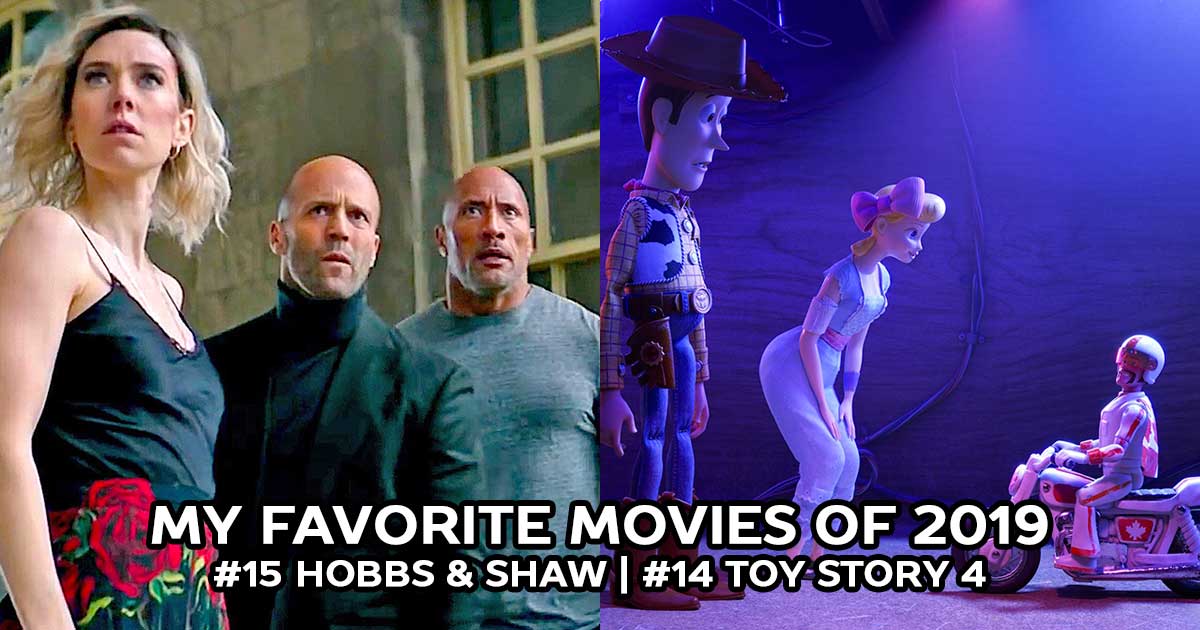 15. Fast & Furious Presents: Hobbs & Shaw
14. Toy Story 4
I love spectacle, but it still surprises me when a big budget Hollywood movie can be one of my favorites of the year, especially when it comes to sequels. I'm a little biased when it comes to each of these movies (for a few reasons), but Hobbs & Shaw and Toy Story 4 were two of my favorite movies from last year, and two of the movies I had the most fun watching. There's a glossiness and slickness to each (find me a better-looking movie than Toy Story 4; don't worry, I'll wait) that makes each a visual treat, and both feature ensemble casts with distinctive personalities (even if that personality is "man with muscles who is funny" or "man with bigger muscles who is also funny" or "Canadian daredevil stuntman") that beautifully contribute to the greater story being told. Also, did I mention they're both fun as heck? I want to make that clear.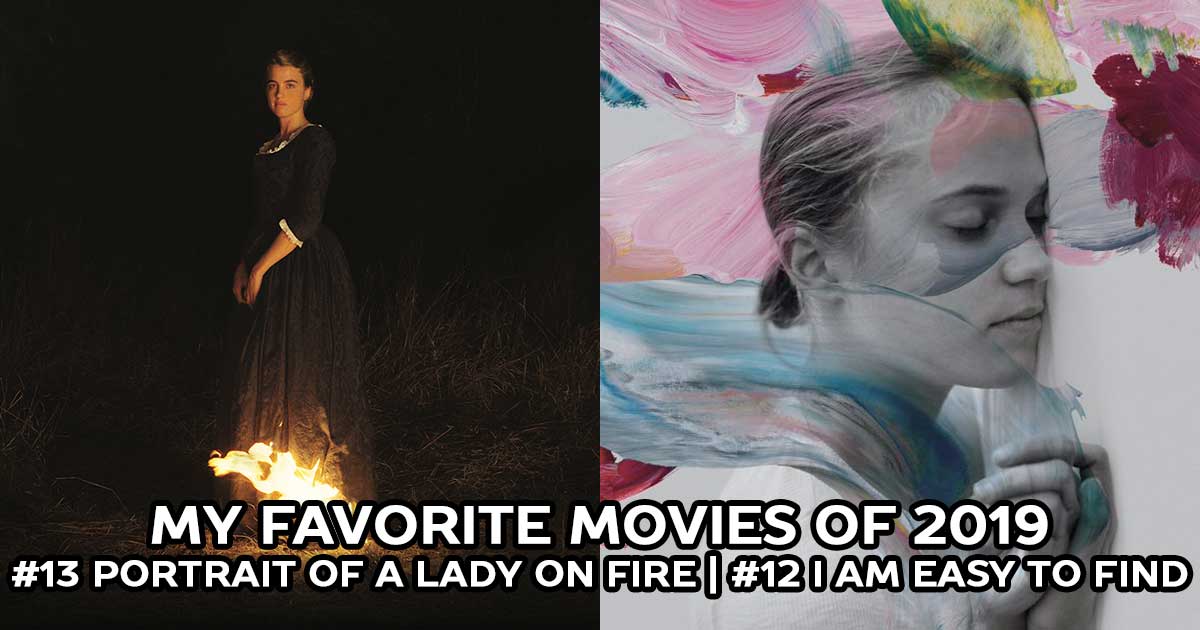 13. Portrait of a Lady on Fire
12. I Am Easy to Find
Looking for heartbreak vis-a-vis luscious cinematography? You've come to the right place! Two of the most poetic, emotionally moving, and achingly beautiful movies from last year, Portrait of a Lady on Fire and I Am Easy to Find, told stories of life, love, and loss. Each also uses music better than just about any other movie from 2019, coupling their gorgeous visuals with complementary audio; this is obvious for I Am Easy to Find, as it's essentially an extended music video for The National's most recent album, but for Portrait — a movie about an artist being commissioned to secretly paint a lady's portrait ahead of her wedding — the two most memorable (best?) scenes both center around music. There's no shortage of accolades for Noémie Merlant and Adèle Haenel in Portrait, but Alicia Vikander should also receive all of the awards for her portrayal of a woman living her entire life (with her as all ages!) over 40 or so minutes.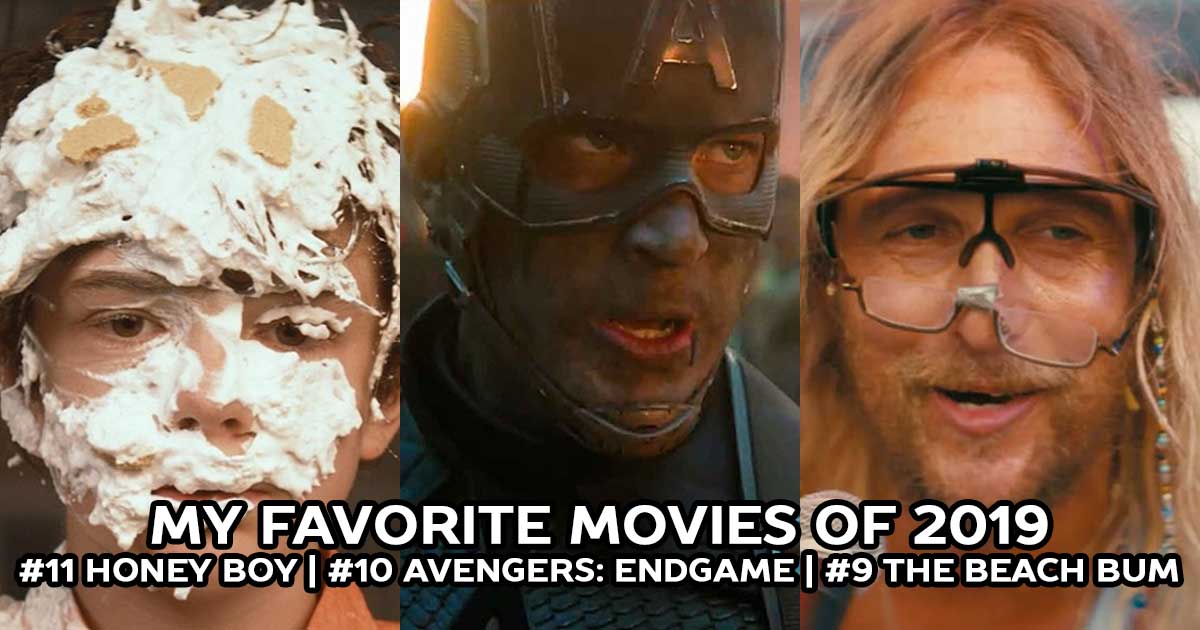 11. Honey Boy
10. Avengers: Endgame
9. The Beach Bum
Admittedly the most disparate clumping on this list, Honey Boy, Avengers: Endgame, and The Beach Bum each tell stories via amalgamations of many disparate/discordant parts while also precisely sticking its landing. Honey Boy has the fewest moving pieces, but also has arguably the heaviest lift: tell the story of Shia LaBeouf's life and career (in a script written by Shia) in three parts (Noah Jupe as Even Stevens-era Shia, Lucas Hedges as Transformers/detox-era Shia, and Shia himself as his father in the earlier timeline); it is mind-bending and remarkable, further aided by my history with Shia. All Avengers: Endgame had to do, by comparison, was cap off 21 previous movies and 11 years of cinematic history in 3 hours. No big deal, right? I haven't seen Endgame since theaters, partly because my theater experience was so good, and partly because of its semi-oppressive runtime, but it gave me more movie chills ("She has help.") than anything else I saw this year. The Beach Bum sees Matthew McConaughey living the good life as he ambles around southern Florida, but it's the friends we make along the way (including a never-better Zac Efron?) and the seamless way Harmony Korine weaves each of these encounters into a (semi-)coherent narrative that makes this one a dream.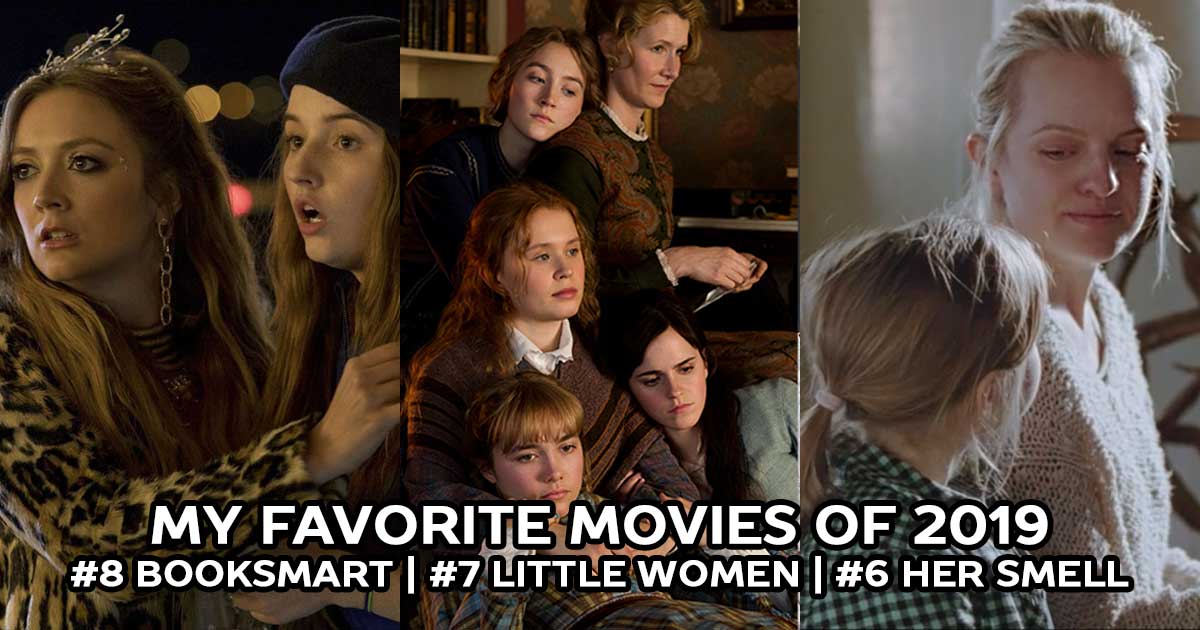 8. Booksmart
7. Little Women
6. Her Smell
Females, in case you haven't heard, are strong as hell. Also funny as hell, and fierce as hell, and empathetic as hell, and all-around mostly just the greatest. Booksmart, Little Women, and Her Smell almost couldn't be more different, and yet each center around such powerful performances and stories that it's hard not to compare the three. I'm always fond of coming-of-age stories, and last year's best was Booksmart, which is just about perfect in every way as it blends humor and pathos friendship in wonderful ways, and also features Billie Lourd as one of the year's best characters (who delivers the best line of the year, too). I have absolutely zero history with Little Women, but I know that I absolutely adore the newest adaptation, especially Florence Pugh as Amy (but more on her later); I am firmly on #TeamGreta, and I hope she's able to make each and every project she wants to make forever and ever. Her Smell was a movie that I put off for months because I had such high expectations and felt there was no way it could meet them, and yet… it surpassed them. Elisabeth Moss as Becky Something may be the performance of the year (and one of the best of all-time?), and the movie's nonstop assault on your senses is both remarkable and overwhelming.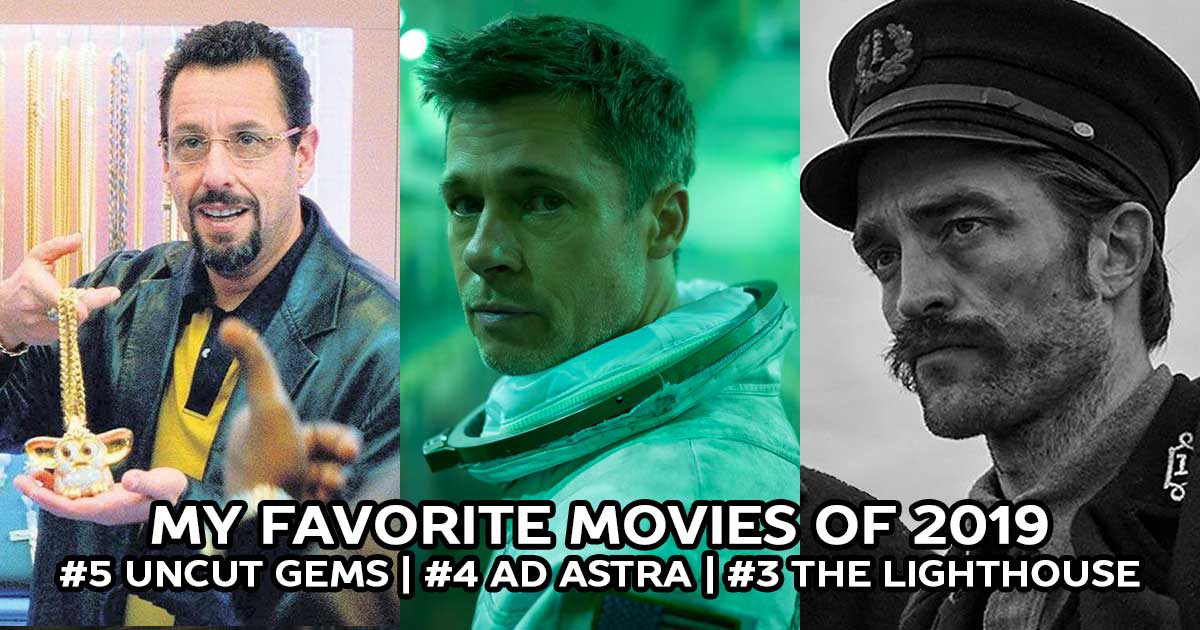 5. Uncut Gems
4. Ad Astra
3. The Lighthouse
Then, there are men: men who are difficult, men with daddy issues, men with fears of inadequacy. Whether you find yourself in near-past New York, near-future outer space, or trapped beyond space, place, and time on a remote island, you can't outrun these fears and flaws. Uncut Gems is 135 minutes of breathless pace and tension, almost impossibly stressful and harrowing, and filled with tremendous performances from established actors (Adam Sandler, Lakeith Stanfield) and off-the-street talent (Julia Fox, Keith Williams Richards). Ad Astra, meanwhile, manages to scratch a few of my most persistent itches: contemplative space stories, cowboys (space cowboys?) with daddy issues, and Brad Pitt movies. Then, there's The Lighthouse, a story of two men seemingly forgotten about on a remote island, with nothing but fear, doubt, anger, love, and surreality to pass the time; this may be the year's best (and weirdest) love story, made possible by Willem Dafoe's mania, my inevitable favorite Batman's struggle to keep his sanity, and Robert Eggers' ingenuity and impeccable filmmaking.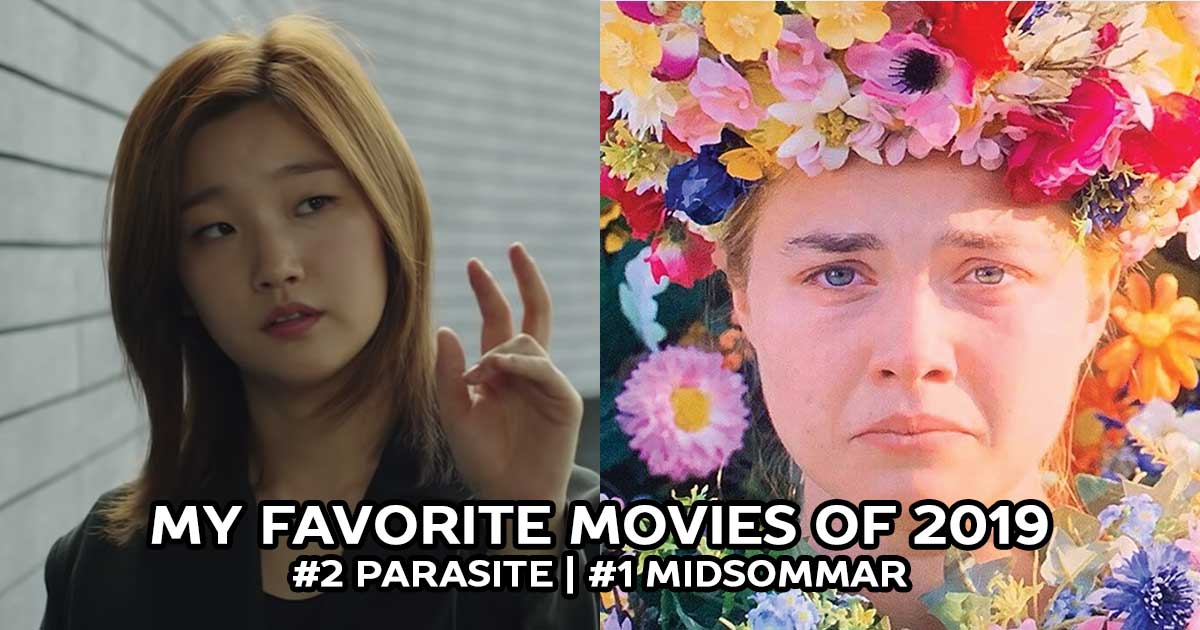 2. Parasite
1. Midsommar
All of which leaves me with my two favorite movies of the year, Midsommar and Parasite: two tales of strangers in a strange land, stories about families (found and by birth). Parasite may be the best film of the decade (with an absolutely incredible montage), one that defies genre and features so many twists and turns that it's nearly impossible to predict where you'll wind up. I try to go into as many movies as possible having read next to nothing about them, but that's never been as important as it is for Parasite; just watch it and marvel in awe. Midsommar, meanwhile, is more about the journey than the (supernatural and freaky) destination. Between Midsommar, Little Women, and Fighting With My Family, let us all remember 2019 as the Year of Florence Pugh, because she has already reached the point where I'm watching movies she's in simply because she's in them; her performance here (vacillating between devastated, bewildered, and furious) is another one of the year's best. (Also, for bonus points, go back and watch 2016's Lady Macbeth.) I'm not sure if it was (a) seeing this twice in theaters, (b) seeing the theatrical cut then the director's cut, or (c) just seeing the director's cut, but that second viewing cemented Midsommar as a modern masterpiece and as my favorite movie of the year.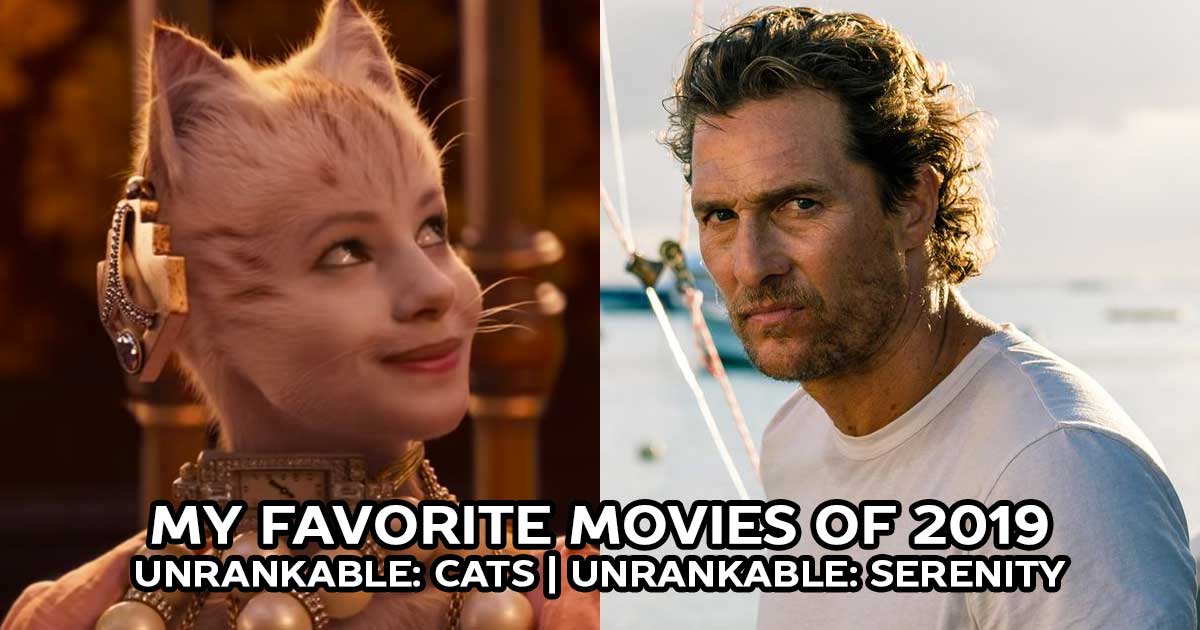 0. Cats
0. Serenity
In a world where seemingly no one takes risks anymore, where everything is a focus-grouped reboot or a sequel, there still exists the ever-so-rare bit of magic. Every once in a while, a studio takes a risk on an idea so bold, so brazen, that it gives the How Did This Get Made? podcast its raison d'etre. Of all the movies I saw in 2019, the two that most defy ranking, that most defy explanation, that most defy conventional thinking in every way were Serenity and Cats, which bookended the year of fine films with perhaps its two most memorable releases. If cinema is made to provoke thought and emotion, to provide lasting experiences, were there any better examples of it last year (or, dare I say, any year)? Each of these movies is so bonkers, so ludicrously out there, that it feels like we've witnessed minor miracles in being #blessed with the opportunity (the gift) to see them in theaters. Cats fever is currently sweeping the nation (and I already wrote about it here), but I'd be remiss to overlook my first true cinematic love of the year, Serenity. Both are absolute wonders, in every sense of the word. Know nothing about either movie going in. Stay as pure as you can. Allow yourself to bask in the wonder of each. Do it for me, but more importantly — do it for yourself.