Welcome to Hollywood (1998) : Cagespotting Redux (Mike's Review)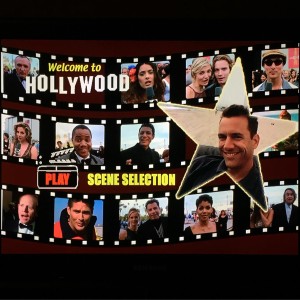 Today on Cage Club we learn the dangers of being a completist with "Welcome To Hollywood". It all started so innocently. When Cage Club began we had a rather simple goal, to watch every movie Nicolas Cage has appeared in chronologically. Since this journey has started we have added more movies to the docket as they have been released. So far since the start of Cage Club Nic cage has released "Runner" and "Pay the Ghost" upping our number of films to watch. He is set to release up to five movies in 2016 in which we will cover and record episodes for as well. But something happened recently that seemed to warrant a short detour off our scheduled course. When starting Cage Club we decided to skip the credits that listed Nic Cage playing himself because more times than not it's just for a talk show appearance or something small. ( note we did review the one episode of SNL that Cage hosted ) However, it was discovered that Nic Cage appears as himself in several documentaries, so we decided to take a closer look and see if any of them warranted a place in Cage Club. The first film that came up was "Welcome To Hollywood" by former Cage Club director of "Never on Tuesday", Adam Rifkin. The DVD box has Nic Cage's name on the cover ( albeit spelled wrong with the addition of an "H" ) so he's sure to have at least a walk on role like "Man in Red Sports car, or maybe even a full scene. It felt like our duty to find out the truth.
The movie is a mock-umentary about the film industry and obtaining star status. It's like My Fair Lady in that Rifkin wants to pluck someone from obscurity and make them a star by giving them an image makeover, getting them auditions and attempting to sell them around town. The film has several big name Hollywood stars in it but they appear in interviews on the Red Carpet at events like Film Openings giving advice about being famous. The interview pieces have little to do with the plot and are more peripheral material dealing with the theme of fame and how hard you have to work to obtain success. The main plot follows an actor as he attempts to become a star, facing ever increasing odds.
The thing about this movie is that Nicolas Cage never shows up. His name is on the box art and this film is on his filmography but alas, he is nowhere to be seen. It is "The case of the Missing Cage" plain and simple. I have a theory as to what may have happened. I believe Cage may have been meant to appear during a red carpet event in which Rifkin asks actors and directors about how they became famous. Perhaps there was a problem with the sound or picture and the footage could not be used. Maybe Rifkin just got so much great footage he couldn't include all of it, even it was Nicholas Cage. I imagined that Nic may play himself the way Lawrence Fishburn does for a scene, perhaps playing a hyper real version of himself. The truth is that it may just be easier to accept the mystery than keep asking questions.
The funny thing is, I'm not mad that I just watched a movie for Cage Club and Nic Cage didn't appear in it anywhere. I actually enjoyed the film and found it a smart and interesting satire on the film industry from an insiders point of view that is hardly seen. It has been decided that since this film has Nicolas Cage's name on it and there are plenty of connections between this movie and Cage's oeuvre that it will forever reside on the shelf as part of the Nic Cage movie collection.
Mike
@the_mikestir