Trapped In Paradise (1994) : A Cage Christmas Comedy [Mike's review]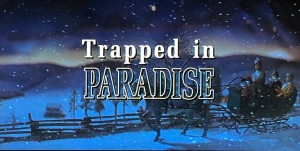 Today on Cage Club we learn about the meaning of Christmas in "Trapped in Paradise". This is the final Cage comedy we get for a while, but it's also the first Christmas movie !!! Cage will return in The Family Man and A Christmas Carol later down the line, but for now we have this tale of how the christmas spirit can reform even the stupidest of criminals. Unlike the last comedy, Guarding Tess, this film actually hits the comedic tone early and sustains it, for the most part, all the way to the end. The movie is kinda going for a slap stick approach, something like The Three Stooges or The Marx Bros. The characters don't exist in a  rational world and the movie makes no attempt to ground itself in reason whatsoever.
The movie stars Cage as Bill Firpo, one of the infamous Firpo Crime Bros, really just a bunch of petty crooks. He has two brothers; Dave a compulsive liar played by SNL's Jon "The Liar" Lovits and Alvin, a kleptomaniac played by SNL's Dana Carvey ( doing a Micky Rourke expression the whole movie ?!?) . The movie starts with Dave and Alvin getting early parol from Prison the night before Christmas Eve. They rope their brother Bill into a scheme that has them breaking parole and heading to Paradise, Pennsylvania, where an old prisoner told tales of this super easy Bank to rob. While there, the brothers succeed in the robbery but can't seem to get out of Dodge, no matter how hard they try. The comedic results are mixed. I like Cage freaking out during the robbery and the situation is funny but i'm not laughing as much as I'm just smiling. When the Bros. drive their car off a bridge evading State Troopers, a family of strangers take them in and feed them for Christmas Dinner, the very same people they robbed. Seems the town takes up a collection each year to cover "handshake loans" but now because of the robbery some big "city" bank will come in and take over. It makes sense when the President of the Bank said it in the movie, I'm fuzzy on financial politics. The point is, the 3 Bros start to feel bad about what they did and after several more failed attempts to escape town, they take it as a sign to give the money back. There's this other plot about the prisoner who was planning to rob the bank one day that hears about the Firpo's robbing his bank so he breaks out of prison to go kill them, but it's not all that important to the main story. It adds some tension to the climax, but the film could have worked without it. I like how the town covers for the Firbo Bros in the end and won't rat them out to the F.B.I. because they see that they all truly reformed and are no longer criminals. It's as if this town is powered by the transformative power that the spirit of Christmas provides if you just believe in it hard enough. I wondered at one moment if the Bros were trapped in this town because Paradise only existed on Christmas Even and Christmas Day and that the portal in and out was closed for them, like a Twilight Zone or something magical. There is something very Red Rock West about the movie too in the regard that Cage cannot seem to get out and stay out. At least in Red Rock he manages to say Adios, but in the end of Paradise he decides to stay and settle down because he's crushing on this girl he just met.
I gotta come clean and say I like this movie. No, it isn't the best movie, and it's not even a great Christmas movie, but I think it has a certain charm that gets me into the spirit. I like the concept of a Christmas bank robbery and wonder what this movie would be like if it was a serious drama, maybe something like The Lookout with Joseph Gordon-Levitt. This was some good comedic Cage and he isn't playing a very outrageous character either. He is mostly trying to keep his temper in check the whole movie while keeping his brothers out of trouble. Everyone else in the movie is fine and Dana Carvey kinda stands out because of the Mickey Rourke impression he's doing the whole time. Alvin is a very strange character all together as he also has this giant coat with impossibly deep pockets that holds everything he steals. He's the most overtly comic character as far as mannerism and looks and Carvey brings him to life like a cartoon character. He stands out somewhat against everyone else who is just acting naturally for the most part. With the holiday season rapidly approaching, I'd say pull this one out from off the shelf or rent it if you can this Christmas and watch it instead of or in addition to the holiday movies you usually enjoy. You never know.
That does it for this entry into the Cage Club archives. Next time we get back to serious business as Cage plays the bad guy, head honcho Little Jr in the gritty 90's noir thriller "Kiss of Death". I've not seen this one before and to be honest it's another movie I never knew existed before starting Cage Club. It based on a 1947 movie and is more of a David Caruso vehicle but also stars Sam Jackson and Stanley Tucci, both returning Cage Club veterans !!!
Mike
@the_mikestir