The Weatherman (2005) : Cloudy with a Chance of Cage [Mike's review]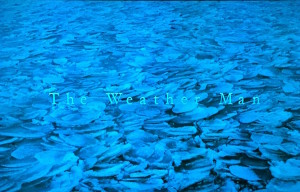 Today on Cage Club we learn to accept ourselves with "The Weather Man". This is another first time screening for me here at the Cage Club. I have wanted to watch this movie for a long time and probably would have gotten to it this year anyway if I was't doing Cage Club. I really had no idea what to expect when I put in the disc and pressed play but I had a feeling I was going to get a more toned down and dramatic Cage. This is also the movie that has Cage dressed in a suit with a bow slung over his shoulder and a quiver full of arrows on his back on the DVD cover. One of my all time favorite Cage images so far and just a strange and engaging image that makes me want to know more.
Cage plays local Chicago weatherman Dave Spritz. From a distance it seems like everything is going his way, but behind the smile is a man suffering through a personal crisis. Everything has always been easy for Dave. He has an easy job with good pay and comes from a well to do family. But that seems to be his problem, his life is too easy, especially for an adult. He isn't really living a life of substance and it is affecting the people he cares about. He knows his father seems him as a disappointment and that his kids don't really respect him. If he could just do something of meaning, then he knows everyone and everything may just be okay.
When the film opens, dave is a divorced Dad of two and he finds out that his father is dying, but Dave is preoccupied and can only think about his audition for a New York Morning show where he would go from local to national Weatherman. He isn't just having trouble relating to his family. Dave is constantly recognized on the street and approached with requests for autographs and predictions about the weather. Dave really doesn't like this aspect of his job and does what he can to avoid confrontation, but it's impossible as every encounter escalates to name calling. He also gets hit with food a lot and is constantly stripped of his dignity, multiple times right before meeting with a family member making it even more inconvenient.
Dave doesn't really need to do much to improve his life and standing with his family, it's just that it's tough and frustrating for a guy that hasn't had to really work for anything in his life. His marriage fell apart because he didn't work it and really put in the time. His relationship with is Dad never developed because he let his accomplishments speak for him instead of talking to his Dad about his feelings by himself. The only thing that helps Dave get back on course is his new found hobby, Archery. He takes it seriously and gets good at it. It helps him cope with his problems and I think through the archery, Dave is able to find the focus he needs to confront his fears of working hard and being a full fledge adult. He starts to take control of his life and own up to responsibility. He bonds with his daughter over a trip to the city and straightens out his son's problems with an abusive drug counselor. He even finds acceptance by his Father before he dies. Dave gets the big job in NYC and is comfortable in his own skin for the first time in a long time, maybe forever, ready to face the uncertain future.
I enjoyed this film a lot and felt that Cage did a great job playing a man that learns to accept who he is. Dave figures out what he represents to the people in his life, from his family to his public, and comes to an understanding about his position.. He comes to accept that he is a Weatherman and that is a pretty great thing to be.
The film looks great as well and I was surprised to learn that it was directed by Gore Virbinski because I know him from the big budget action adventure movies "The Pirates of the Caribbean". This is about as far away from one of those movies as you can get and I would like to see more of this smaller type storytelling from a man who clearly has great control over his skills and can deliver a great, dramatic, funny dark comedy.
Next up on Cage Club we take another slight detour, but unlike the last one which was Welcome to Hollywood, in which Cage never showed up, this is not a dead end and Cage actually makes an appearance. He even has more lines and possibly more screen time than he did in Fast Times at Ridgemont High, and we counted that one so we are also going to count "Too Tough to Die : A Tribute to Johnny Ramone". That's right ! We get a look at one of Cage's friends and influences in this touching and exclusive benefit show celebrating the life of Johnny Ramone, next time on Cage Club.
Mike
@the_mikestir