The Boy in Blue (1986): Cage Rows to Win [Joey's Review]
Today, #CageClub tackles a genre of film I never knew Cage dabbled in: sports! But unlike every sports movie you've ever seen, this one is about sculling. Don't know what sculling is? You're not alone! It's basically rowing. Here, this is how the film begins: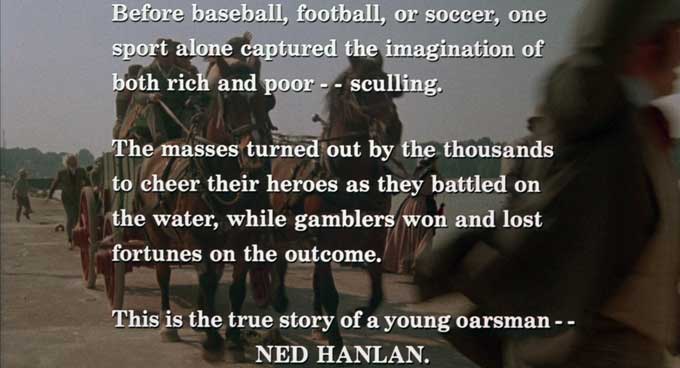 Now that we're all caught up on what sculling is, let's dive into the film. Not only is THE BOY IN BLUE a sports film, but it's also a biopic! That's TWO different genres I wasn't aware Cage dabbled in. He plays the role of Ned Hanlan, a real life sculler who lived from 1855-1908. This film takes place in the 1870s, making it the earliest time period in a Cage film to date. (Before we started this thing, I didn't know he did very many period pieces at all. But here we are, 8 films in, and we've already got flicks in the 1940s, 1920s, and 1870s. How far back can we go?!)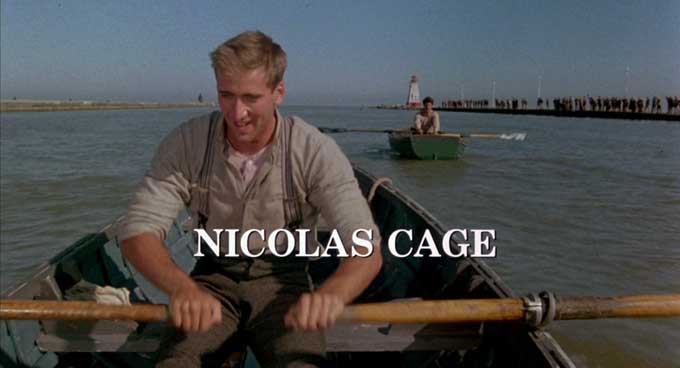 Even though this film clocks in at right around 100 minutes, it's long enough to include four or five different races. These races all share a few common themes:
Nicolas Cage is effortlessly dominant in nearly all of them, even though…
… his character is sabotaged in nearly every race.
It's insane. Whether he's taunted, tampered with, or somewhere in between, Cage's Hanlan needs to overcome obstacles in just about every race he's involved in. That's what makes Hanlan's ultimate ban from rowing in the USA for life later in the film (don't worry, we'll get there) so alarming! Cage's character is one of the few bastions of goodness in a world filled with corruption and men only looking out for their own best interests, which is why his punishment is all the more unjust. (But again, more on that later.)
Right off the bat, we're thrust into a couple quick Cage-nections. When Cage isn't dominant in his (at this point) recreational rowing, he's "on the sauce" and "carousing with broads." These are not quotes from the movie; I just felt like putting them in quotation marks. Again, much like his character in THE COTTON CLUB, Hanlan is a bootlegger of sorts; he delivers liquor throughout Canada (or throughout his town, anyway) via — you guessed it! — rowboat. It's such a perfect character trait, and a great foundation of why Hanlan is so good at rowing. Like many of Cage's other early films, his character in this movie is a man of low social status without much money to his name. Generally speaking, these aren't the type of people who take up rowing for sport; that privilege is saved for the "Harvard men," a term used because F. Scott Fitzgerald won't write THE GREAT GATSBY for 50 years, and therefore the phrase "he's a Gatsby" has no meaning yet.
After Cage's first race, he's covered in soot. It's not clear why; we haven't seen him make a delivery yet. It's a nice little character quirk, an easy visual way to show that he's poor, and a setup for the running joke that spans the film: Cage doesn't bathe. (The horror!) As Mike points out on the podcast, though, his character is always in the water. He's probably clean (relatively clean, anyway) by proximity.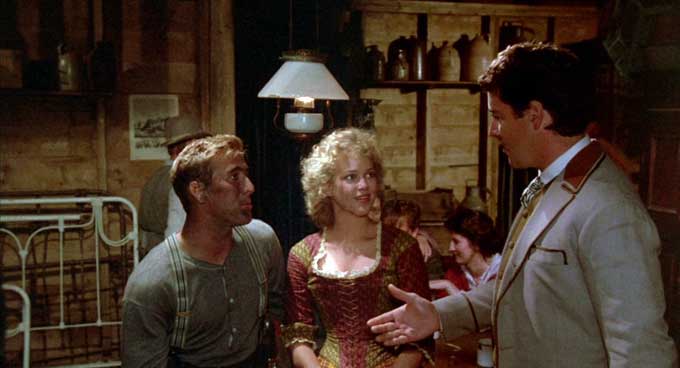 The first time we see Cage go to deliver his liquor, he's confronted by the town's religious zealots and cries of, "Repent, ye sinner!" They're joined by the town's police force, looking to bust Cage for his illicit alcohol game. I'm not sure what would have happened if Cage had given into religion at that moment; would the cops have let him go? We'll never know, though, as Cage scurries back to his boat, cuts the anchor, and rows away. In the first of many instances of characters testing Cage's rowing ability, a couple of doofus cops try to catch up to him in a rowboat of their very own. It's just not gonna happen, guys. Save yourself the embarrassment of Cage ramming your boat and knocking you overboard (which is exactly what happens).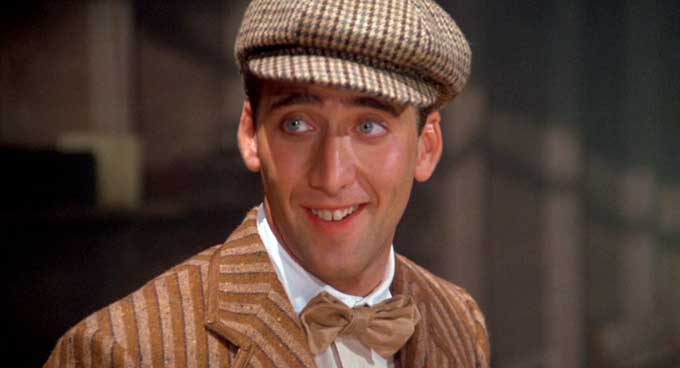 Just as Cage was King of the Beach in THE BEST OF TIMES, VALLEY GIRL, and BIRDY, he's King of the Water here. It is his domain, it is his kingdom, and it is where he cannot be touched. But he's wasting his life away as a bootlegger, which is why Bill McCoy "rescues" him to a life of professional rowing. McCoy brings Cage to Philadelphia (another Cage-nection! hello Birdy!), where he meets up with an inventor named Walter, who designed "the sliding seat" that will change rowing forever. When Cage first lays eyes on this boat, the most triumphant/religious music plays; it's The Boy in Blue's version of, "I knew it. He is The One."
Pardon the water pun, but things don't go swimmingly for Cage at first. He literally falls off the seat and out of the boat the first time he tries to race in it, but ultimately regains his composure and comes in second in that regional championship. It's because of his prowess and success that he's dubbed "The Boy in Blue", a name he hates because he thinks it makes him sound like he's "a fancy boy."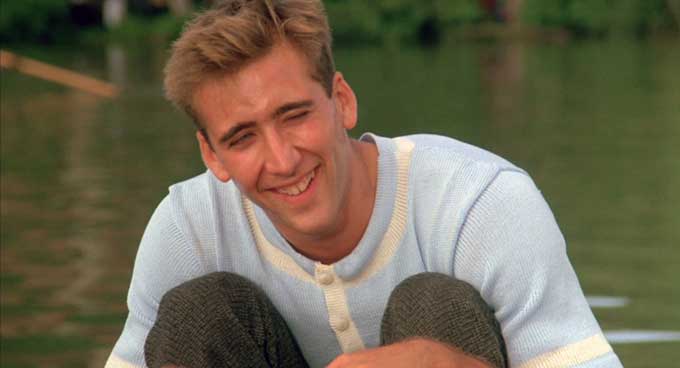 In spite of his rising stock, he's still a massive underdog in his next race. That's what makes his inevitable victory all the more satisfying. Hanlan is turned into a hero and a ceremony is held in his honor to award him a medallion, but Cage ain't got time for that. Why not, you ask? Because there's a beautiful woman at the ceremony that he can't take his eyes off of. A running Cage-nection throughout all these films is that Cage seems contractually obligated to fall in love with/make out with/have sex with all the beautiful women in all of his movies. Also, he needs to be shirtless all the time because he's shredded and needs to show off his rower's body.
He knows he looks good, too. He's walking with this beautiful woman in the next scene, who we come to learn is named Maggie. After she says she's impressed at how good he is at rowing because he looks so average, Cage says, "I look bigger with my clothes off." Maggie sort of stumbles for a second, and Cage recovers: "I mean my rowing uniform."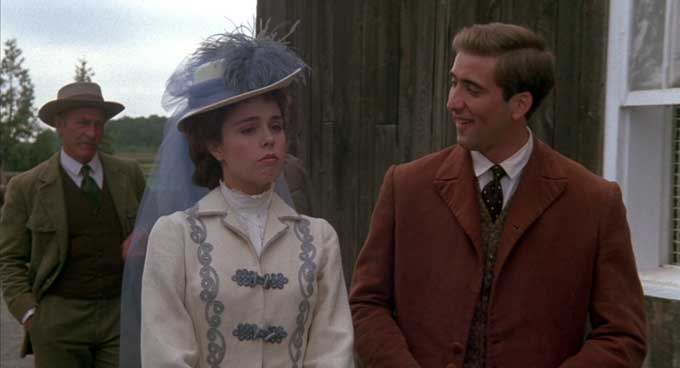 One thing I really admire about The Boy in Blue is how empowered they portray Maggie. She's a woman in the 1870s, but the film never boxes her into a corner or strips her of power. She's constantly outspoken (and not in an obnoxious way), sex-positive, and an independent woman. She's a woman to be admired, and one of the most well-rounded characters in the entire film.
She and Cage go on a date that's chaperoned by her elderly aunt, who's passed out cold for most of the date. In one of the film's funniest moments, Cage tells Maggie how much he wishes her aunt wasn't there. She asks, "What would you do? Would you try to kiss me?" Cage just sort of grins. "Go ahead then," she says. "Kiss me." As Cage leans in, she pulls back and says, "Auntie! Isn't it beautiful out here?!" Cage retreats so quickly that he almost rocks himself overboard. At a point in his career where he's the ultimate sex symbol in every role he plays, Cage is wholly thrown off guard by Maggie's sly maneuver. It's perfect. He's put in his place.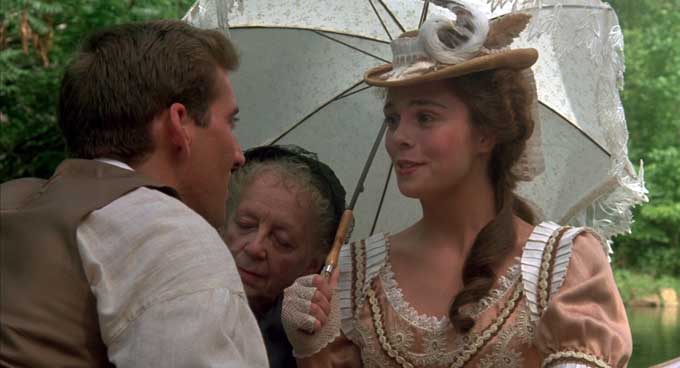 Cage's introduction to Maggie and her father (uncle?) Colonel Knox irrevocably changes his life. He becomes increasingly smitten by Maggie, ultimately leading him to buy her a puppy (which she names Rowboat! awwww!). Knox sees Cage as a way to make even more money, so he has Cage arrested and offers to bail him out if Cage is willing to row for him. Cage does NOT like this idea at first, but ultimately gives in. He's a piece of property now, just another one of Knox's money-making possessions.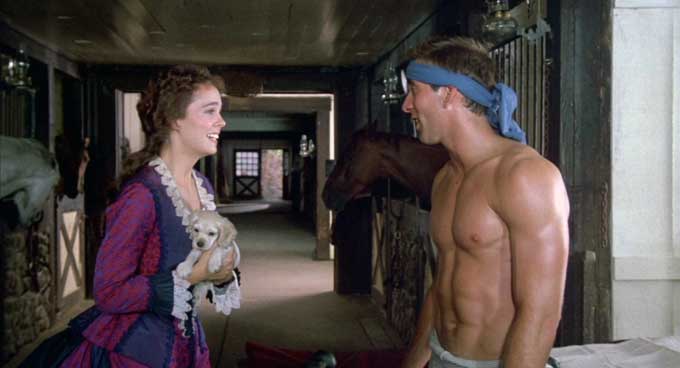 Hanlan wins a few more races, presumably making Knox a buttload of money (that's the proper term for the era). But as his career with Knox is improving, he's dealt a devastating blow from Maggie; she's engaged to be married, and she doesn't feel like she should spend any more time with Cage. This news sends him spiraling down a rabbit hole, and it happens just before the National Championship, where Cage is set to race the only other man in America with rowing abilities comparable to his: Trickett.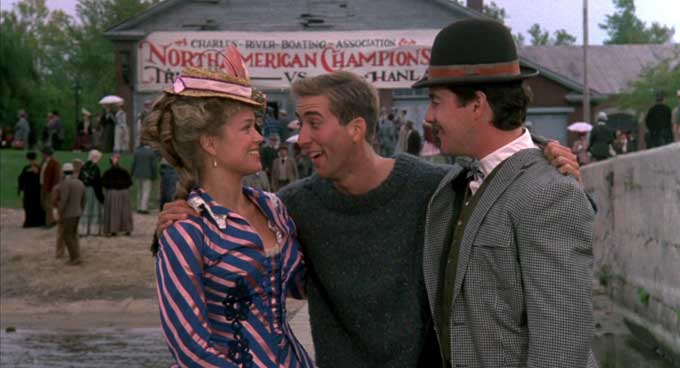 Whether Knox no longer believes in Cage or just wants to ensure an easy victory, he hires McCoy to sabotage Trickett's boat. When Cage catches wind of this, he's infuriated. "This is the one thing I can win fair and square, and you're taking that away from me!" He goes to wish Trickett good luck for the race, and even though Trickett brushes him off, Cage shows him the sabotaged part.
This act of good will earns Cage no positive karma, and Trickett taunts Cage during the National Championship. Cage loses his cool, and after Trickett falls into the water (which I don't think Cage had anything to do with), Cage rams into Trickett's boat and rows over it. He's immediately disqualified, and subsequently banned from rowing in the United States FOR LIFE!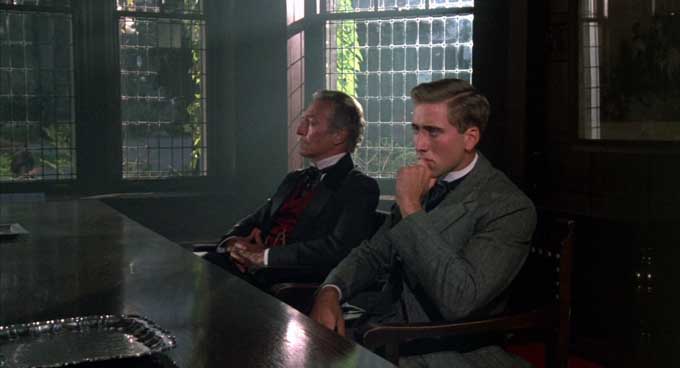 While the United States may not have his back anymore, his tiny Canadian village still loves him. Cage returns home, dejected, only to find his entire town has gathered around the town gates (?), holding up signs that read "Ned's Our Man!" and saying, "We're with you, Ned!" It's a touching scene, and Cage breaks down, overcome by this outpouring of love from his town.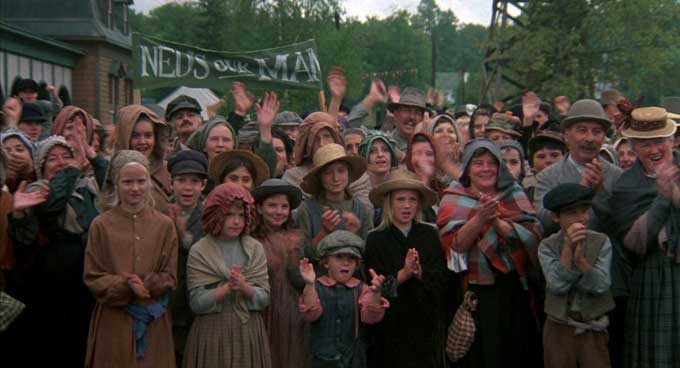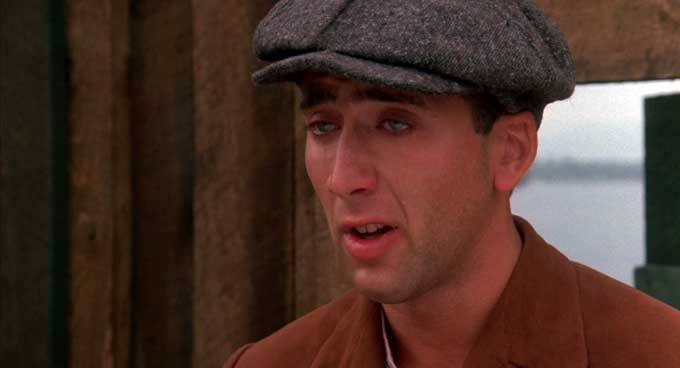 It's this hero's welcome that propels him to want to race again. He may not be able to race in the U.S., but the world is a big place! Cage returns to Philly and returns to Walter in the hopes that Walter will train him. Walter is furious at how much talent Cage has thrown away, but agrees to train him. CUE: ROCKY IV TRAINING MONTAGE.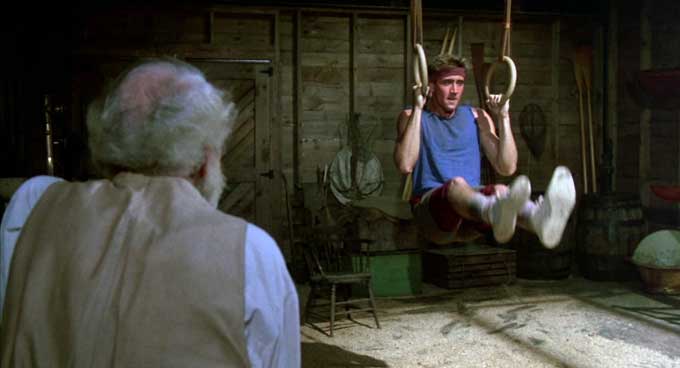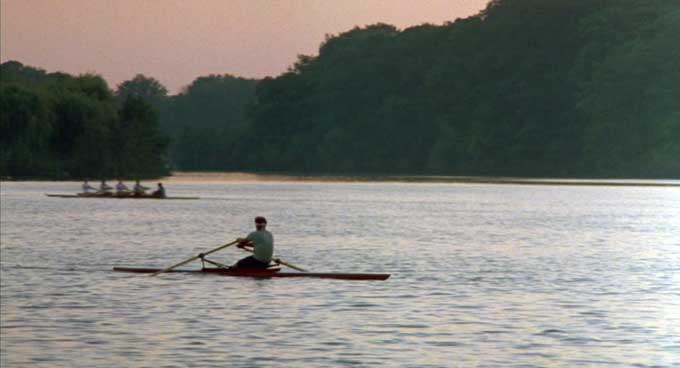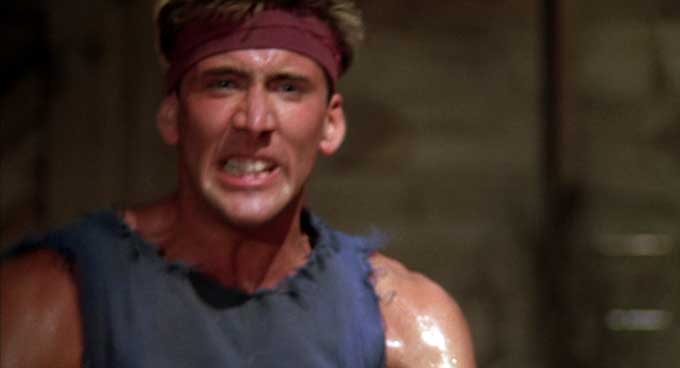 Half the battle is won; Cage has convinced an expert to train him and get him back into shape. But what about the other? You know, the opponent Cage needs to race? Walter returns to Colonel Knox with Cage, who isn't allowed to enter the house. It turns out that even though Knox is backing Trickett — you know, The Best Racer In The World — he isn't making any money because Trickett is TOO good. Knox allows the re-match to take place at the World Championships in England. Point: Cage!
Meanwhile… Maggie is leaving the house with her Harvard man fiancé. Cage sees them leave, and he dashes after their car! His life is on the up-and-up, but he's missing the girl of his dreams. He catches up to their little dune buggy and begins professing his love to Maggie when — WHAP! He's caned on the hands by the Harvard man! He falls down and lays in a heap on the ground. Maggie gets out of the car and tends to him, at which point Cage basically sells himself to her. "Drop the zero and get with the hero." The Harvard man comes out to defend his woman's honor, who (as stated earlier) needs no man to defend her. Tired of being told one too many times he's filthy and needs a bath, Cage tears off his shirt, wipes his chest and brow with it, and tosses it at the Harvard man. Sickened by this display of indecency, the Harvard man drops the shirt and scoffs off to the buggy.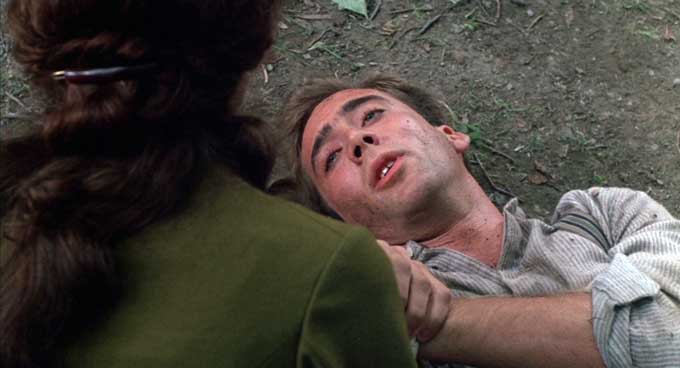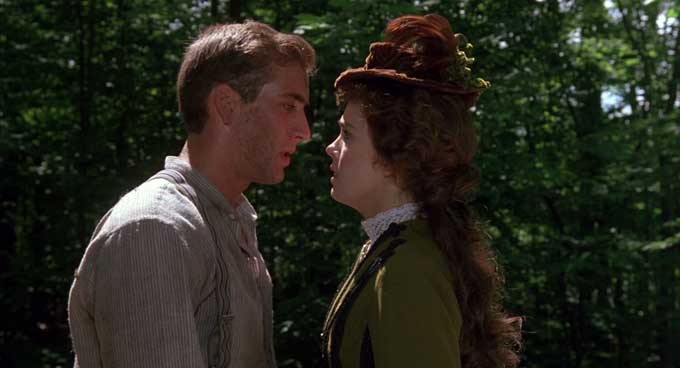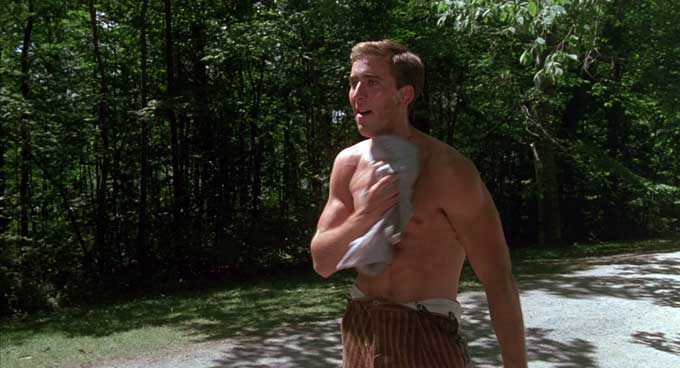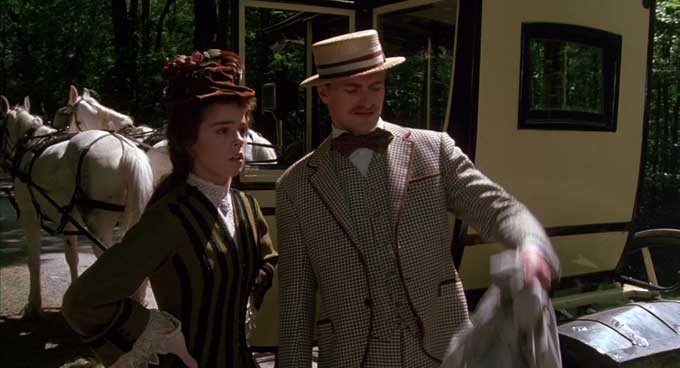 That sequence was all Maggie needed, though, as she overhears Colonel Knox planning to sabotage Cage in his rage against Trickett. She races over to his house to warn him, and then gets "compromised." That's her way of saying things got a little hot and heavy. (Sex.) In the morning, Cage brings her "breakfast in bed" (a cup of coffee?) and she asks to be compromised again. Wowie!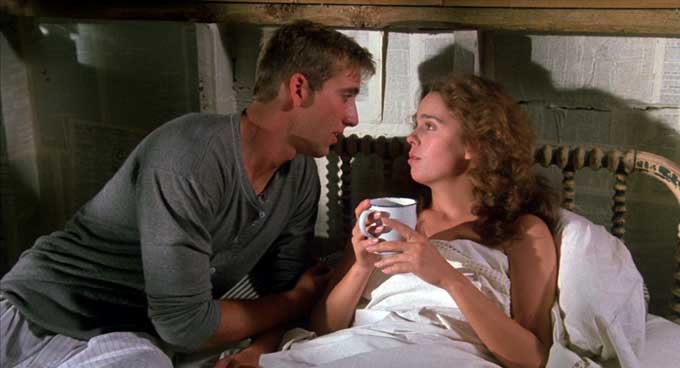 In a comical series of events, Colonel Knox shows up at Cage's house — while Maggie is still there!! What would be a hackneyed, cliched scene in just about any other movie comes off as a funny little scene, as Cage is trying to hurry Knox out of his room before Knox realizes Maggie is there. Cage even agrees to take a $10,000 bribe to throw the race (even though it goes against his morals), just so Knox would leave the room. He finally does, and everyone shares a laugh.
But wait! We're then thrust upon Maggie's wedding! Can you believe that she went to bed with Cage and is still going to marry that Harvard man? Oh, wait… what's this? No, it can't be… HER GROOM IS CAGE?! THEY GOT MARRIED! <3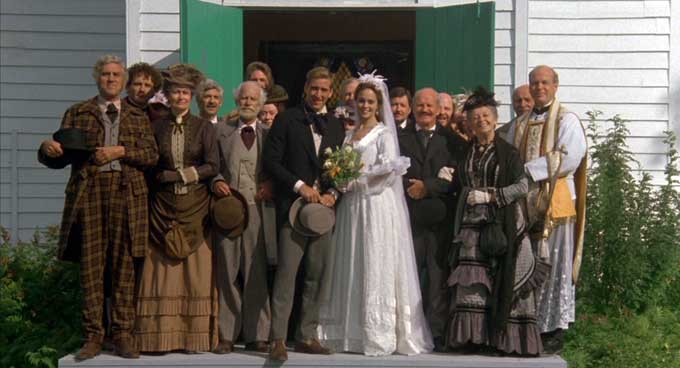 In the ultimate twist of fate, and some really funny (and abbreviated) storytelling, Knox goes to having it all to nothing in about 3 minutes of screen time. As part of Cage agreeing to throw the race, Knox gives him permission to marry Maggie. After the wedding, though, Cage mails him the $10,000 along with a letter that reads, "I race to win." How badass is that?! Cage played Knox like a fiddle. Perfection.
Knox, now with a righteous sense of indignation and $10,000 in his pocket, hires Bill McCoy to sabotage Cage's boat. Say it ain't so, Bill… from friend to saboteur? McCoy does, in fact, sabotage Cage's boat, and runs into Cage as he's leaving to say, "It's not too late to make Knox happy." Cage tells him he's going to "win today for my friends" and walks off. Get lost, Bill. We don't like your kind around here.
We finally make it to The Big Race, and Cage's oar holster becomes dislodged early on. (THANKS A LOT, BILL.) He struggles to repair it (to no avail), and it seems that all hope is lost for our hero. IN A STUNNING TURN OF EVENTS, Bill has a change of heart and dives into the water to repair Cage's boat! This propels Cage to victory, blowing by Trickett and winning the World Championships.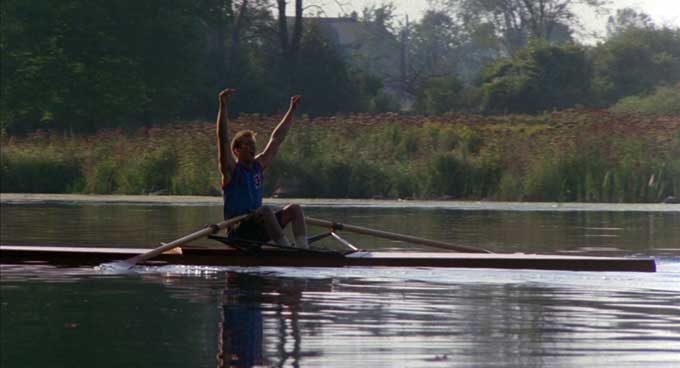 This is pretty much the end of Ned's story, and the end of The Boy in Blue. Wonder what happened next? Here you go!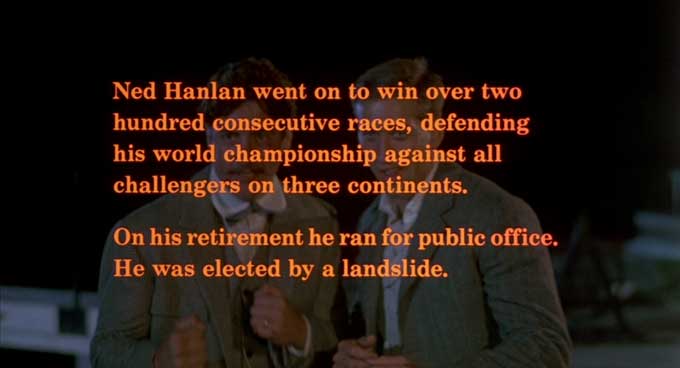 How can I watch it? Looks like this one's not available on any popular streaming services. The DVD is cheap-ish, though?
What's up next? We're headed back… to the future?! It's PEGGY SUE GOT MARRIED!