1999: The Podcast #017 – Run Lola Run: "die Tasche" with Jacob Meirovich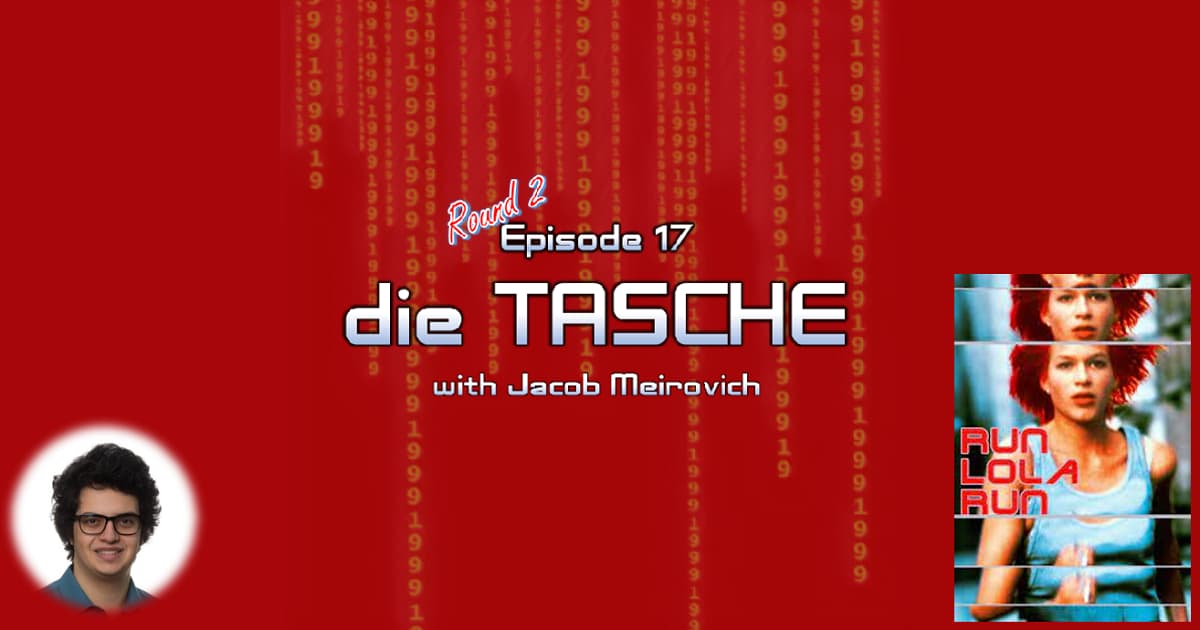 Run Lola Run only technically meets the criteria of our podcast, but no discussion of the revolutionary, groundbreaking films of 1999 could really be complete without it. Because while it was released in 1998 in its native Germany, its US theatrical release came in June 18, 1999.
Starring Franke Potente and Moritz Bleibtreu, Run Lola Run was the breakout feature from writer-director-composer Tom Tykwer.
The style and themes of the film share a lot in common with the first film we covered on the podcast and one of your favorites, The Matrix. Beyond just the superficial, like a telephone serving as the catalyst for the plot, both films borrow as much from the kinetic pace and jump-cut editing of music videos of the era as they do from the styles and techniques of traditional filmmaking.
Not surprisingly, then, Tykwer, used Run Lola Run as a springboard for much more mainstream (if still pretty avant-garde) success with his collaborations with Wachowskis in films like Cloud Atlas and the Netflix Series Sense8, as well as serving, again with Klimek, as composer for Lana Wachowski's The Matrix Resurrections.
Is the film as vital today as it was two decades ago? To find out, we asked someone who wasn't born when it was released. Jacob Meirovich is one of the editors responsible for the Run Lola Run remix Run Lola Run the Jewels Run, and he joined John and Joey to explain why this movie is one of his favorites.
Find Jacob on Twitter @nerdyton
Other links!
https://twitter.com/dvdivision
https://twitter.com/MagnoliaRMSTRD
https://www.twitch.tv/beesonehundred
https://www.twitch.tv/caymanislandspublicaccess
https://www.twitch.tv/mondaymoviemadness
https://www.twitch.tv/dreamvideodivision
o
Listen, Subscribe, and Rate Our Show:
Like Us on Facebook:
Follow Us on Twitter:
Follow Us on Instagram:
Follow Us on Letterboxd:
Say Hello: