Leaving Las Vegas (1995) : And The Oscar Goes To… [Mike's Review]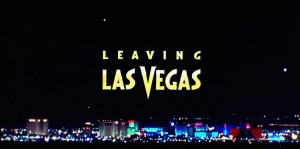 Today on Cage Club we get really, really drunk with "Leaving Las Vegas". You guys, he did it !!! This is also the film that earned Nic Cage the moniker "Academy Award Winning Actor". After 27 entries in the Cage Club he's already at the first pinnacle of his career, major recognition by his peers and the entire movie going audience. From this point on, it's safe to assume, Nic Cage is now a house hold name. I feel like this is the culmination of all his work so far. Cage seems to draw from several past performances to create the distinct tapestry in which he embodies this character. He has so much to pull from too at this point as he has tackled just about every genre from dramatic to comedic.
This is a very wonderfully depressing film about a writer that has lost everything and goes looking for answers at the bottom of hundreds of bottles of liquor.  ( take one down, pass it around ) The movie is based off the novel of the same name written by John O' Brien, partially based off his own life. It's a shame he didn't live to see the finished film and although I did not read the novel, this film doesn't fall into the typical trappings an adaptation brings ( such as in the past with Birdy or Time to Kill ) .It's expertly directed by Mike Figgis who brings a gritty, dreamy and sometimes funny atmosphere to the film without ever feeling too artsy or too mainstream. The movie is an honest look at two people at their lowest moments having been beaten down by life.
The main character Ben ( short for Bender? ) played by Nic Cage literally drinks himself to death and decides the perfect stage for this final act would be Las Vegas. The material is tough stuff and far from the crime and comedy of recent Cage Club movies. This is drama, straight up. Alcoholism is a horrible infliction on the human race and most films like to exploit how fun and good drinking can be. I applaud this movie for being a necessary look at the very terrible effects drinking can have on people. What is strange and beautiful about this movie though is how it uses film techniques and brilliant acting to make me feel empathy and sadness for the loss of this drunk loser.
When the movie starts, Ben is already started his downward spiral, but he kicks it into overdrive when he is fired, spurring the idea to move to Vegas for his date with destiny. He has a symbolic bonfire, burring all his belongings and trace of his existence, a permanent statement proclaiming that "there's no turning back", before heading to the desert. Simultaneously we meet Sera, a high class prostitute who is like the Christopher Nolan version of  "Pretty Woman", a truly disillusioned working girl. Ben and Sera run into each other and something sparks between them. It's not really the fabled Cupid shooting his arrow again as we've seen before, this is more of a relationship for users. Sera doesn't really know it yet but while she watches Ben die, she will learn to live again, or at least know who she is and what she wants out of life. They carry on a messed up relationship where Ben agrees to let Sera hang around him while he drinks himself to death. Ben just treats Sera like a bonus, another distraction on the road to oblivion. Sera does resemble Ben's ex-wife a little, possibly fueling his desires to be around her in his final moments, like he found this disposable version of the woman that left him since he lost the real thing. Maybe Sera thinks she can save Ben, or maybe she is just lonely and desperate for a real relationship where she can be herself, and that lasts more than a few hours. As a hooker, she wears many faces and plays many roles, however she still doesn't truly know herself. The two try to exist together but it seems fate just doesn't want it because eventually Sera tries to get Ben to seek help which is against the arrangement they made. Sera can't just watch this guy die in front of her eyes and decides it's best not to see Ben anymore. Ben has no control over himself and gets into fights, knocks stuff over and even brings strange women to the apartment. He's slipping farther into the void. The whole movie he's been getting the shakes and waking up in cold sweats shaking because of his bodies dependency on booze and it's only getting worse. Now that he's alone again he's sure to expire sooner than later as Sera may have been incentive to prolong his death. Sera tries to exist without Ben but becomes very self-destructive, almost the prostitute equivalent to Ben's Alcoholism. She picks up several Frat Boys at once and gets herself into a situation where her life is in danger and she is violently raped. Was she trying to walk the edge of her profession and tempt death like Ben was doing with drinking? Since Ben left her life  was she just a lonely shell with a death wish too? Lucky in the end, Ben calls Sera to be with him and they are reunited in the final moments of his life. They finally consummate their relationship and Ben expires at the moment of climax, his mission complete. He has left Las Vegas.
The film pulls no punches and doesn't let the couple live happily ever after, this is not the fairy tale world of "It Could Happen to You", this is reality. The music helps sell the "romanticism" of a hooker and a drunk falling in love, a sight less endearing if scored with the wrong melody. This can can be a tough watch sometimes, especially if you know any alcoholics, as I felt the realism seep through the frame and off the screen. Cage is the best drunk actor I've seen as most times playing drunk is relegated to comedy and when it is dramatic it's a really tough sell. Cage used his unique blend of comedy and drama to pull off a realistic and convincing drunk guy. He has more than one phase or level of intoxicated and always came across as genuine. I wonder if he had different notes for acting depending on what type of alcohol the character was drinking. Like, Vodka equals slow drunk while Whiskey equals faster drunk. The film also avoids many tropes associated with translating a novel to the screen. I appreciated the lack of voiceover or explanation as to Ben's inner thoughts, making the audience question and figure out his state of mind ourselves. I also liked how we did get to hear what Sera was thinking by showing her at the therapist, giving the audience a chance to hear what she was thinking in a natural and convincing way. I felt the movie did this just enough to give the sense that what Sera thinks and does are usually contradictory. I also think it helped to hear what at least one of the only two characters was thinking, partially, because trying to figure out what was going on in both their heads would have been less entertaining. In the end, I am still not sure if this is a very twisted love story or cautionary morality  tale, but I am sure that it's a great movie you should watch.
That will do it for Leaving Las Vegas. I had a tough time getting through this one as I have become quite attached to Cage since starting Cage Club and watching him slowly die on screen over the course of this movie was really tough. After this, the sky is the limit!!! Now a bonafide star, Cage can have his pick of the litter of what Hollywood has to offer and I am so happy about the choices he made next. Coming up on Cage Club is what I refer to as the "Cage Action Trilogy" which includes the movies ; The Rock, Con Air and Face/Off. First we will tackle "The Rock", a movie I saw in theaters but have not re-visited in a long time, at least a decade, so I really look forward to screening it in it's entirety. It's a whole new side of Nic, the action adventure side, next time on Cage Club.
Mike
@the_mikestir