Joe (2013) : Unlikely Mentor [Mike's Review]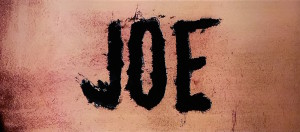 Today on Cage Club we try to do right in Joe. We finally reach one of the most anticipated movies in Cage Club and one of Cage's best films overall. This movie is adapted from a novel and really well crafted by Director David Gorgon Green. He is a very diverse director that makes not only these dream-like dramatic coming of age type movies, but also mainstream stoner comedies. He has a great range and knows how to establish and maintain a tone throughout his work. I have been sort of saving Joe for a while because I've heard that its a really good movie from so many people. I kept putting it off and finally, thanks to Cage Club, I get to see if the hype is real, spoiler alert, it is.
Cage plays Joe, an ex con in a small rural town just trying to stay outta trouble and do a day's work. He has a crew of day laborers and they spend the days poisoning trees so the land can be cleared. He runs across a young abused boy named Gary, played by Ty Sheridan, who's father is a drop dead drunk. He's looking for work to support his Mom and Sister when he crosses paths with Joe. Joe is willing to give this young man a chance and hires him. Gary proves himself a hard worker but his drunk Dad doesn't stop beating on him, stealing his money and drinking it. Joe feels like its not really his place to intervene, he's got his own shit going on, everyone does. Joe is divorced and estranged from his family, he is an ex-con, he goes thru life day by day. The movie follows him at the shop, the whore house and his friends place. I like how Joe is about not letting the beast out, not losing control like he knows he could. Several times this comes up in the movie. We learn Joe slapped around a guy at the bar and is later shot by him, but survives. Later, Joe encounters him again and slaps him round but stops before killing him, for now. He also gets into screaming matches and even assaults an officer. While Gary is beaten by his Dad, Gary even lays the smack down on someone for talking about his sister. The violence is explosive and realistic, and it stems from an honest place filled with aggravation and frustration with their situation in life. They are just trying to survive. It's a stark contrast to the celebrity filled media run life that more wealthy people are concerned with. There is hardly any TV let alone any reference to popular culture or current trends. None of that has any place in this world, it's simply not important because it can't feed you or cloth you or keep you warm at night.
Joe winds up taking a liking to Gary and tried to be a mentor and imbued some advice to him, and be a friend as well. He just feel like the least he can do is pay attention to the kid and maybe something good will come of it. What happens is that Joe has to give all of himself and save Gary and his sister from the local scumbags by taking the law into his own hands and killing the bad men that want to hurt Gary and his sister. Joe is also shot and dies in the altercation, but Gary survives and there is hope that his life is on the right path, in no small part in thanks to Joe. The film even ends with Gary getting a job partially because he's worked with Joe before and that alone says enough.
This movie is really heavy, but not off putting. It holds a mirror up to the small dead towns consumed by the depression, or just lost to modern times. David Gordon Green has a great technique that helps cushion the content but not negate it's impact or value. He creates an almost dream style to contrast a reality grounded in extreme squalor and violence. He's a gifted and diverse filmmaker that I was not very aware of until watching Joe. I look forward to his next film and would really love him and Cage to make another film together. He really got a great performance out of Cage. In a movie filled with so many locals and non-actors, that thrives on authenticity, Cage feels like he belongs, that he is part of this small back woods town, just another local.
That will do it for Joe. See this movie !!! This is not just one of the best of Cage Club but also a great all around movie that can go toe to toe with any major studio release that year. Coming up next on Cage Club is RAGE. I have no idea what this will be but it has the unfortunate duty of following Joe in the line up. I'm not say ing Joe was better because the previous movie, The Frozen Ground, was terrible and elevate the material in contrast, but if RAGE is bad, it will be made worse because of how great Joe was.
Mike
@the_mikestir