It Could Happen to You 1994 : Rom Com Cage [Mike's Review]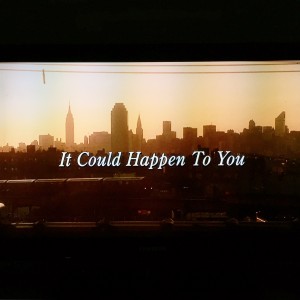 Today on Cage Club is based on a true story in "It Could Happen To You". This is a welcome change of pace here at the Cage Club as the last two movies weren't exactly the best films, even if Nic Cage was good in them. Deadfall did become an instant guilty pleasure, but like Guarding Tess they seemed to miss their mark tonally. This is another story all together, back to strong writing and competent filmmaking with a solid cast. It's the first PG rated film for Cage as well, most of his work being for the more mature audience so far. This is a Nic Cage the entire family can enjoy together. It widens his demographic and exposure to a younger  crowd, like myself at the time. I saw this one in theaters when it came out making it the second ever Nicolas Cage movie I saw in theaters, but certainly not the last. This movie can also be described as a Romantic Comedy, which we sort of encountered before with Moonstruck. It's funny how well suited Cage seems to be for this romance genre. It's also kinda funny how diverse Cage's characters have been, from completely insane to the nicest guy in the world.
This movie is another first for Cage Club, the first film to be based on a true story ripped from the headlines. That story is of a police officer in New York City who split his lottery winnings with a waitress instead of leaving a tip. It happened about a decade before this movie was released and the film only bears the smallest of resemblances to what actually happened. The only thing the script keeps from reality is the Cop that splits the Winnings with the waitress, the premise, if you will. The film takes that and makes it the catalyst for the Cop and Waitress to meet and fall in love over the course of the picture.
Cage plays the Cop that winds up splitting the tip with the waitress, played by Bridget Fonda. Cage is married to Rosie Perez, a materialistic woman with big dreams, and the waitress is married to Stanley Tucci, a failed gold digging actor. Cage is pretty much verbally abused and berated by his wife to not forget and play the lotto, but when Cage can't afford to leave a tip at lunch he proposes the arrangement of splitting the lotto winnings instead. The waitress agrees and Nic Cage does this without consulting his wife because he never thought in a million years they would win, but they DO ! When all is said and done Cage and Perez won $4 Million, half of which will go to the Waitress. This really saves the waitress as she is drowning in CreditCard debt. This Cop and his genuine act of kindness is like her Prince Charming come to save her from a life of destitute. The rest of the film shows Rosie Perez consumed by greed while Cage basically gives his portion away to needy people. Cage is the nicest guy he's ever played or probably will play again. His motto is "stick to your word" and  all that type of stuff, which he truly believes in, word is bond!
It's clear from the start he and Waitress are meant for each other and circumstances keep having the two meet up and spend time together. Eventually Rosie Perez tosses Cage because he's spending money on strangers left and right without telling her, plus he's hanging out with the Waitress too much. Her higher aspirations no longer include him and they divorce. Meanwhile, Waitress gets a visit from her Ex played by Tucci and she's forced to shut down that relationship. The Cop and Waitress are both single and hook up, finally, but they are caught by the paparazzi, who are all over this movie. Every movie the new millionaires make winds up on the front page of the NY POST, from the good to the bad. This info is used by Rosie Perez during the divorce trial or civil case or whatever this trial scene at the end is supposed to be. She basically forces Waitress to give all the money back and go bankrupt again, as well as taking the shirt off of Cage's back. Destitute, Cop confesses his love to Waitress and they both agree that money doesn't matter, only love, and they decide to get married and live happily ever after. Not only that, the entire city of New York has been touched by their story and sends money or "tips" to the Waitress and Cop to help them get back on their feet.
This movie is just super sweet and completely inoffensive. There is no cursing that I can recall but there is some blood, which I think may have earned it the PG as opposed to just G. I don't think we get this kid friendly again for quite some time but it was certainly a nice change of pace. It was also a good example of taking a real life event and crafting an completely new and entertaining story from it. The film just takes the premise and runs with it.
Next up on Cage Club we have another comedy, which should be our last for a while, with "Trapped in Paradise". It's also our first Christmas Cage Film, a genre he returns to again down the line once or twice. I have seen Trapped in Paradise before but as a rental and that was on VHS too, so it's been a while since I've screened it. Until then, all you need is a dollar and a dream.
Mike
@the_mikestir