Ghost Rider (2007) : Comic Book Cage Arrives [Mike's Review]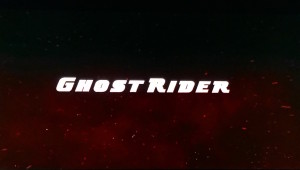 Today on Cage Club we become a spirit of vengeance in Ghost Rider. Cage finally gets to play a comic book character after the failed attempt to bring Superman to the big screen almost a decade earlier with Tim Burton. This is a very different character and very different type of super hero than Superman as well. If you were to ask which movie Tim Burton was more likely to direct, this or Superman, I would have said this. I am not the biggest Ghost Rider fan coming into this movie, but I am familiar with the character. Growing up I mostly just thought he looked awesome and was really tough but was not really aware of his power set or origin, so this movie was gonna be informative as well as entertaining. Ghost Rider would pop up in the books that I read as a kid usually as a guest star for two or three issues and then he'd be off on his own adventures. He's a tough character for me to wrap my head around. While he gets his powers from the devil, he uses them for good. The Ghost Rider powers are treated more like a cure than a gift. While he did have several ongoing series of his own, I never picked them up at the shop, but his own title proved his popularity. There would even be a semi rip off character in the 90's named Spawn that would surpass the popularity of Ghost Rider for a while and claim the superhero from hell title. Spawn even "spawned" his own film years before Ghost Rider got his chance. With the Superhero movie arms race in it's infancy, and MARVEL still a few years away from Iron Man and establishing the MCU, Nic Cage summoned the hellfire to stalk demons running wild on Earth.
Cage stars as Johnny Blaze, a stuntman not unlike the legendary Evil Knievel. He tour around the country performing the most insane and amazing seth defying motorcycle jumps in extreme sports history. It's almost like Johnny has a death wish, or thinks he's invincible, which isn't that far from the truth. Turns out that when Johnny was a teen he made a deal with the Devil to save his father from Cancer in exchange for his soul. The catch is that once the Devil cured Johnny's dad from the cancer, he has a horrible stunt accident and dies anyway. Johnny was duped out of his soul and his Dad, leaving him the Devil's bitch. The Devil tells him that one day he will call on Johnny for a favor and until that day he will keep him alive and alone. Young Johnny dumps his girlfriend and rides off into the night to grow up to become Nicolas Cage and a popular member of Nitro Circus. When the Devil's son comes to Earth looking for a contract of souls that would make him strong enough to take over hell, the Devil calls upon Johnny Blaze to be his newest Ghost Rider, the devils bounty hunter, imbued with the power of hell fire and a penance stare that drives the victim insane. Johnny walked away from all those accidents that he shouldn't have because the Devil has been keeping him alive for just this type of emergency. Johnny goes on the hunt for Blackheart, the devil's son, and his gang of demons before they can get their hands on the super soul contract. Johnny has trouble easing into the Ghost Rider role but is trained by ex-Rider Sam Elliot who hangs out in the graveyard all the time. Old Ghost Rider tells Johnny where to find the contract, because he hid it 100 years ago from the Devil so he couldn't get stronger. Johnny heads to confront Blackheart to defeat him and rescue his old girlfriend and save the world from the end of days. When Johnny defeats Blackheart, he can relinquish his powers to the Devil and regain his soul, but instead Johnny chooses to keep his powers and use them agains more evil. The Devil allows this and disappears while Johnny saves the day and rides off into the night as Ghost Rider.
I would say that I mostly enjoyed this movie. I felt like it had some issues, mostly in the pacing, but overall I liked it. I also watched the Extended Cut, which had some additional scenes and extended sequences. I would like to see the theatrical cut again because most of my issues were with the pacing and feel like a shorter cut may be more concise. I just felt like we spent too much time with teenage Johnny in this version and wanted the movie to get to grown up Johnny played by Nic Cage sooner. I pretty much like it all when Nic Cage is on the screen. He is great in this too. He's playing and having fun with the role and I think I can tell he's having a good time with he character. When Johnny changes into Ghost Rider, the effects are amazing. The skin burns off his face and his entire body engulf in flame before settling on his bare skull like a flaming wig. All the special effects in the film are rally great looking and add to the beautiful look of the movie. It's a clear, cool and clean looking movie that is fun to just watch even if the story isn't engaging you. I especially liked the Wild West Ghost Rider that Saw Elliot plays. I wish he had more to do as Ghost Rider, but I liked him as the mentor teacher for Cage to get his bearings on his new abilities.
That will do it for this entry into the Cage Club. Nic Cage will return as the Ghost Rider in Spirit of Vengeance, the second of the Cage sequels after National Treasure : Book of Secrets. I don't know that Cage will ever get the chance to play Ghost Rider for a third time but I have one idea on how that could be possible. Perhaps he can pass the torch to a new rider that would fit into the now well established Marvel Cinematic Universe.
Mike
@the_mikestir