Christmas Carol : The Movie (2001) : Cartoon Cage [Mike's review]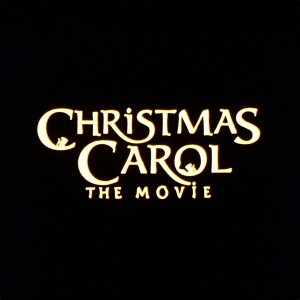 Today on cage Club we get a bit more animated than usual with "Christmas Carol:The Movie". We have reached a milestone here at Cage Club with the very first animated representation of Nic Cage to hit the screen, but not the last. Cage will return to voice over work several more times in The Ant Bully, Astro Boy and G-Force, but this is the only "ink and paint", hand-drawn animated film he will be a part of. Ant Bully & Astro Boy are both CGI Cartoons and G-Force is a live action film with talking animals ( I can't wait !!! ). I am not actually sure if this played in theaters, but watching made for TV or direct to Video movies is nothing new to us at the Cage Club, so here we go.
This is an adaptation of the classic Charles Dickens story about a crusty old miser that learns the meaning of christmas and becomes a happy old fool. The story is one of the most adapted tales I can think of after the likes of Shakespeare's Romeo & Juliet. I have seen this in live action form several times, my most favorite being the 1951 version with Alastair Sim, but there are versions dating back to the 30's. More modern audiences may know the story as told by Bill Murray in the film Scrooged, which updated the tale to make Scrooge the evil president of a television studio. It's a slick comedic take on the material that works extremely well in a modern setting.  In all the versions there is one constant, the ghosts. Scrooge is visited by 4 ghosts that transform his point of view and warn him to change his ways or die alone.
Cage plays the ghost of Jacob Marley, the former business partner of Scrooge. He comes to Scrooge on Christmas Eve, the anniversary of his death, and tells him he will be visited by 3 more ghosts throughout the evening. They will show Scrooge his past, present and future in an attempt to shake the humbug out of him and restore his christmas spirit. Marley is adorned in heavy chains that represent his penance in the afterlife, a punishment he earned by treating people bad and being a money hungry miser too. He tells Scrooge that he is also destined to this sentence as a spirit unless he listened to his 3 ghost friends about the meaning of Christmas. The one main deviation from the story that I was familiar with is the focus on Bell, Scrooge's lost love, voiced by Kate Winslet. She is the center of the present day drama as well as Scrooge is responsible for sending her employer to debtor's prison. Their love story also serves as a supplement to the former relationship of Scrooge & Marley. The loss of the extra Marley scenes of him and Scrooge starting out together and eventually becoming partners, also means we lose more valuable Nicolas cage voiceover work. The film is under 80min to begin with so I am not sure why the younger version of Jacob Marley was excluded from the visions of the past.
I think that Cage does a good job with the voiceover work in this film, as does everyone. The problem I have with his performance is that he doesn't seem to be "going for it" in the way I was expecting. He does the typical spooky ghost sound of the moaning wail and long pronunciation on certain words, but it's not nearly as "cartoonish" as I thought it could have been. He is also not doing an accent which is strange here seeing how the rest of the supporting cast is British and speaking in accents. Jacob Marley must have immigrated from the States. I am kinda bummed because we just heard him do an accent in Captain Corelli's Mandolin and in his past work has not been shy to don the accent for certain characters. In the end, even though this version of Cage is all ink & pain, he isn't nearly as cartoonish as cage can be in live action films.
That will do it for this week on Cage Club. I would say that if you want to watch a version of A Christmas Carol then watch one of the live action movies. If you are looking for a version to watch with your kids then may I suggest the Disney version with Uncle Scrooge and Mickey Mouse. That one manages to be fun and scary and full of holiday goodness.
Next up on cage Club we head back to War War 2 and welcome back director of Face/Off Jon Woo as we get set to protect our Navaho brothers while storming the Island of Saipan in "Windtalkers".
Mike
@the_mikestir