Winona Forever #003 – Beetlejuice (1988)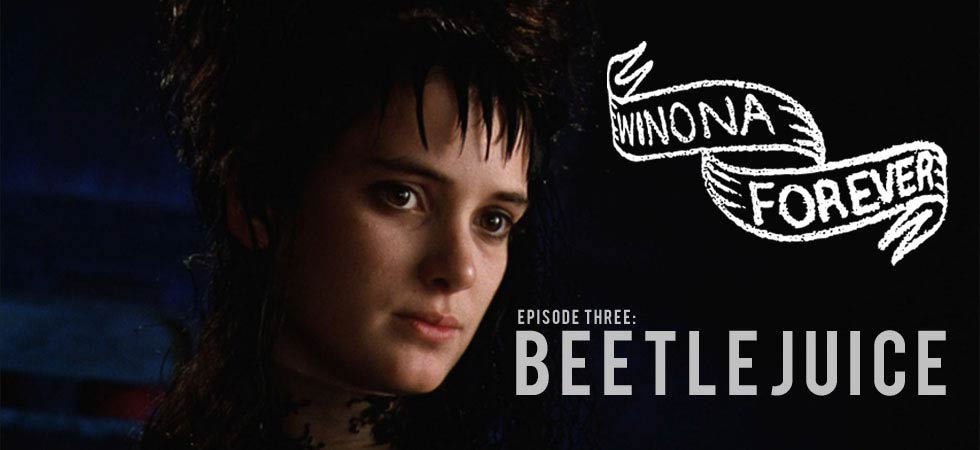 In this episode, Rekha and Lindsay discuss Beetlejuice, Winona's portrayal of the darkly relatable Lydia, and all the incredible characters that came out of this film.
Listen, Subscribe, and Rate Our Show:
Like Us on Facebook:
Follow Us on Twitter:
Follow Us on Instagram:
Say Hello:
---
In this episode, Rekha and Lindsay discuss their first introductions to Beetlejuice, the amazing cast and their early impressions of Winona Ryder. Some aspect of their chat called for visuals, so here we are.
To start, Rekha's old Beetlejuice toys deserved highlighting. She mentions she had the Adam Maitland (Alec Baldwin) toy and the Beetlejuice Vanishing Vault, which turns a full-sized Beetlejuice toy into a tiny one (using magic, or a switch that swaps one toy for the other):
Lindsay mentions a revelatory observation about Beetlejuice that she discovered last year on Twitter. Cartoonist John Martz noticed that, in one scene, Charles Deetz (Jeffrey Jones) is wearing a sweater and in another, later scene, Delia (Catherine O'Hara) is wearing that same sweater… as pants.
Would like to take a moment to appreciate the scene in Beetlejuice in which Catherine O'Hara is quietly wearing Jeffrey Jones's sweater from a previous scene as a pair of pants. pic.twitter.com/xo0LBSH4t9

— John Martz (@johnmartz) November 17, 2017
Speaking of costumes, on the date Rekha and Lindsay recorded this episode, Rekha (left) dressed like Adam Maitland! No one noticed until she mentioned it, so it's clearly in keeping with her look. Meanwhile, Lindsay (right) noted that, in her prime Winona-Ryder-look-alike days she dressed as Lydia Deetz (Winona Ryder) for Halloween. This is a photo of Lindsay and her now-husband from Halloween 2000 (this was a costume she whipped together moments before this photo was taken, so please be forgiving).
Finally, since this is the third episode the team has mentioned The Edison Twins (a Toronto-based kids show from 1982), it's time to share the theme song with you all. This is especially for anyone who has previously never heard of The Edison Twins.