Bad Lieutenant: Port of Call New Orleans (2009) : Hurricane Cage [Mike's Review]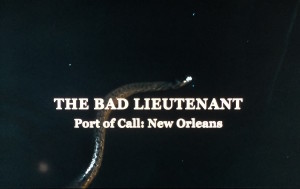 Today on Cage Club we get just want to solve the case but our back is killing us and we are running out of crack in Bad Lieutenant : Port of Call New Orleans. This is definitely one of the top Cage movies in the opinion of Cage Club. It has everything you could ever want from Cage in a movie. It's quite possibly his best performance, a culmination of all his tricks and methods on full display. New highs are reached in this film and I believe it's in part because of the director. This is Cage's first and so far only time working with master filmmaker Werner Herzog, who is now for some very intense movies as well as beautiful documentaries. Watching this movie I am reminded of the Herzog movies that starred Klaus Kinski and the remarkable work they accomplished together. I believe that is because of trust. Herzog is a director who trusts his actors and allows them to stretch and reach within themselves to find the next level of performance, another realm of realism that reflects the primal urges of the soul. I believe he has found this in Cage, they seem made for each other. Cage is an actor who is at his best when allowed to play or given the chance to try something different and this is the perfect material for him to do that with. Herzog and Cage also capture the endless battle between man and nature, and man's struggle with his own nature, that Herzog and Kinski accomplished with their time together. It's a shame that Cage and Herzog have not gone on to make more films together for tougher they are a true for of nature of the cinema.
Cage plays Terence McDonagh, a cop on the New Orleans police force. At the start of the film he saves a prisoner from drowning after Hurricane Katrina, but that act of kindness will haunt him forever. Even though saving the prisoner gets him a promotion to Lieutenant, Terence injured his back in the process and now lives with chronic pain for the rest of his life, and he will do everything to manage it, especially self medicate. While Terence does crazy amounts of drugs and may appear to act insane, he's still actually a good cop and does whatever he must to solve the case, even if it isn't pretty. The big case Terence is trying to solve is who murdered a house full of people of some supposed drug turf. The frustrating thing is that the police pretty much know who is responsible, but have to follow procedure and regulation to bring him in. This leads to Terence hitting the streets to find the gang members responsible. Terence is very high all the time to help deal with his back pain, but also because he is an addict. When his supply from the evidence room is compromised he has no trouble pulling over pedestrians at night and confiscating their drugs. There is a fantastic scene when Terence holds up a couple coming out of a night club that is infused with enough subtext to write several term papers on. In fact, this entire movie is drowning in subtext, but it never really calls itself out or cries for attention. It is a testament to the direction of Werner Herzog, that he can craft an enjoyable movie on one level and then if you dig deeper, you can uncover a whole other realm of meaning about humans and nature.
Terence throws his weight around town, gets in deep with his bookie and even confronts the mafia when trying to protect his call girl friend. He's pushy, arrogant and obnoxious but hardly ever wrong in what he is doing. Everything he does, illegal or not, is in an attempt to find capture the person responsible for killing a house full of people. That person is Big Fate, the local dealer that has New Orleans on lock after the storm. Terence knows he is guilty but can't do anything about it, except try to con him. Terence approaches Big Fate and says he'll work for him as an inside man for a cut of the dope money. This way terence can pay off his bookie and the mob, and not have to worry about his drug supply running dry again. Big Fate agrees after terrace proves himself and becomes part of the gang. Terence is so well trusted that Big Fate is willing to do drugs and chill out with him, even admitting that he killed the rival drug guy and his whole family. Terence uses his crime fighting prowess to get Big Fate to smoke crack from his lucky pipe, then plants it at the scene of the crime. He the tips off a rookie to go look for it, thus implicating Big Fate at the scene and getting his man. Terence played both sides of the law to get the job done and it works. He is commended again and given another promotion, but the cycle of abuse isn't over. In the end Terence is still using drugs and abusing himself, saying that even he still has bad days now and then.
That will do it for this entry into Cage Club. A funny thing, this movie is bookended by two children's films, G-Force and Astro Boy. That makes the timing of Bad Lieutenant even funnier in the timeline of Cage Club because this is probably in the top three most inappropriate movies for children that Cage has been in. Next up is indeed Astro Boy, a modern American reimagining of the historic Japanese cartoon about a Boy Robot. It's basically Pinocchio in the future, so how could they possibly mess that up? Maybe by overloading it with ideas and straying too far from the source material. We will get into it next time on Cage Club.
Mike
@the_mikestir