The Croods (2013) : Caveman Cage !!! [Mike's review]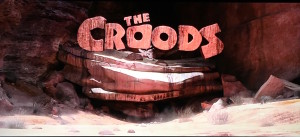 Today on Cage Club we leave the cave and explore the great big world with The Croods. We made it to the final Cage cartoon/children's film/fun for the whole family. This is just the type of Nic Cage persona driven animated feature I had in mind all along when I heard that he had provided voice over work for cartoons. He is center stage playing a Cave Man and really exaggerating himself and at times doing that thing where he is pronouncing things in that unique way only Nic Cage can. This is also a pretty star studded ensemble. Ryan Reynolds, Emma Stone (Haha Stone, the perfect last name for a Cave Man) Catherine Keener (returning from 8mm and Adaptation), Clark Duke (returning from Kick Ass) and Clores Leachman. It's a small but well rounded and well cast ensemble and everyone really gets time to shine and develop. This one may be giving G-Force a run for it's money and I haven't even really gotten into it yet !!!
Cage plays Grug, the Patriarch of a family of Cave-people. They live alone in a cave when the film starts and their life is regulated to a mostly barren wasteland where life is a daily struggle. Greg teaches his kids to be careful and fear everything in order to stay alive, but this doesn't fly well with his teenaged daughter Eep, played by Emma Stone. She wants to leave the cave and explore the world, but Cage isn't hearing any of it. One night Eep sees another person and they have fire, something totally new and foreign to the Croods. She follows this person and it turns out to be a slightly more evolved human named Guy. Guy entices Eep to leave the cave and try new things which is easier said then done, until the Crood's cave collapses and they are forced out into he wide open world of Pangea before the continents split apart. The family is guided by Guy through the lush and vibrant world beyond the cave and expands their minds. There is a nice visual cue here too reminds me of Wizard of Oz. Everything before leaving the cave is colored in drab sepia tones and once they enter the rainforest the world is technicolor.
Life with Guy isn't easy, especially for Grug who is used to being in charge and knowing the most. He is challenged and threatened by Guy who is just full of ideas and uses his brain, while Grug relies on his strength to survive. It sets up one of the major themes aside from Family, which is brain vs brawn. In the end it's nice to see that a combination of both is what saves the day. The main driving force for the Croods is that they need to escape the valley because Earth is splitting apart and forming the continents, causing catastrophic disasters in it's wake. It's up to Grug and the Croods to trust and get along with Guy in order to survive the next phase of the Earth and usher in the next level of humanity. Along the way many fun family lessons are learned.
I liked that this film didn't talk down to the audience. It didnt include a whole bunch of popular film parodies for humor and the jokes and humor came naturally from the characters in the situation. The Croods are curse people that don't know a lot so the whole movie was like a fish out of water experience for them and not everyone took it that same way. Grug, the dad, had the hardest time letting go of his family and really had to learn to trust other people. the messages may be a little heavy handed, but then again it is a movie for children too as an adult its not so distracting thatI found it to be an issue. In fact I felt this was one of the best, most well rounded and original modern animated film that has not been made by Pixar in recent years. I mean yea, the Flintstones similarities are there but The Croods are still their own thing. Even the Flintstones was a parody of The Honeymooners, so by that standard I'd say the Croods is more inventive and does more with the premise.
That does it for The Croods. It was a very good family friendly animated feature. It didnt fall back or rely on parody of popular films or potty humor. The name may be The Croods, but this film really isn't all that crude. It's also a very thinly veiled retelling of Plato's Allegory of the Cave, a story that has been used and adapted throughout history time and again, the most popular and big budgeted version probably being The Matrix.
See you in two years for the sequel which is said to be in the works for a winter 2017 release.
Next up on Cage Club it's the moment we've al been waiting for, actually the moment I've been dreading. We finally get to the first official straight to DVD Cage movie with Frozen Ground. John Cusack is back from Con Air right after we just got Stolen from the Director of Con Air. It's a true crime drama in the far north of Alaska. This movie seems to have a lot going for it so what was it that kept it out of theaters ? We find out next time on Cage Club.
Mike
@the_mikestir