The Cotton Club (1984): $50,000 Can't Buy You Smarts [Joey's Review]
CageClub continues its quest backward in time! During our last adventure, we found out how Nicolas Cage spent his last six weeks before shipping off to World War II in 1942. This time, we journey back to the previous major event in American history: prohibition and the Great Depression.
THE COTTON CLUB is CageClub's longest movie to date, clocking in at 128 minutes. (It'll be the longest for a while, too; it's not until THE ROCK comes out in 1996 that he's in a longer movie.) Its length is noteworthy because the film essentially tells three complete stories:
Richard Gere's ascension from club musician to Hollywood movie star.
Nicolas Cage's ascension from no-name, street-level thug to "the most wanted man in New York."
The Williams' brothers ascension to craziest and best tap dancers in a movie since Fred Astaire.
All three of these stories are told over the backdrop of race relations and racial tension in 1928-1931 Harlem. The film was made by an all-star cast, both in front of and behind the camera. It stars Gere, Cage, Gregory Hines, James Remar, Diane Lane, Laurence Fishburne, Bob Hoskins, and Fred Gwynne. (It even includes another cameo from Domino [that's right, Sofia Coppola herself!] and Giancarlo Esposito, in a role far before Gustavo Fring. Directed by Francis Ford Coppola (in the second of three FFC/Cage pairings) and partially written by Mario Puzo (of THE GODFATHER fame, natch), The Cotton Club is a powerhouse film.
It doesn't always work, but it builds up steam as it goes on, and ends with a very satisfying payoff. We'll get to that later, though.
First of all, this film has one of the best title cards for Cage ever.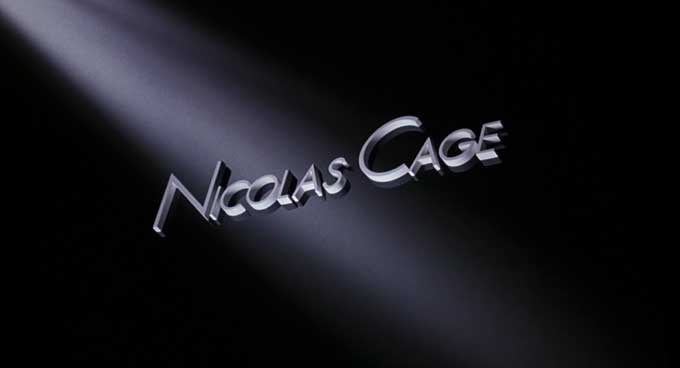 Right?!
Cage plays the role of Vincent Dwyer, Irish immigrant (?) and brother to Gere's Dixie Dwyer. "I did a couple jobs," he says early in the film. His past is ambiguous, but he's on the wrong side of the law. But how can cops hate him when he's sporting a pencil mustache this on point?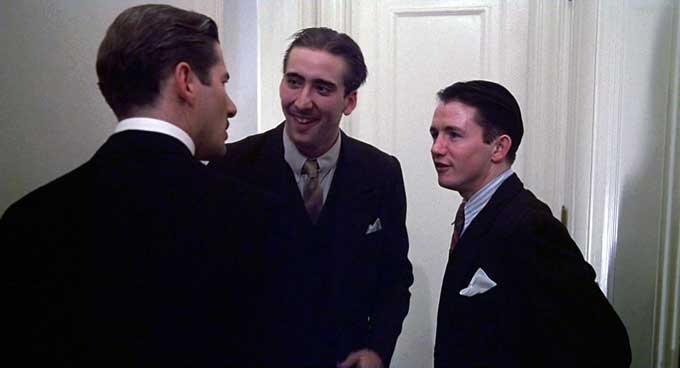 Cage is married to Baby herself, Jennifer Grey. She's not in the film all that much, and serves only to cast disapproving glances at what's going on around her. Not the best role to be cast in, but she'll be Swayze Crazy soon enough, starring opposite him in a dancing film of a dirtier nature.
When the film begins, you get a sense of how racial tension has baked its way into the fabric of Harlem in 1928. It's loosely integrated at the start, and at times feels a little sloppy. But as the film goes on, it bubbles up and becomes more and more prevalent in every story. It's almost a fourth story, in the way I outlined it earlier, but it bleeds into everything else within the film.
One of the most impressive parts of the movie is Richard Gere's ability to play the cornet and piano. Credited very prominently in the opening credits, Gere is the total opposite of Sean Penn from RACING WITH THE MOON — there's no stunt hands here; he's actually playing these instruments, and doing a killer job of it. I haven't seen a lot of Richard Gere movies, but if he busts out this level of instrumentation (that sounds dirty but I promise I don't mean it that way) in any of his other flicks, sign me up.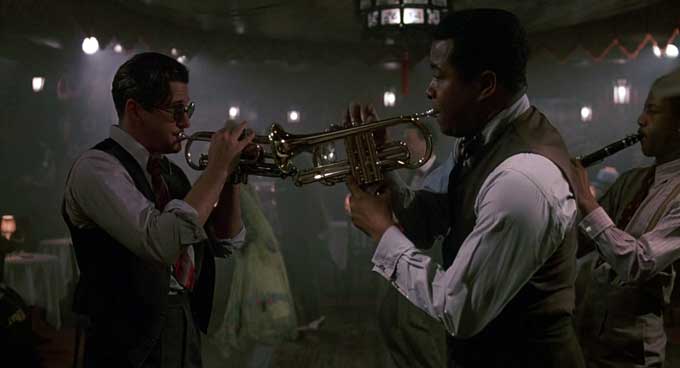 Gere's tasked to take care of Vera Cicero (Lane), who's dating mob boss Dutch Schultz (Remar) on the sly. She's Schultz's best girl, and Schultz tells Gere to take her out on the town and show her a good time. Has this ever turned out to be a smart play in a movie? It's inevitable that these two are going to fall in love. The only other option that movies have shown me is that Vera could overdose on heroin, thinking it's cocaine, and require a shot of adrenaline straight into her heart. (But that's never here nor there.) The more important point is that I never bought into the love story between these two characters. Maybe it's because I'm only here for Cage, but I didn't connect with their relationship in the same way I did between Cage and Deborah Foreman in VALLEY GIRL, or between Sean Penn and Elizabeth McGovern in RACING. You're supposed to care about their forbidden love affair, but I never did. Whoops!
Side note: Diane Lane is still gorgeous.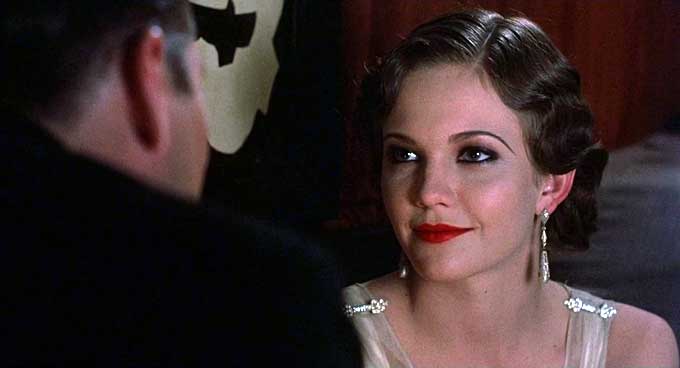 Okay. Back to our regularly scheduled CageClub.
A lot of this film felt like a Scorsese movie to me, though Mike didn't get that vibe, so maybe I'm crazy. There's something about the way Coppola combines music and crime in New York City that felt like a Scorsese movie to me. (I mean, Coppola made the ultimate mafia movies, so I guess this film really should remind me of THE GODFATHER. It does, but it also feels Scoresesey to me, which is a sentence I wrote solely because I had the word Scoresesey in my head and wanted to write it. Scoresesey.)
Coppola does a tremendous job of cutting between amazing performances at the titular Cotton Club and mob conflicts that propel the story forward. "A lot of this movie is tap dancing" is a thing I wrote in my notes, and it's true. Gregory Hines & Co. are all great dancers, and the final dance number is a sight to behold.
Cage isn't in the movie too much. Because the movie is telling so many different stories, it can't spend time focusing on one character for too long. The times he is on screen, though, are MEMORABLE. At one point, he shoots up a restaurant with a Tommy Gun. He's doing his thing and trying to gain power, respect, and influence in the city. Much like Icarus (Icagerus?), though, he flies too high too fast, and tumbles to an early demise.
That's right — THE COTTON CLUB features the first on-screen death by Cage in #CageClub. And it's a doozy. But that's still to come.
After some conflicts/assassinations between Cage and "the Dutchman" (Remar), Cage guns down one of Schultz's top men on the street. And looks dope doing it.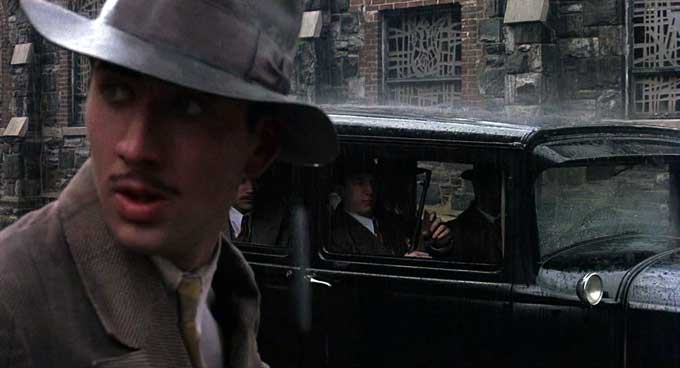 Before the shootout, some kids come up to him, asking if he wants to buy an apple. "No," he says, "I don't want to buy an apple. Scram!" This is a great line delivered in any tone, but Cage absolutely nails it. I love it so much.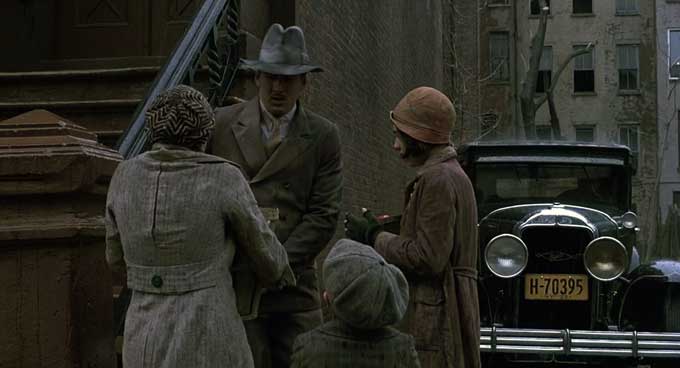 Do you recognize the girl on the right? It's Domino! She's still not Sofia; once again, she's credited as Domino.
Unfortunately for these poor kids, Cage doesn't buy an apple, but he does steal an apple. Big difference.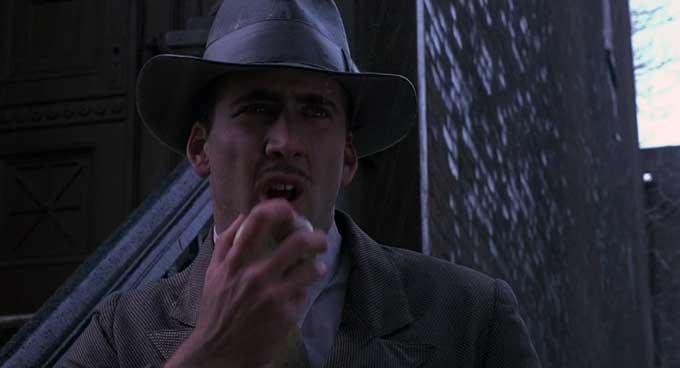 In the shootout, though, he and his men shoot and kill basically a whole city block, including a bunch of kids (yes, even poor Domino falls victim to his spray of bullets). In a world filled with bad men and rampant crime, this turns Cage into public enemy number one. Gere asks him, "How'd you get so wrong?" Cage doesn't really have an answer. Both spend the whole movie working their way up their social ladders of choice without stopping to consider what the other is doing. That's not very brotherly. But Gere sees what fate is in store for Cage, and tries to urge his brother to leave the city.
Cage holes up in an apartment with a hostage and an arsenal of guns: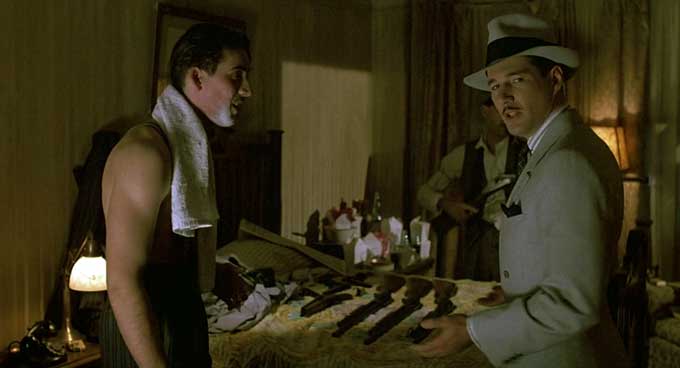 Gere delivers the ransom money, and Cage is OVERJOYED. Richard Gere, if you're reading this, sorry that I caught you mid-blink, but Cage's face was too good to pass up: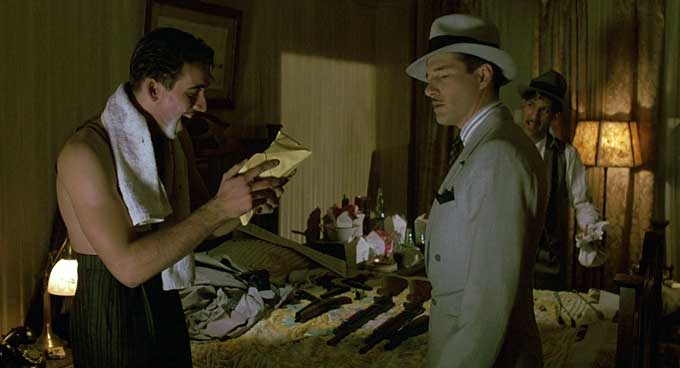 In spite of this opportunity for freedom — along with the $50,000 ransom money he just earned — Cage stays in New York and is killed. Do you expect anything more from someone who stares at his brother, who is literally giving him life-saving advice, like this?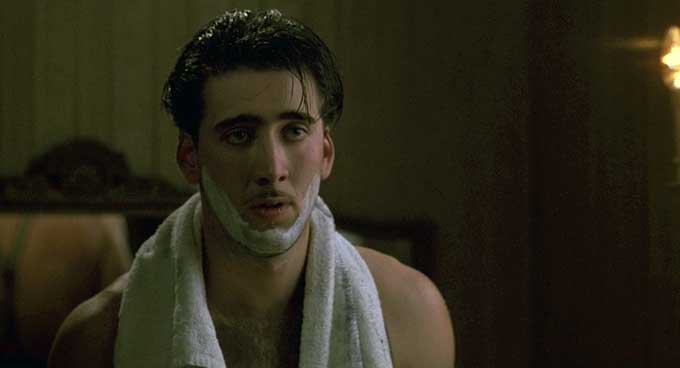 Trying to make a phone call in a booth within a drug store (or something), Cage is riddled with bullets and dies a truly badass on-screen death. How many more on-screen Cage deaths will #CageClub hold? One can only imagine! Here's the first of many bullets that brings his untimely demise: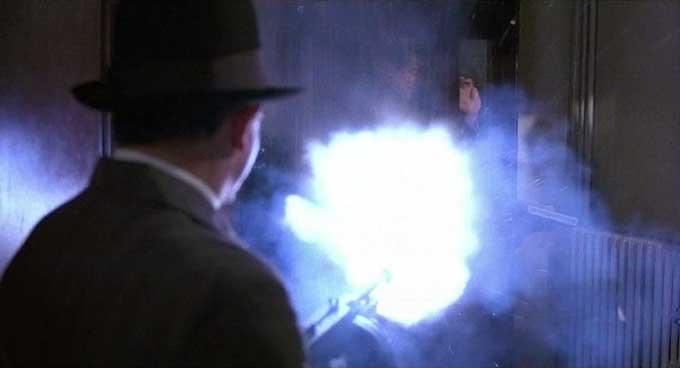 Here he is, crumpled up in the phone booth: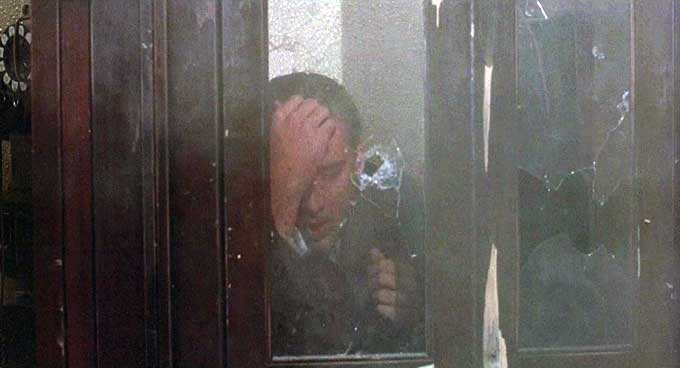 The next big moments in the film are a swirly and a karate kick of a loaded gun in the Cotton Club. They're not worth mentioning in terms of CageClub, but are worth mentioning for two reasons: first of all, they're a swirly and a karate kick of a loaded gun. What more could you ask? The other reason, though, is because we finally see Giancarlo Esposito!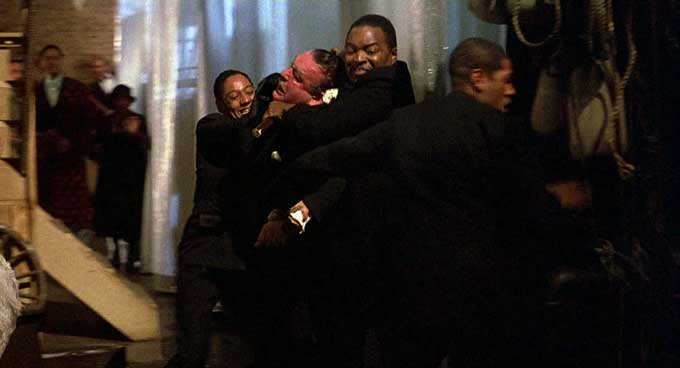 There he is! In the back! Having the time of his life! Or gritting his teeth. I'm really not sure.
After the swirly and karate kick, Remar and his gang are gunned down by mobsters looking to edge in on their turf. With his brother dead and the world around him collapsing, Gere rides off into the sunset with Diane Lane, in the second consecutive slightly-off happy endings. We discuss it on the podcast (dropping tomorrow!), but Mike thinks the last scene where the two leave the city via train may not happen. Whether or not it's real or imagined, that's two relatively dark movies in a row where the main characters leave aboard a train, smiling as though nothing's the matter. Another Cage-nection!
How can I watch it? I think this movie is only on DVD, and it's expensive. (It was one of the pricier CageClub movies I bought, in fact.) I picked it up in a Richard Gere 3-pack, alongside AUTUMN IN NEW YORK and, apparently, a remake of BREATHLESS. Weird.
What's up next? Another movie I know nothing about: BIRDY! I don't know what it's about, but I'm sure it'll be great. Cage is second billed (to Matthew Modine), so we should have more Cage wonder in that than we did in this.