Pay The Ghost (2015): Trick or Treat or Cage ? [Mike's Review]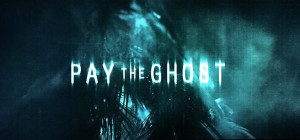 Today on Cage Club we go looking for our missing child, again, in Pay The Ghost. This is officially Cage's first Halloween Holiday movie and probably his first official "horror" movie or ghost story. He has felt with the supernatural before on some level, mostly in Season of the Witch but a little here and there, but this movie wants to hang it's coat with the modern case file type ghost stories that have become in vogue lately. It tries to mimic movies like Insidious and The Conjuring or even Poltergeist, but in it's attempt to be like them it never finds it's own identity and therefor winds up being a confused patchwork of ideas that never coalesce.
Cage plays Mike Lawford, a professor that just got tenure, but is about to go thru one of the worst years of his life. Once again Cage is playing a professor, for at least the third time I believe. There was Knowing, Seeking Justice and now this movie, but only the second time he plays an English professor. It's Halloween and Cage missed Trick or Treating with his son, so he takes him to the Halloween carnival down the street for a while to make it up to him. The thing is that his son has been seeing some strange shit lately and when he asks Cage if they can "Pay the Ghost" while buying Ice Cream, he vanishes before Cage's eyes in a supernatural turn for the worse. Cut to a year later and Cage is estranged from his wife and still looking for his son, bothering the cops so much they are on a first name basis. Cage remembers the last thing his son said to him, "Pay the Ghost", when he sees the same thing written on a wall at some condemned entrance into a subterranean homeless town that also contains a portal to the nether world. Cage follows more supernatural leads and eventually convinces his wife to help him when she encounters a haunted razor scooter in their apartment. They hire a psychic to help them but she is killed by the ghost when trying to contact their son. When the mom is possessed and carves ancient Celtic symbols in her arm, they seek help at a Samhain ceremony on Halloween night. A teacher posing was a witch (?) tells them one of the symbols carved on her arm represents the mother ghost that steals children and that the whole "Pay the Ghost" thing is a ceremony done to pay respect to the spirit. Cage discovers the entrance to the ghost realm by recalling he heard a wailing woman in the subway where the blind homeless man protected the wall with "Pay the Ghost" written over and over again. Cage has only a few minutes left to cross over and get his son from the Ghost realm, which he does, but it's way too little too late for this viewer. The ghost realm is kinda lame and sparse. Sure there is a creepy shot of hundreds of ghost kids stolen throughout the hundreds of years since the ghost was born, but the final showdown between Cage and the main Ghost is very short and weak. He grabs his kid and two others taken the same night a year ago and they flee, the other ghost kids distracting the main ghost so they can escape, just in time, before the bridge collapses and the realm is closed again for a year. Cage returns home with his son, who is missing a year of memories from his life, and reconciles with his wife. They live ever after.
This movie never really hooked me. From the start I felt that any mystery about the ghost was a wash and that throughout the movie the Ghost's motivations never seemed to make sense. I feel like by wanting to have so many pieces of other scary movies here, the filmmakers neglected the actual story within their own movie. They blew a chance to craft something original and scary by infusing it with cliches found in almost every other scary movie to date. There was stuff here, just buried under all the really recognizable and common tropes.
This ghost is a big issue for me. I never got a handle on it's motivation or powers. It seems to be able to control ghostly versions of vultures, but as a motif it makes no sense. We learn the Ghost was a mother of 3 that lived in the 1600's and burned at the steak along with her supposed Pagan children so she steals 3 children every Halloween. She displays some fire powers, like making a stove go nuts and burning a person on the insides only. The whole witch angle felt lost on me because I only needed a scored mother or restless spirit as a ghost, all that stuff about how she is also a witch felt like a step too many. I would have been fine if the ghost was a mother who had her children taken away from her and now her cursed soul can't rest until they are all reunited, so she steals children off the street, there really was no reason to connect it to Halloween at all really. It should also be noted that the story missed a great opportunity to link the ghost mom and the mother looking for her child. The mother should have been the main character and the story a metaphor for motherhood and the strength of maternal nature, or something along those lines. Instead the mother is written to the side so the Dad, granted the person who lost the son, is given center stage. It just doesn't resonate as much as it could have if they went with the mother.
Then there is the whole portal to the underworld, or ghost world, or whatever they call it. It comes out of nowhere, without hardly any set up at all. It's kinda cool when we see it but totally unearned. There isn't any real connection between the portal and the Ghost and even less explanation as to how she is able to cross over. Then there is the fact that the ghost seems to be bound to Halloween and only want children, but then we see it operating and haunting on the days leading up to Halloween and we see it harm the adults. The ghost murders a psychic and possess the mother, all out of the boundaries that were established, or for that matter not established, about her abilities.
That will do it for Pay the Ghost and that will do it for the initial run of Cage Club !!! We did it !!! We watched and reviewed every single Nicolas Cage movie between 8/1/15 & 1/25/16. We released a blog post every Monday, Wednesday and Friday, as well as the podcasts that came out 3 times a week as well, on Tuesday, Thursday and Saturday. So much Cage content in such a short span. It was a wild ride and I look forward to the future of Cage Club with some fun surprises in store. Of course we will be seeing all the New Nic Cage releases in 2016 as well. He has several movie due out this year so there will be no shortage of Cage to keep going.
Mike
@the_mikestir