Moonstruck (1987): The Moon Brings the Woman to the Man [Joey's Review]
When #CageClub took a trip to Los Angeles in VALLEY GIRL, it was a modern-day retelling of ROMEO & JULIET.
MOONSTRUCK tells a story framed around a performance of LA BOHÈME. The film begins as a crew assembles the stage for the performance, and the film ends with the closing number from the opera. Throughout the film, opera music graces the soundtrack. There's an almost comical amount of Italian spoken. The driving narrative is that of a love story filled with conflict. Death looms over the entire film. The two, in many ways, are very similar.
That's why it's so surprising that the rest of the story almost has nothing to do with La bohème.
I don't think it needs to, per se. Valley Girl works really well as a Romeo & Juliet story, but the story of La bohème doesn't work as well in modern-day society. Plus, it's already been told in RENT. Been there, done that.
Instead of telling the story of La bohème, Moonstruck tells the story of a forbidden love. The film begins as Cher is proposed to — in an all-time worst proposal — by a guy who's as flat and bland as can be. Being such a stereotypically Italian film (but never in an offensive way, truly), Cher's fiance (oh yeah, she accepts this god-awful proposal) must be mothered by someone at all times. And since his mother is dying, he needs someone to take her place. Enter: Cher.
Seemingly within minutes of his proposal he flies off to Sicily to be there for his mother when she dies. But before he goes, he gives Cher one mission: get in touch with his brother (Cage!) and convince him to come to the wedding. The two had a falling out and hadn't spoken in five years. We, along with Cher, are told nothing more than that.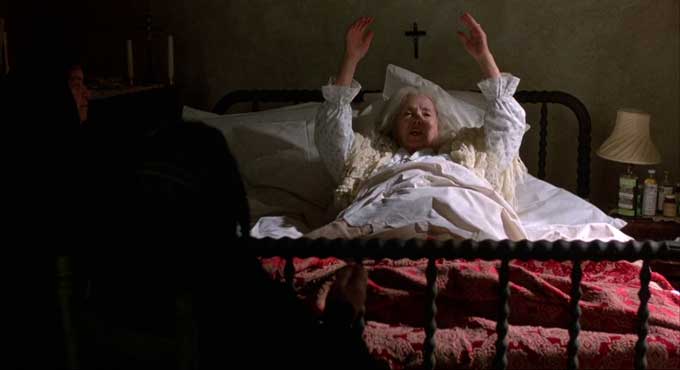 After unsuccessfully convincing him to come to the wedding over the phone, Cher visits his family's Italian food shop, and descends into the self-imposed hell of Cage's workplace. We're finally introduced to Cage 25 minutes into the film. Unless I'm mistaken, this is the longest we've had to wait to see him on screen. I knew Moonstruck was a love story between Cher and Cage, but I had no idea how we'd get there — or how long it would take to begin. Even when we finally do see Cage on screen, we're only shown his back for the first few shots. It adds an aura of mystery to this character.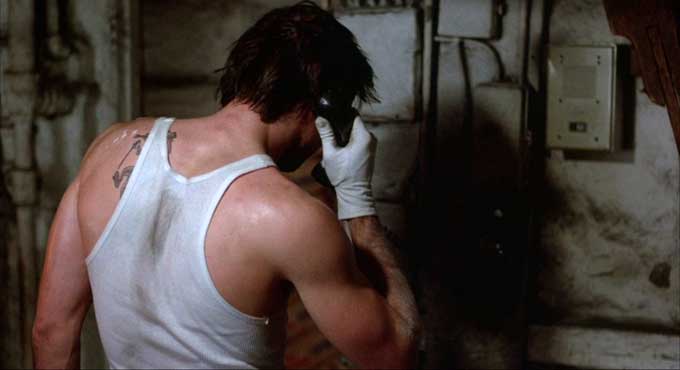 When we finally unlock that mystery, we learn that the falling out between Cage and his brother (played by Danny Aiello) stems from a workplace accident that caused Cage to lose his hand. That's right — Cage is playing a character with a wooden hand, in a first (and last?) for #CageClub. His brother asked him to bake him a loaf of bread, Cage looked away, and his hand was caught in the slicer. Even though it wasn't his brother's fault — and Cher points out as much almost immediately upon hearing this story — Cage still holds a grudge. He didn't just lose his hand; the accident also scared off Cage's fiancee, and he's never loved anything since. "I LOST MY HAND!" he shouts. "I LOST MY BRIDE!" He's a broken man — the most broken by far we've seen in #CageClub — and incapable of love.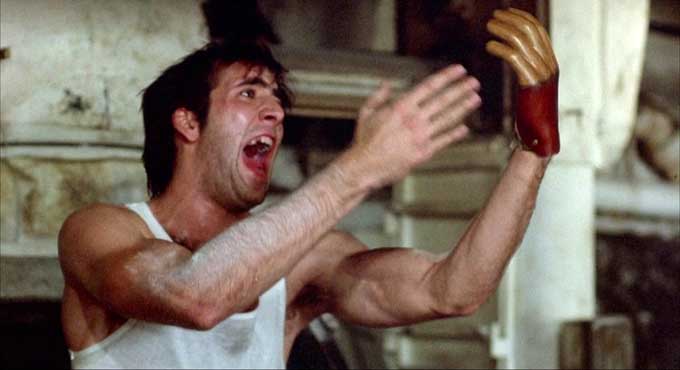 It took losing this hand, though, to truly free Cage. There's something beautiful about that. It took the worst thing that ever happened to him — literally losing a piece of himself! — to put him in the position to meet the woman he's destined to be with. He doesn't realize it at first, but Cher's entrance into his self-imposed world of misery is set to break him out of his funk once and for all.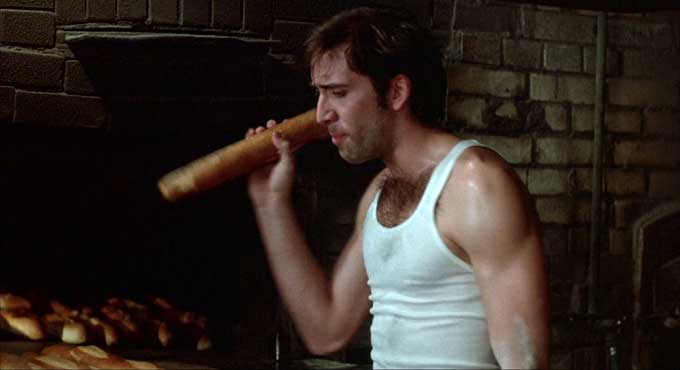 That doesn't last long, though. The two go to Cage's apartment (which just happens to be above the restaurant, so it's not a far journey), and after a heated argument, Cage flips a table, passionately grabs Cher, and kisses her. Even though Cher tells him, "You're a wolf," this display of passion is so far removed from what she gets from her fiance that she just lets it happen. Cage carries her to the bed, "compromises" her (thank you, THE BOY IN BLUE, for giving me this phrase I'm going to use forever), and falls in love with her immediately.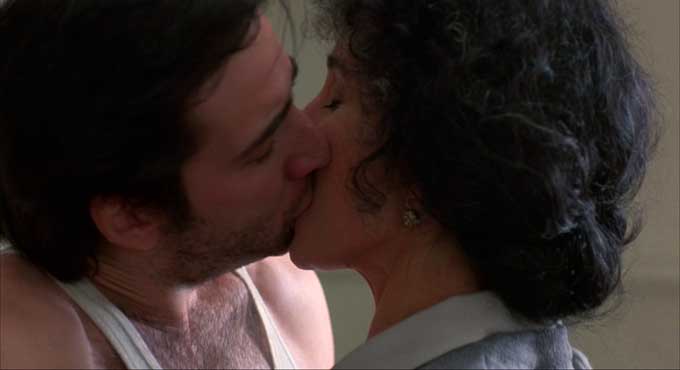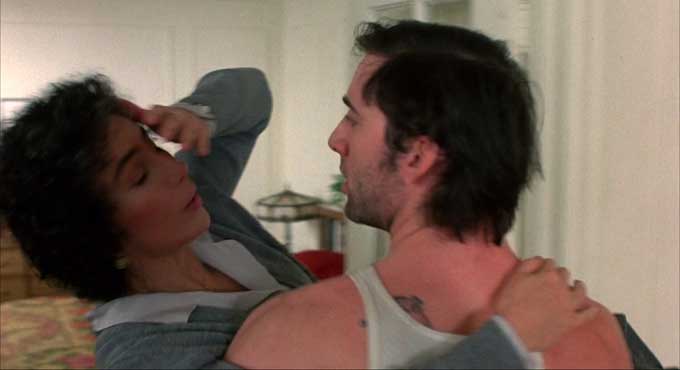 It's that night that the titular moon strikes them. The biggest full moon you'll ever see hangs over the city and the various couples we'll come to follow in this movie. "The moon brings the woman to the man," one character says early in the movie, and it couldn't be more true. Everyone is driven by this other-worldly presence, which allows them to adhere to their baser animal instincts. Or, you know, just fall in love with everyone.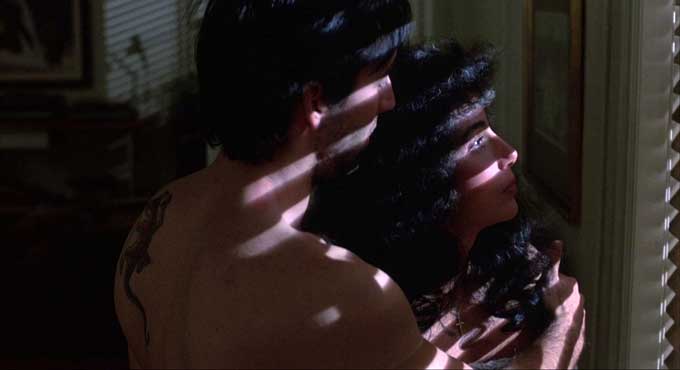 "I'm in love with you," Cage tells Cher the morning after he compromises her. Cher's immediately regretful and wants nothing more to do with Cage. But he convinces her to go to the opera with him. "I love two thins in this world," he says. "I love you, and I love the opera." Cher agrees to go to the opera with him that night on the condition that he'll never bother her again. He agrees, but we all know that ain't happening.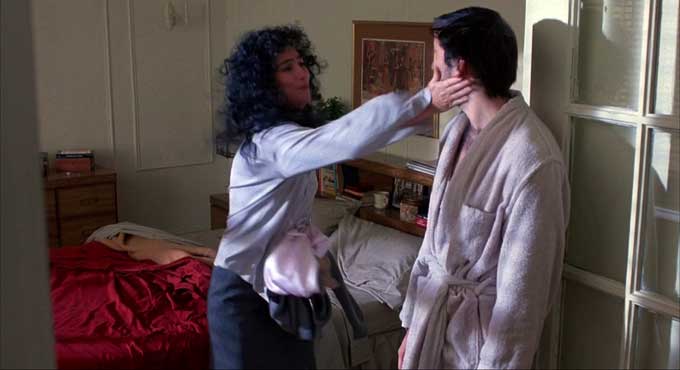 Cher goes out and PRETTY WOMANs herself. Hair done, nails done (?), everything did. Buys a new dress, gets all dolled up, and meets Cage at the opera. The night is "as full of promise as moonlight in a martini," and it sort of solidifies the fact that the two are meant to be together. It's pretty clear early on that Cher falls in love with Cage, but she doesn't want to believe it for a good chunk of the movie. Cage doesn't care what he has to give up to get her. "I want you in my bed," he says. "I don't care if I burn in hell!" PASSION!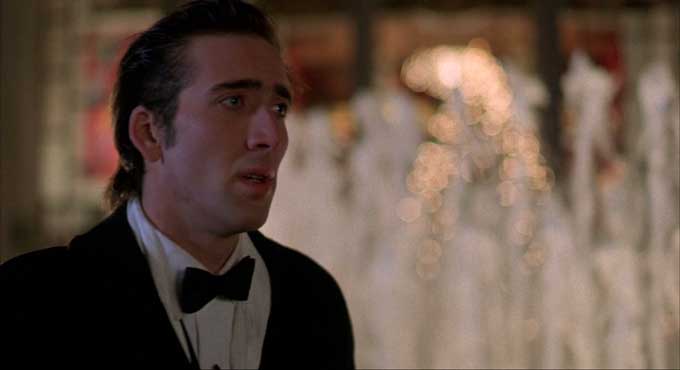 Real quick side note: I died when I saw a canary cage in Cage's bedroom. Hello, BIRDY! This is an amazing direct Cagenection.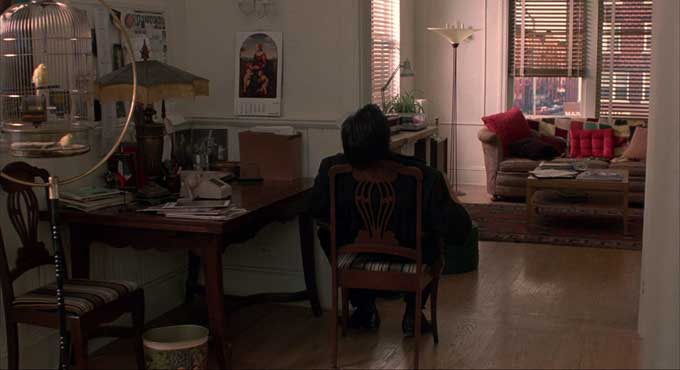 The difference between Cage and Aiello, between Cher's two romantic choices, is made all the more clear as Aiello returns from Sicily. His mother, you see, has made a full recovery. Aiello will no longer be mothered by Cher, as she's found another man to love. That gives Aiello's mother purpose once again, and Aiello can't quit her. He flies back to New York and is just an overall doofus. He leaves his suitcases behind not once, not twice, but three times. He's a grown-ass man, yet still can't keep track of the one thing you need to keep track of when flying. See something, say something. I see something: Aiello, you're the worst.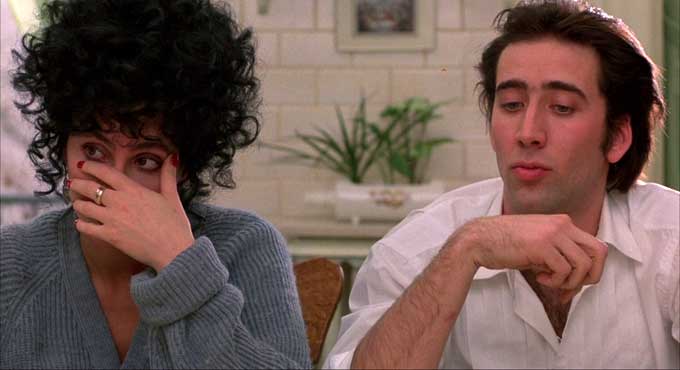 The movie's final scene gathers just about everyone we've met into Cher's family kitchen. She wants Cage gone, because Aiello is coming back. By this point, she's committed to Cage, but she doesn't want to deal with the fallout of having Aiello find out. But Cage isn't leaving; he's part of the family now. Aiello bursts in and tells Cher they can't get married because his mother is okay. It's a beautiful reversal. It's the ending we know is coming, but how we get there couldn't be farther from the expected route. Cher tries to talk him out of it, but eventually gives in and breaks off their engagement. Almost immediately, Cage proposes to Cher. It's the relationship they deserve and the ending we want. "I'm confused," one character says. We all are. But that doesn't make it any less wonderful.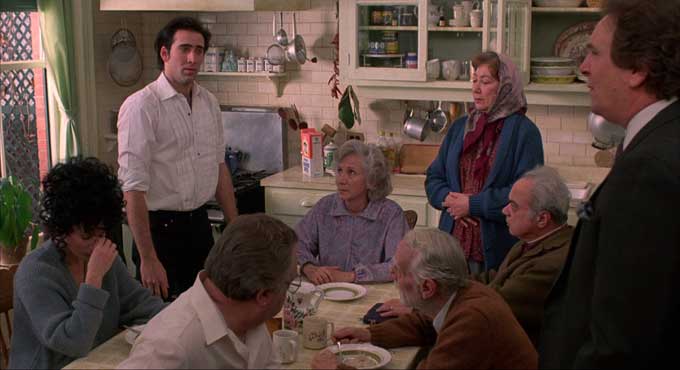 How can I watch it? It ain't on Netflix or free on Amazon, but you can rent it on Amazon for $2.99. I said at the end of my RAISING ARIZONA write-up that this is widely considered one of Cage's best performances, and I think that's true. It's also objectively one of his best movies, as it was nominated for 6 Oscars (of which it won 3).
What's up next? We head into the meme factory that is VAMPIRE'S KISS. It's Cage in peak form, and in a role that's one of his all-time favorites.